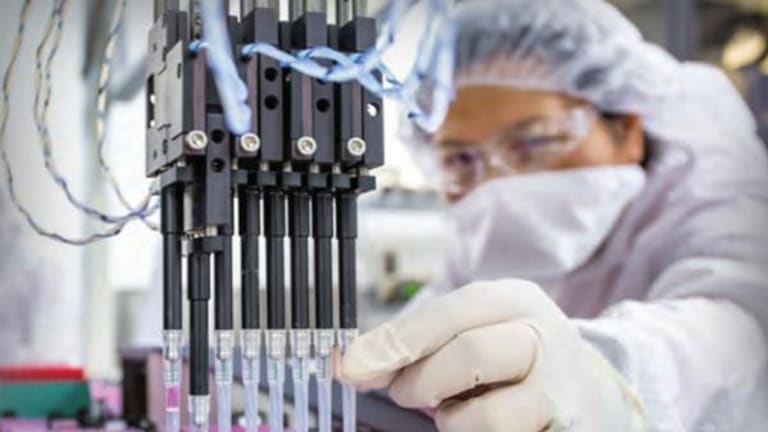 Is It Time to Buy Beaten-Down Bristol-Myers Squibb Stock?
Bristol-Myers Squibb stock has fallen by 35% in the last six months.
In just the last six months, shares of Bristol-Myers Squibb (BMY) - Get Free Report are down 35%. The stock is down nearly 16% just this year. And on Thursday, Bristol-Myers said it would not seek an "accelerated regulatory pathway" for the combination of Opdivo plus Yervoy in first-line lung cancer.
In October 2015, the Opdivo and Yervoy combination regimen was the first immuno-oncology combination to receive regulatory approval for the treatment of metastatic melanoma. It is currently approved in more than 50 countries, including the United States.
Investors ran for the exits when they heard the news last week. This announcement is a huge disappointment. The stock fell 9.5% on the news.
In August, I was optimistic the combination of Opdivo and Yervoy would be very effective for lung cancer, despite the earlier failure of CheckMate-026 phase III trial. In August, Bristol-Myers said it did not meet its primary endpoint of progression-free survival in patients treated with the company's non-small cell lung cancer therapy Opdivo. With that, investors severely punished the stock.
CheckMate-026 studied Opdivo vs. traditional chemotherapy in patients with lung cancer tumors that express the PD-L1 protein. Tumors that express the PD-L1 protein are thought to suppress the immune system, allowing cancer to spread. Opdivo is a PD-L1 inhibitor. The CheckMate trial included more patients with lower levels of PD-L1 in an effort to expand the potential patient population. This market strategy, which would have addressed about 75% of the lung cancer market, was risky to begin with, because it made the chances of success much more difficult.
So now that CheckMate-026 failed and the Opdivo and Yervoy trial is on the rocks, it looks like Bristol-Myers is falling further behind its competitor, Merck's (MRK) - Get Free Report drug Keytruda.
In the first half of the year, Opdivo had worldwide revenue of $1.5 billion, up from $162 million a year ago, so Opdivo is still a very successful oncology treatment. The company has been able to expand Opdivo's label to include Hodgkin's lymphoma and has been approved in Europe for metastatic melanoma. Even without success in lung cancer, Opdivo will still have 2016 sales of more than $3.5 billion. Before the failure of the Yervoy trial, most analysts thought Opdivo could get to $10 billion in peak sales, but now that doesn't seem likely.
Although this news is disappointing, Bristol-Myers is not sitting still. The company has 14 potential trial readouts in 10 tumor types in the next 24 months for Opdivo. In fact, the company is investigating small cell lung cancer, renal cell carcinoma, bladder cancer and non-Hodgkin's lymphoma.
And its labs are busy cranking out new compounds. The company has 10 new compounds in clinical development in 35 different tumor types.
Bristol-Myers currently accounts for about 65% of the second-line non-small cell lung cancer drug market in the U.S., but it faces strong competition from Roche's (RHHBY) Tecentriq in second-line lung cancer.
For Bristol-Myers' fiscal 2016, analysts are looking for revenue of $19.3 billion and earnings of $2.86 per share. Next year, revenue is expected to grow by 3.3% to $19.95 billion. Right now, analysts predict the company can earn $2.98 per share. After it reports its fourth quarter on Jan. 26, analysts could lower 2017 estimates.
Assuming estimates are not reduced, the stock is trading at just 16.4 times forward estimates, a discount to the large pharma group. Even so, for this stock to go higher, Opdivo needs to start posting some positive test data.
I would sit on the sidelines are wait for more drug trial results before getting involved with the stock.
This article is commentary by an independent contributor. At the time of publication, the author held no positions in the stocks mentioned.