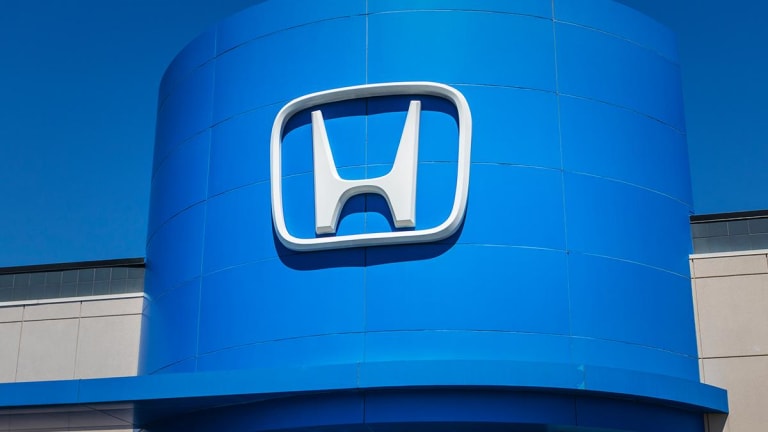 Is Honda's Plant Closure a Warning Sign for the Economy?
Honda is axing production in Britain, adding to the list of automakers undergoing a restructuring. Does this raise a red flag?
Shares of Honda (HMC) - Get Honda Motor Co., Ltd. Sponsored ADR Report are making headlines Tuesday as the automaker announced its intentions to close its only plant in the U.K. in 2021. The move will result in 3,500 lost jobs in Britain and is drawing attention from the auto industry and investment world alike.
The company's plant in Swindon, England is Honda's only plant in the European Union. Its only other production within the region is in Turkey, but that operation will also stop in 2021. Instead, the automaker is shifting more production to North America, China and its home country of Japan.
What does it mean for the global economy?
Honda's move doesn't speak well of global growth and at the very least, raises a yellow flag about the automotive market over the next few years.
Some wonder if the closure has anything to do with Brexit. But the automaker did not allude to that being the case, instead saying that it needed to restructure in an effort to "accelerate our electrification strategy." It's clear that electrification is taking on a larger role, given that many of the major global automakers are shifting in that direction, too.
Part of it is to meet customer demand. Tesla (TSLA) - Get Tesla Inc Report has proven that performance and aesthetics don't need to be sacrificed when going electric. Falling battery prices are making it more realistic for automakers like Honda, Mercedes (DDAIF) , Audi, General Motors (GM) - Get General Motors Company (GM) Report and others to make a larger push into electrification without sacrificing profits and performance. 
However, part of that push is also regulatory, as governments around the world are pushing for high efficiency and a greener industry. Case in point, the European Union just announced new truck emission regulations, with the goal to cut down emissions by 30% by 2030. The interim goal is to cut emissions 15% by 2025. 
Honda and the Economy
More broadly speaking, the automakers are telling a story here. Chinese auto sales continue to plummet, while U.S. sales remain near flat. And while GM guided for better-than-expected sales and earnings in fiscal 2019 (and beat already-elevated expectations for fiscal Q4 2018), the automaker also announced a massive restructuring last fall.
Far larger than Honda's shake-up, GM plans to halt production in five plants throughout the U.S. and Canada by the end of this year, impacting over 6,000 employees. Further, the company plans to cut 25% of its executive ranks and reduce its salaried workers by 15% (or just over 8,000 employees). Outside of the U.S., GM also plans to close two plants in 2019. Earlier in 2018, Ford (F) - Get Ford Motor Company Report announced plans to essentially axe production of its sedan portfolio, instead opting for a larger mix of its more profitable truck, SUV and crossover lineup.
So it begs the question, are these automakers positioning themselves for leaner times while the global economy is still holding up or are they simply repositioning their product lineup amid a changing demand makeup from consumers?
The answer is likely a little bit of both. Seeing as though GM had to take a government bailout the last time the economy fell into a recession, it makes sense for it to get more lean while it can vs. when it has to. Part of that restructure comes in an effort to cut costs, but part of it is to eliminate production for some of its sedan offerings, thus leaning more heavily on an SUV/truck lineup like Ford.
With Honda, it's so far unknown.
Shares of Honda climbed 22 cents apiece to $27.56, up 0.79% on Tuesday. 
This article is commentary by an independent contributor. At the time of publication, the author had no positions in the stocks mentioned.