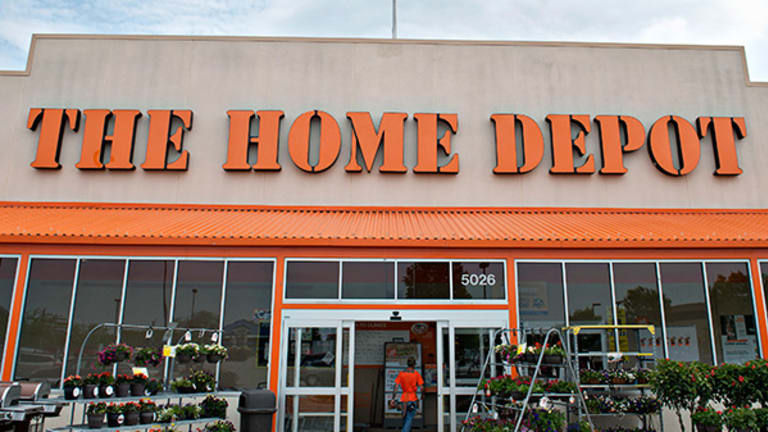 Is Home Depot Stock's Amazing Run Over?
This home improvement giant has been soaring on the strength of rising home prices. Are the good times about to end?
Home Depot (HD) - Get Home Depot, Inc. (HD) Report , the world's largest home improvement retailer, has given investors plenty of reasons to smile. Its stock has been one of the growth stock winners in a risky and choppy market.
The company has beat earnings estimates for four consecutive years, has been growing dividends and is also constantly taking measures to improve customer experience at its stores. Over the last year, the stock has climbed 22%. Over the past five years, it has gained a whopping 325%!
Is there reason then to believe that the home improvement giant might now be cooling off? Or is the stock still poised for market-beating gains ahead?
Low oil prices, improving employment and a low interest rate environment have all worked in favor of Home Depot. The savings made because of lower gas prices and the low cost of credit leave more room for discretionary spending by working Americans.
Home Depot has also benefited from an improving housing market, which is encouraging homeowners to take on large-scale home improvements projects. Home Depot is the go-to destination for home improvement needs, and  CEO Craig Menear said that it was witnessing "40, 50, 60, even 70 items in the basket,"  The Wall Street Journal recently reported.
Though Home Depot operates in the same line of business as Lowe's, it has scored some extra points over its rival. Builders and professional renovators make up an important chunk of Home Depot's clientele and have stepped up demand for its products, according to S&P Global Market Intelligence analyst Efraim Levy, who was quoted in USA Today. Lowe's, on the other hand has a stronger hold on the garden business, which was hit by cool weather a few months ago, Levy said, according to the newspaper. 
Home Depot's encouraging performance comes at a time when other retailers, such as Macy's and SearsHoldings, are fighting for the customer's share of wallet and are losing out to online giants like Amazon.
Home Depot, however, has an advantage here. Amazon has become the bane of bricks-and-mortar stores' existence, offering customers almost every product conceivable, at competitive rates, at their doorstep, and sometimes even on the same day. But there are some needs that are best met when customers physically come to the store, like when they need to pick a paint or when the size of the product is too big. And that is where Home Depot scores.
Even so, Home Depot is not ignoring online shoppers. The company is in the midst of the launch of its Buy Online Deliver From Store (BODFS) feature and should complete its rollout by the end of fiscal 2016.
According to a survey by UBS cited by The Wall Street Journal, 11% of shoppers said that they would shop from Amazon for a home improvement project against 36% who said they would pick Home Depot.
The company's recent performance and future prospects have triggered optimism from management and analysts alike. On Aug. 16, the company reaffirmed its sales guidance for this year, and raised its earnings guidance to $6.31 from its earlier forecast of $6.27. Over the next five years, analysts expect Home Depot to record annual earnings growth of 14% annually, vs. 12% for the industry and 8.9% for the S&P 500.
Home Depot's stock certainly has had a good run, and this could mean that it appreciates at a slower pace going forward. And at the rate at which technology is proving to be disruptive, the company has to be very vigilant about online threats. But it is definitely premature to say that Home Depot's rally is over. This stock still belongs as a key component of your growth portfolio.
---
Five Years From Now, You'll Probably Wish You'd Grabbed This Opportunity:As we've just explained, Home Depot has plenty of momentum left. If you're looking for other growth opportunities, we've found a genius trader who turned $50,000 into $5 million by using his proprietary trading method. For a limited time, he's guaranteeing you $67,548 per year in profitable trades if you follow his simple step-by-step process. Click here now for details.
This article is commentary by an independent contributor. At the time of publication, the author held no positions in the stocks mentioned.