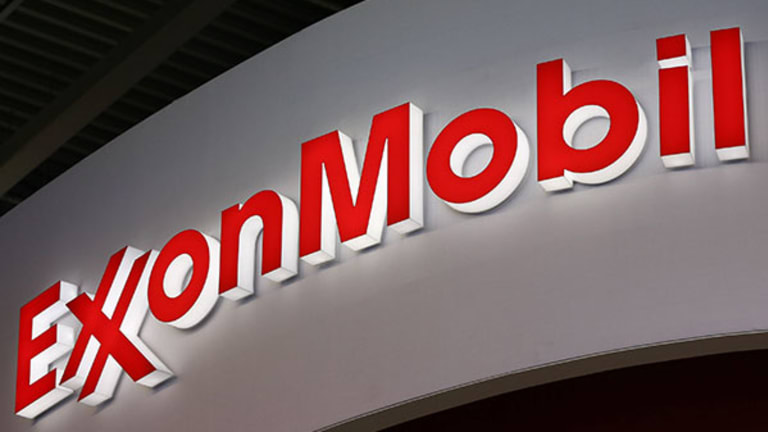 Is Exxon Carving Out a Turnaround? This Chart Says, Yes!
After selling off for the last few months, Exxon Mobil is teetering on the edge of a breakout higher.
It's been a tough year for shareholders of oil and gas supermajor Exxon Mobil Corp. (XOM) - Get Exxon Mobil Corporation Report-- since the calendar flipped to January, this energy behemoth has shed about 9% of its market value, underperforming the rest of the broad market by some 15% year-to-date.
Of course, things haven't been much better in the rest of the energy sector. The big Energy Select SPDR ETF (XLE) - Get The Energy Select Sector SPDR Fund Report is down 10% on a price basis this year.
None of that should be too surprising. After all, energy commodities have been struggling this year, and as energy prices go, so too go the energy producers.
Jim Cramer and the AAP team dig into energy often. Get their insights or analysis with a free trial subscription to Action Alerts Plus.
While Exxon and its peers have been toxic to investors' portfolios all year long, it's a mistake to ignore them now, though.
That's because Exxon's price chart is signaling a potential reversal this spring -- and shares are within grabbing distance of breakout territory. To figure out when to buy shares, we're taking a technical look at the price action.
First, though, it makes sense to revisit Exxon's fundamentals for a minute.
Exxon is the biggest integrated oil and gas company in the world. Last year, the firm generated 2.1 million barrels of liquids and 10.1 billion cubic feet of natural gas every single day. As of the end of 2016, the firm's reserves stood at 20 billion barrels of oil equivalent. Since Exxon is integrated, it deals with much of that huge production volume itself, making the firm the biggest refiner and a major chemical producer as well.
Producers like Exxon ramp up their profitability dramatically as oil prices push above their breakeven. Also, as the world's most profitable oil company on a per-barrel basis, Exxon has more staying power at low oil prices than any other E&P on the planet.
That's some important context to keep in mind as Exxon's share price has been circling the drain this year. Despite the multi-year correction in energy commodities, Exxon has remained distinctly profitable every quarter.
Another thing to consider in Exxon Mobil is its dividend payout. Despite pressure on shares, Exxon has maintained its dividend growth, hiking its payout to a quarterly 77 cents per share earlier this year. That dividend check indicates a 3.75% yield at current price levels.
Considering the fact that the rising rate story from the Fed has failed to materialize in 2017 (at least in a way that's negatively impacted high-yield investments), that hefty yield is beginning to attract income-seekers once again.
We're seeing all of that play out in the price action. Have a look:
Exxon's plunge in 2017 is pretty unmistakable, but more recently, shares have been changing course. The price pattern in play right now in Exxon is a rounding bottom, a simple setup that looks just like it sounds. The rounding bottom indicates a gradual shift in control of shares from sellers to buyers, and in Exxon's case, it triggers a buy with a breakout through the $83 resistance level that's acted like a price ceiling for shares since February.
What makes $83 the decisive price level for Intel? It all boils down to buyers and sellers. Price patterns, like this rounding bottom, are a good quick way to identify what's going on in the price action, but they're not the ultimate reason shares look attractive here. Instead, the "why" is driven by basic supply and demand for XOM's shares themselves.
The $83 resistance level is a price where there is an excess of supply of shares; in other words, it's a spot where sellers have been more eager to step in and take gains than buyers have been to buy. That's what makes a breakout above $83 so significant -- the move means that buyers are finally strong enough to absorb all of the excess supply above that price level.
Momentum, measured by the 14-day RSI up at the top of Exxon's chart, adds some extra evidence to a bullish reversal here. Our momentum gauge has been making a series of higher lows as this stock's price has been bottoming, a signal that indicates buying pressure is actually building behind the scenes. Once Exxon Mobil pushes materially above $83, it becomes a buy.
Shares are within grabbing distance this week.
Read more of TheStreet's top stories:
Former Fox News Chief Roger Ailes Is Dead at 77
If Apple, Facebook and Netflix Keep Diving, the Ugly Trump Stock Market Correction Could Be a Thing
At the time of publication, author had no positions in the stocks mentioned.