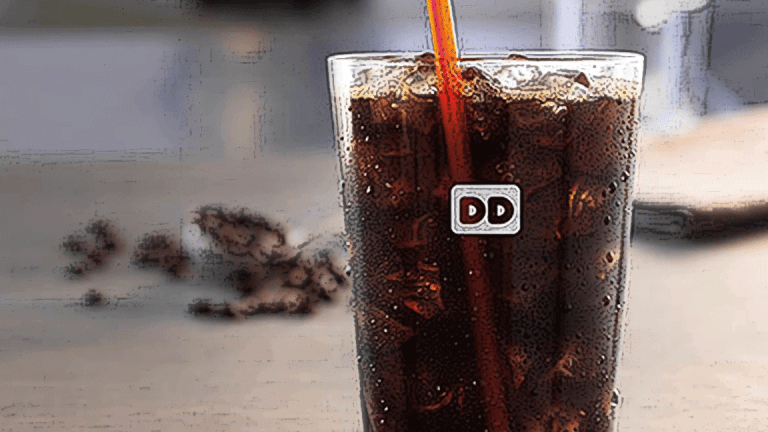 Is Dunkin' Donuts Still an Attractive Target for JAB?
Recent menu changes and a full valuation may put the German family off.
JAB Holding Co., the German conglomerate that owns Panera Bread Co. and Kristy Kreme Doughnuts Inc., is gearing up for its next big coffee acquisition, but one major player may be completely off the table: Dunkin' Brands Inc. (DNKN) - Get Report .
The hiccup seems to be an issue of valuation, as the fully-scaled and fully-valued Dunkin' may be a tough pill to swallow for JAB, especially if it can't get the growth out of Dunkin' as it has with past deals such as Krispy Kreme and Peet's Coffee.
"Dunkin' is already trading at full valuation right now, thanks to the JAB rumors," said Paul Zaffaroni, the managing director of consumer investment banking at Roth Capital Partners. "So if we're looking at a typical takeover premium of 25%, right now doesn't make sense."
The strategic benefits of Dunkin' for JAB, moreover, may be diminished by the donut-chain's latest menu changes. Starting Monday, Jan. 8, Dunkin' will rollout smaller menus without its afternoon sandwiches, smoothies, flatbread and bagels. Some of these reductions will be optional for franchisees, the restaurant said. Ninety percent of the menu, however, will remain unchanged.
JAB chair Bart Becht told a German newspaper last week that the investment fund for Germany's billionaire Reimann family is soliciting funds for coffee acquisitions from foreign institutional investors and other wealthy european families.
"Our transactions are getting bigger, we need more money," he told German newspaper Handelsblatt.
The comments renewed speculation that JAB and Dunkin' may be headed for a date, something the two companies have previously explored, according to multiple reports.
"They didn't come to a conclusion because one, Dunkin' was asking too high of a price, but more importantly, they don't own the supply chain," John Gordon, a restaurant analyst at Pacific Management Consulting Group. "JAB is a creative company, so we can reasonably predict that they'd want to buy a chain for synergies with their other holdings."
Rumors of JAB's possible acquisition of Dunkin' emerged in fall 2016, when analysts pointed out that Dunkin' would be a good candidate for the coffee-craving private company. Dunkin', with a market capitalization of about $5.86 billion, is among the last publicly traded coffee chains in the U.S. of its scale.
JAB initiated talks with Dunkin' in early 2017, but the two parties could not reach an agreement over price, according to Gordon.
The family balked at the fact that Dunkin' doesn't own its supply chain, Gordon said, citing a conversation with a JAB representative at a recent industry conference. Through its franchisees, Dunkin' signed a long-term contract deal with supply chain cooperative National DCP LLC in 2012.
Dunkin's existing success as well as its slowing expansion prospects make it harder for JAB to justify a steep price, even if the brand name holds a lot of cachet, according to Kevin Quigg, the chief strategist of Exponential ETFs, which focuses on consumer satisfaction.
"Expansion isn't going to make any more money for Dunkin' because it's already grown to where it needs to be," Quigg said, "making Dunkin' a very cost-conscious acquisition so that's why it's been such a back-and-forth deal."
JAB, however, doesn't have to be tethered to the American market, and if it foregoes Dunkin' as many candidate, it could look internationally for expansion, according to Gordon, the restaurant analyst.
"My opinion is that they're going to go for a chain in China, the United Kingdom, or South Korea," he said, naming possible candidates such as the British Whitbread plc. (WTB), which owns Costa Coffee, and Caffè Bene, a chain based in Seoul.
"It may be reasonable that they've already done their due diligence in the U.S.," Gordon added, "and it now looking beyond."
Whitbread, in particular could be a reasonable target as the company announced Thursday that it had appointed Adam Crozier to chairman as the owner of Premier Inn and Costa Coffee faces pressure to break up and an activist investor looms.
To be sure, a Dunkin' deal would have its benefits for JAB, Roth Capital's Zaffaroni said.
"If it's scale that [JAB] is looking for, Dunkin's got a lot of retail doors," he said. And this space, he told TheStreet, could be used to leverage some of JAB's other brands, like Einstein Bros. Bagels and Mighty Leaf tea — though this may be harder now that Dunkin' has shunned its own non-coffee-and-donut offerings.
JAB declined to comment on "rumors and speculation." Dunkin' could not be immediately reached.
Editor's note: This article was originally published by The Deal, a sister publication of TheStreet that offers sophisticated insight and analysis on all types of deals, from inception to integration. Click here for a free trial.
More of What's Trending on TheStreet: