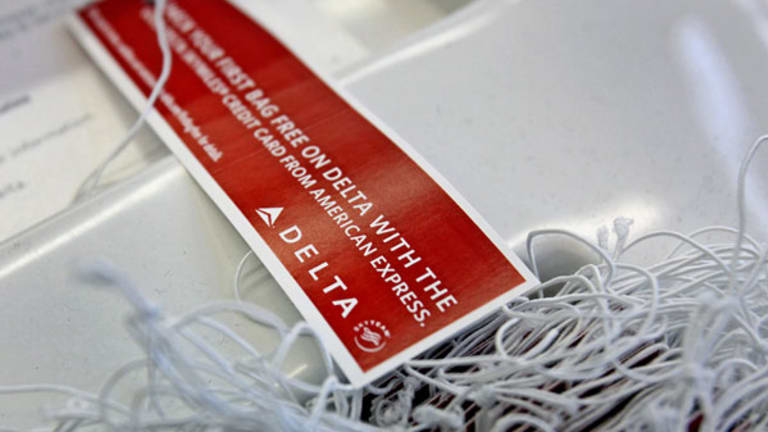 Is Delta Respected? Sure, but Not as an Investment, Survey Shows
Delta Airlines shares are up 175% over two years, but small investors apparently have not yet caught on.
ATLANTA (
) -- A new survey seemed initially to show that
Delta
(DAL) - Get Delta Air Lines Inc. Report
is not a respected brand, but in fact the survey shows that Delta's problem is that some people don't think airlines are a good investment.
It's not a surprise that airlines are considered to be bad investments. Since the Wright Brothers first flew, airlines have lost money. In recent years, they have sought to rebuild their model and airline analysts believe they are succeeding. But altering long-held perceptions takes time.
In some quarters, the survey by New York-based brand consultant CoreBrand was viewed as underscoring our country's anti-airline hysteria. One headline called Delta "the least respected brand in America." It seemed at first that the survey reflected widespread unhappiness with airline service, despite industry-wide improvements, especially at Delta and
US Airways
(LCC)
, in recent years.
In fact, the survey had nothing at all to do with customer service, according to CoreBrand founder and CEO Jim Gregory. Rather, he said, "Delta got creamed on 'investment potential,'" one of three factors on which the firm based its company rankings.
The survey measures the gap between brand familiarity and brand favorability, testing the assumption that the most familiar companies have the highest favorability ratings. For each company covered, CoreBrand made phone calls to survey at least 400 mid- to upper-level managers at major companies.
Those managers ranked companies on the basis of three factors: overall reputation, perception of management and investment potential. While the major airlines are extremely well-known brands, people consider their investment potential to be low. And Delta had the biggest gap between its high familiarity and its low perceived investment potential.
Among the five biggest airlines, according to the survey,
American
(AAMRQ.PK)
is best known with a familiarity rating of 93. Other familiarity ratings: Delta, 92;
United
(UAL) - Get United Airlines Holdings Inc. Report
, 89;
Southwest
(LCC)
, 75; and US Airways, 58.
As for favorability ratings, American scored 52; Delta, 47; United, 51; Southwest, 51; and US Airways 46.
Now to review the components of the favorability ratings. For investment potential, American had a 38. (The survey was conducted this year, with American preparing to emerge from bankruptcy court). Delta had 33, Southwest 35, United 36 and US Airways 37. As for perception of management, Southwest had 58, the highest score in the category, while US Airways had 47, the lowest score. For overall reputation, American had a 63, the highest, while US Airways had 53, the lowest. Perhaps the low scores reflect that US Airways is not widely known in some sectors of the country and, it could be said, needs a merger with a bigger partner.
Gregory noted that in the investment potential category, every airline ranked below the averages for the transportation sector, the industrial sector and the entire list of companies.
"In this particular industry, it's very clear (that is) what the issue is," Gregory said. "Here you have a tremendous consumer product, but (investment potential) is one measure of it."
The highest rated brand, by the way, is
Coca-Cola
(KO) - Get Coca-Cola Company (The) Report
. Like Delta, Coke is based in Atlanta, but over the years, it has been perceived to be a great investment.
Funny thing, though. Year to date, Delta shares are up 65% and Coke shares are down 5%.
-- Written by Ted Reed in Charlotte, N.C.
>To contact the writer of this article, click here:
Ted Reed