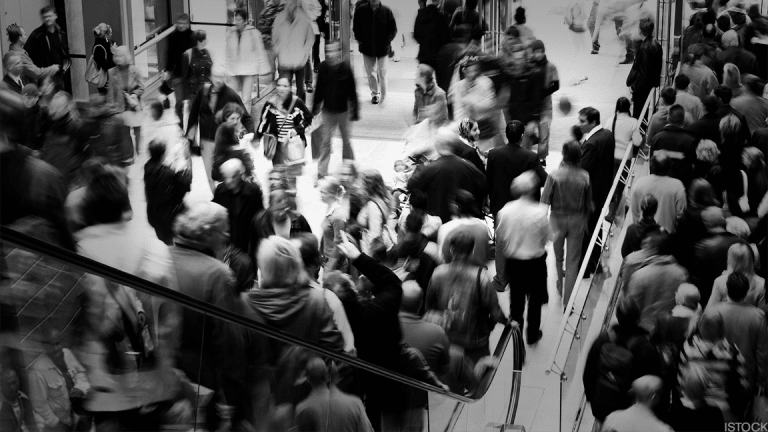 Is Black Friday Dead?
Longer sales and flakier shoppers contribute to a Black Friday that's 'lacking luster' this year, experts say.
Longer sales and flakier shoppers contribute to a Black Friday that's 'lacking luster' this year, experts say.
When Ronald Goodstein was checking out Black Friday promotions almost a week before the proverbial day of deals, he noticed something strange: Walmart Stores, Inc. (WMT) - Get Report was already selling certain items at its Black Friday prices.
A Samsung 65-inch curved smart TV, for instance, was scheduled to start selling for $998 on Nov. 23, both online and in-stores. As of Monday, Nov. 20, however, customers have access to that price online.
While not quite dead, Black Friday has become less popular in recent years as retailers extend sales beyond the one day and shift sales online, while fewer customers partake in the shopping tradition. A recent PwC study, in fact, found that only about a third of Americans plan to do the bulk of their holiday shopping on Black Friday — that's down 24% since 2015 and 15% since last year. Among those least likely to shop on Black Friday are millennials.
"When people talk about Black Friday now, my response is, 'Which one?'" Goodstein, a professor at Georgetown's McDonough School of Business, told TheStreet. "It used to be that an average retailer would do 5% of their entire business on Black Friday. Now, they'll still see the sudden uptick [in sales], but it's throughout this entire week."
More Like 'Black Week'
While shopping on Black Friday may be down this year, shopping before and after the day is up. Some 13% of shoppers say they'll shop that Monday through Thursday, up 6% since 2015 and 4% since 2016, according to the PwC report. Eighteen percent of consumers say they'll shop the weekend after Thanksgiving. 
A handful of retailers are responding to this trend by offering sales before Black Friday, mostly online. Amazon.com Inc.'s (AMZN) - Get Report sale began the week leading up to Black Friday, and Walmart launched its Pre-Black Friday sale Monday. Macy's, Inc. (M) - Get Report  offers a black Friday preview sale of 20% off that ends Tuesday, and Toys 'R' Us is applying 15% off for purchases made before Black Friday.
Like other Black Friday surveys this year, a report from the National Retail Federation found that while Black Friday remains the most popular day to shop Thanksgiving week, nearly half of shoppers will partake in Small Business Saturday.
"We're seeing that Black Friday is losing its luster," said Jim Fosina, founder and CEO of Fosina Marketing Group. "Buying season is earlier, and digital sales are happening sooner."
And that's not to mention, he added, retailers are finding that "Black Friday is less profitable than before while consumer figure, 'Why wait in line when Cyber Monday is right around the corner?'"
Slighter Sales?
Retailers are reevaluating how Black Friday sales are affecting their bottom lines, industry sources say. Bigger discounts means a deeper cut in margins, and some companies are now reeling in the extent of sales. 
"Traffic is driven by these sales, but now the look is on margin," said Ricardo Rubi, a marketing specialist and partner at consulting firm Simon Kucher. This has resulted in more "strategic sales and maybe fewer discounts."
Amazon, for instance, is offering the earliest and biggest deals for customers who voice-shop through Alexa. Walmart and a handful of other retailers are promoting discounts around free pickup and two-day shipping, while still offering cuts on certain products.
Younger Shoppers Reject Black Friday — and Everyone Else Avoids the Mania
It doesn't help that the country's soon-to-be-largest spending bloc, the elusive millennial, could care less about Black Friday. 
"Younger shoppers are the ones opting out of Black Friday," said McShane. "These people are not driven by price or efficacy. The frenzy of Black Friday just doesn't jive with their shopping behavior."
The wait-outside-in-the-cold, trampede-style just isn't acceptable for shoppers now, according to every retail expert interviewed by TheStreet.
"Consumers are starting to feel a bit frenzied," said Fosina. "It's not even that they're rebelling. They're just less willing to move from store to store, even website to website."
More Sales Year-Round
Another major reason for Black Friday's declining cachet, according to Enda McShane, CEO of retail marketing firm Velocity Worldwide, is a general desensitization to sales.
"Retailers are on sale now far more than they used to be," he told TheStreet. "Look at consumer electronics. Pretty much year-round, you can find discounts."
The desensitization is a result of constant sales hosted by the likes of J.C. Penney Company Inc. (JCP) - Get Report and Sears Holding Corp. (SHLD) , according to Goodstein. "The American consumer is becoming more immune to mass discounting," he said. "The thinking now is, 'Black Friday won't save me that much money.' "
On this point, the Walmart shopper Goodstein agrees. He isn't actually in the market for a TV, he said. And as for how he will do the bulk of his holiday shopping?
"Probably on Amazon," he said. "Like everyone else."
TheStreet's "Black Friday and Holiday Shopping Survival Guide" series aims to help you, the consumer and the investor, navigate the holiday season, Black Friday, Cyber Monday and everything in between. Through a number stories, videos, graphics and other multimedia elements TheStreet takes a look at the biggest challenges of the season, the winners and losers from the shifting retail environment and much more.Read More about navigating the holiday season.
More of What's Trending on TheStreet:
Editors' pick: Originally published Nov. 22.