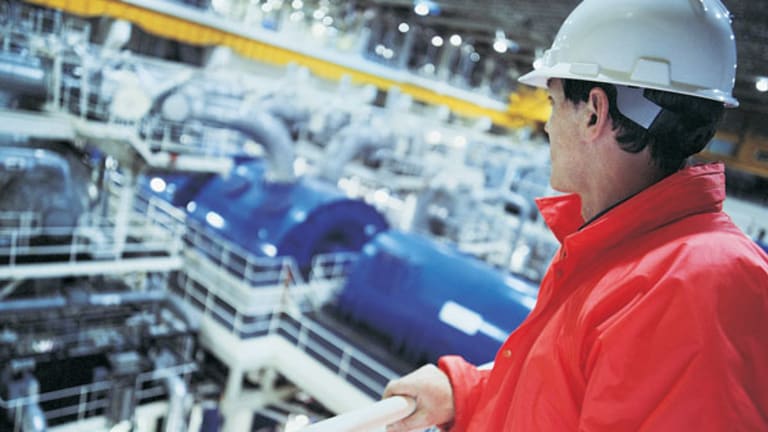 Is AMR Getting Healthy in Bankruptcy?
Today's AMR has strong unit revenue, posted a profit in May, and has strong future ticket pricing.
DALLAS (
) -- At least for the moment, forget the merger chatter. Bankruptcy court appears to be a place where
AMR
(AAMRQ.PK)
is getting healthier.
On Tuesday, the carrier reported that May produced its second monthly operating profit since it filed for bankruptcy in November, which is not a total surprise since airlines tend to make money in May. Earlier, AMR reported that in May it had the industry's biggest improvement in revenue per available seat mile. A new analyst's report shows that AMR so far has the industry's strongest ticket pricing gains in July. Also, AMR now has more unrestricted cash than it had when it filed.
The carrier said Tuesday that it earned $2 million in May, excluding $134 million in special items. It ended the month with $5.1 billion in unrestricted cash, up from $4 billion at filing, largely because it has been able to avoid paying many of its bills while under court protection. Additionally, "a primary driver is that the strong revenue environment has generated cash," said AMR spokesman Sean Collins. "(And) we have started to gain traction from overall cost reduction efforts associated with the restructuring and we have benefited from the favorable fuel environment."
In a report issued Wednesday, UBS airline analyst Kevin Crissey wrote that American system average fare pricing for July is trending up about 11%, leading the legacy carriers.
"
Delta
(DAL) - Get Delta Air Lines, Inc. Report
has come back to the pack whereas American looks stronger so far in July," Crissey wrote. The statistics are based on the price of tickets sold by travel agents for July travel. For June travel, American ticket pricing is slightly below the industry average gain of around 6% to 7%.
"We are encouraged by the approach (Crissey) is taking and the results he is finding," Collins said.
Earlier, American reported that its May PRASM gain of 7.3% was the
. The May outperformance followed the industry's second-biggest gain in the first quarter and the biggest gain in April.
It seems likely that some of the gains in American metrics result from cutting unprofitable routes. American's past strategy of building capacity in Los Angeles and New York, both markets where it is not the leading carrier, has been widely criticized. In a recent report, Wolfe Trahan analyst Hunter Keay said that the carrier's domestic capacity is expected to decline 2.5% year over year, with the biggest decline coming in July. In his report, Crissey noted that American's "fare strength looks to be concentrated mostly in US and Canada/Mexico."
Because American is operating under bankruptcy court protection and its shares are going to be wiped out so that new shares can be issued, its results are not as closely followed by investors as are results from companies whose shares are widely traded and will have value into the future.
In a report issued Wednesday, JP Morgan analyst Jamie Baker said some analysts may have overlooked AMR's strong May RASM numbers in calculating industry RASM, leading to the conclusion that the industry RASM gain was below expectations.
"AMR posted healthy May RASM that contributed to an otherwise normal sequential industry trend, but may have been overlooked as analysts focused elsewhere," Baker wrote. "In particular, we believe some of AMR's strength came at
UAL's
(UAL) - Get United Airlines Holdings, Inc. Report
expense, given that carrier's continued operational challenges.
" With AMR operating in Chapter 11 and disclosing monthly financials, we suspect its contribution was overlooked as analysts focused on names investors actually care about," Baker said.
As AMR battles a so-far-hostile merger effort by
US Airways
(LCC)
, the focus is on the two sides' efforts to gain support from AMR's labor unions by limiting the concessions in the post-bankruptcy labor contracts. To date, this has been a battle that US Airways has been winning, helped by its ability to enhance revenue through a merger that would add a strong East Coast presence, which American lacks.
Possibly, a post-bankruptcy independent American -- with reduced costs, reduced restrictions on outsourced flying, a new fleet, and its best hubs in Dallas and Miami - would be at least a strong a carrier as US Airways, with its best hubs in Charlotte, N.C., and Philadelphia, is today. The question is, however: Could it be as strong as Delta and United?
-- Written by Ted Reed in Charlotte, N.C.
>To contact the writer of this article, click here:
Ted Reed
>To follow the writer on Twitter, go to
.