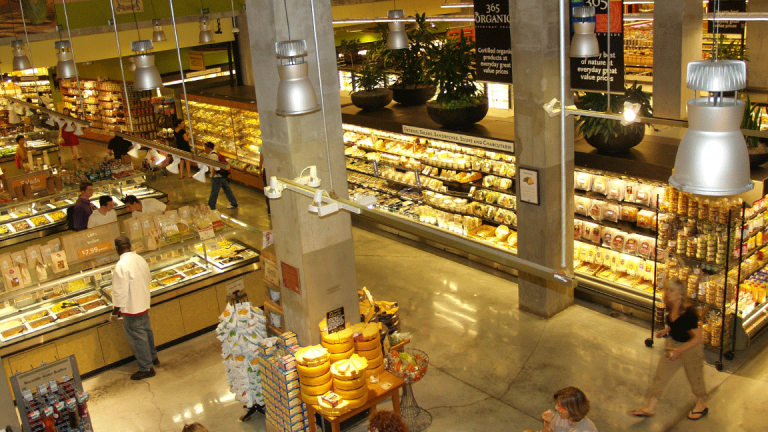 Is Whole Foods Embarrassing Amazon's Deal Team?
Too soon to call. Yet no one doubts Amazon's doggedness.
Amazon.com, Inc. (AMZN) - Get Amazon.com, Inc. Report shares are down about 1% Wednesday, Nov. 15, even though rivals are spooked by its latest round of price cuts.
The Wall Street jitters follow reports of slowing traffic to Whole Foods stores beginning in October. While foot traffic increased dramatically in September, the uptick in October was "much more modest," according to a Barclays update on Amazon's $13.7 billion acquisition of the grocer in question.
Could Amazon, the invincible e-commerce giant, be hitting roadblocks? Is Whole Foods amounting to be a bigger endeavor than expected? Perhaps, industry sources told TheStreet Wednesday. But no one dares to underestimate Amazon's ability to leverage Whole Foods and eventually nab market share away from the likes of Wal-Mart Stores, Inc (WMT) - Get Walmart Inc. Report and Kroger Company (KR) - Get Kroger Co. Report .
"It is the most strategic project that they are yet to handle," said Jim Fosina of Fosina Marketing Group. Sit tight, "the game is only beginning," he added.
In other words, for Amazon to succeed in the food delivery sector, it will take time. The dip in traffic now was expected, according to Antony Karabus, a retail consultant at HRC Advisory.
"There was so much traffic when the deal closed because people were curious," he told TheStreet. "So, it's natural that it's slowly declining."
The first customers after the deal closed may have been turned off that only a slim selection of items were made cheaper, according to Telsey analyst Joe Feldman. Whole Foods' latest round of price cuts is also a small assortment of about 20 foods, including turkeys, yogurt, potatoes and salad mix.
Declining growth in traffic is not an indicator of any struggle on Amazon's part, Feldman and others said. "It's too soon to make that assessment."
Industry observers need to be "patient as this strategy rolls out," Fosina said. "We would argue that Amazon is doing exactly what it should be doing in affirming the Whole Foods-Amazon behavior and trying to convert Amazon customers who are not Whole Foods customers yet [to] give it a try."
Along with the price reductions, Amazon announced an additional 20% discount on Whole Foods products for Amazon Prime members, a move that would create even greater overlap between Prime users and Whole Foods shoppers.
For the time being, everything is in testing mode.
More of What's Trending on TheStreet: