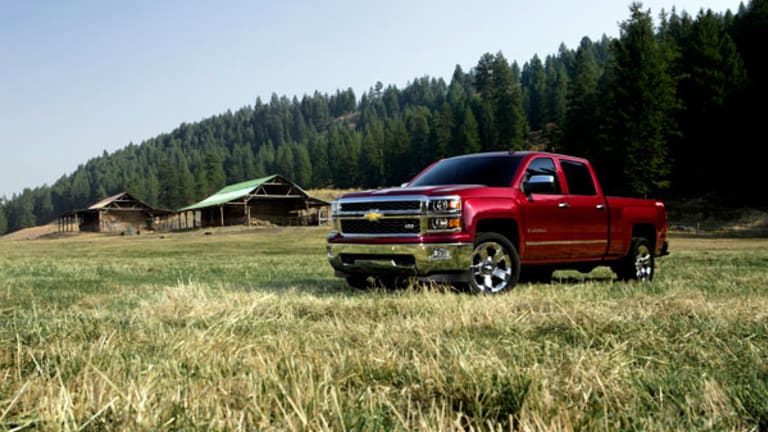 Is 2013 the Year of the Pickup Truck?
As the Detroit Auto Show approaches, the auto industry is focused squarely on pickup trucks.
DETROIT (
) -- Demand for fuel-efficient compact cars continues to mount: The Chevrolet Volt is not only a technological marvel but also a hot political topic and every major automaker recently has rolled out a strong product in the wildly competitive mid-sized sedan segment.
But yet, as the Detroit Auto Show approaches, the auto industry is focused squarely on pickup trucks.
Pickup truck momentum has been mounting for weeks, fueled by the revival of the housing construction industry, which provides a key market for pickup sales. On Dec. 13,
GM
(GM) - Get General Motors Company (GM) Report
the long-awaited, remodeled 2014 Silverado, showing that it clearly got the timing right and now only needs to get the truck right.
On Jan. 3, automakers released December sales that showed strong pickup truck sales including a 16% gain for the remodeled Ram pickup, a candidate for truck of the year. On the
Ford
(F) - Get Ford Motor Company Report
sales call, Ford analyst Eric Merkle said full-size pickups had their best month of the year in December, accounting for 13% of industry sales. For the full year, pickup truck sales accounted for 11.5% of industry sales, relatively consistent with the previous two years.
For all of 2012, Ford's F-150 and the Silverado were the two
U.S. vehicles, with the F-150 first by an immense number, 227,004 vehicles, or 35% of its total sales. Even today, despite all their gains in the various car segments in recent year, the Detroit Three have not entirely shaken the assessment that they are pickup truck companies which also make cars.
Now the industry expects that Ford will unveil a concept for a remodeled F-150 at the Detroit Auto Show media preview next week, which would likely make a pickup truck concept introduction the principal event at the show.
Given the publicity around the Silverado announcement, "Ford, (with) the top selling truck in the country, was left out of that excitement," said Edmunds.com analyst Jessica Caldwell, on a conference call with reporters on Tuesday. "This is a way to get themselves back in it."
Ford "is stealing the spotlight from GM," said Jefferies analyst Peter Nesvold, on the same call. "The real advancement will probably be weight, it is rumored to be 750 miles lighter than the current model." Nesvold said he does not expect Ford will lure many Silverado buyers because truck buyers are loyal, but the rollout "creates a new product cycle story."
Ford has not commented on whether it will roll out a new F-150. On a conference call with analysts in November, Mark Fields, chief operating officer, was coy when asked that question.
"We take leadership very seriously," he said. "We also know that as a leader you have a target on your back. That's what drives our product planning going forward."
An improved housing market benefits the auto industry in three ways, Edmunds.com economist Lacey Plache said on the Tuesday conference call. One is that "truck sales and housing starts are closely correlated (because) as construction work increases, workers will replace their aging trucks." The average age of the U.S. truck fleet is 10.4 years, while the useful life of a truck is estimated at 15.5 years, Edmunds said.
Additionally, rising housing values create a "wealth factor that is translated into auto sales," and refinancing, driven by lower interest rates, is providing U.S. homeowners with average monthly savings of $210, which can be allocated towards a new car payment.
Meanwhile, Nesvold said expectations of a new F-150 rollout helped to fuel the rally in Ford shares at the end of 2012. In December, Ford shares rose 12%, GM rose 10% and the
S&P 500
rose marginally. The chief factor in the rise of the two automakers was the government's decision to sell its remaining GM shares," he said. "The GM rally dragged Ford shares higher."
In addition, "there's been a bias against Ford in the market by some investors," based on the theory that GM will benefit more from the cyclical housing improvement than Ford will because of its new Silverado, Nesvold said, adding, "To some degree, the F-150 concept might ease this perceived overhang on Ford."
-- Written by Ted Reed in Charlotte, N.C.