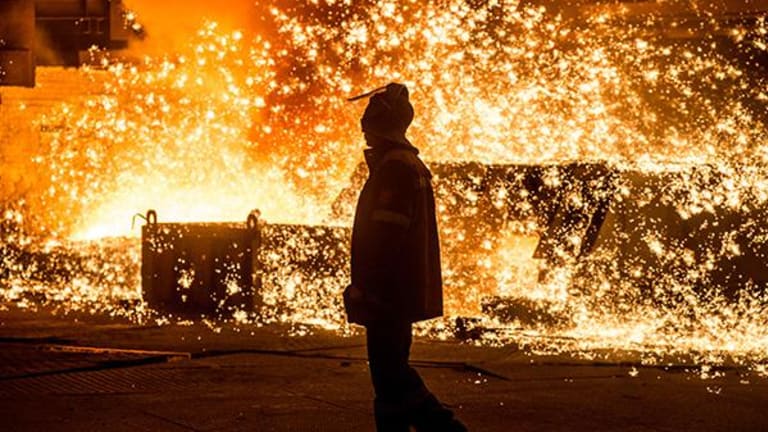 Iron Ore Prices Could Crash 25% Next Year on China Shock, Rising Supply: Citi
Calls for 'peak steel' won't help iron ore prices. Citigroup comes out bearish on the outlook for steel prices.
Iron ore prices could fall to $53 per ton next year as the global supply glut deepens and China demand slows, Citigroup analysts said in a note Wednesday, according to Bloomberg. If Citi's prediction holds true, iron ore would drop 25% from its Wednesday morning price of $71.96 per ton next year.
Growing global iron ore supplies will serve as a primary driver for a decrease in price. Analysts said Australian exports could expand 4.6% from last year and Brazilian exports could increase 5.7% during the same period.
At the same time, China, which is both the world's largest producer and importer of iron ore, is on track to experience slowing industrial production as a result of the country's effort to control credit expansion and reduce excess capacity, according to Bloomberg. That could mean fewer iron ore imports.
To compound slowing iron ore imports, which would increase global supplies and weigh on pricing, China's demand for steel is closing in on its peak. As steel demand reaches its top and begins to decline, demand for iron ore will likely wane, analysts wrote.
China's steel output has risen 5.6% so far this year compared to the first eight months of 2016, Bloomberg data showed, reaching a record last month. As Chinese steel output reaches levels closer to strong industrialized countries, any increase in production won't change iron ore prices as it previously could have.
Although iron ore prices are set to decline by many measures despite strong steel prices, MineLife analyst Gavin Wendt told Bloomberg that the current trend will likely stick around through the rest of this year.
Don't miss these top stories on TheStreet: