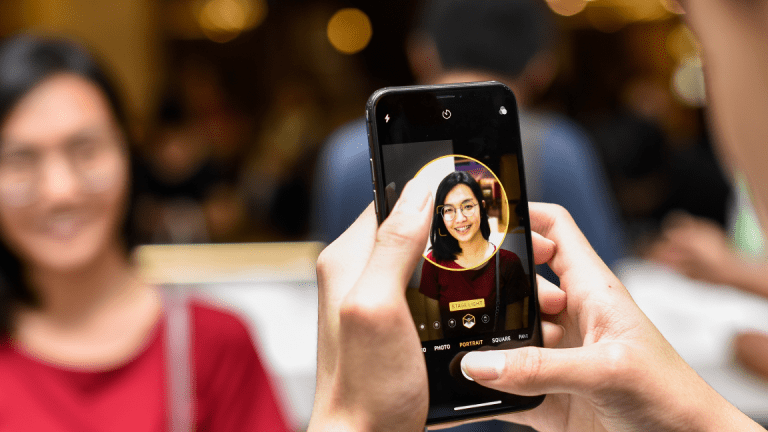 I'm Loving My iPhone X So Far, Which Means Apple Investors Should Relax
Our tech editor's first-hand experience with Apple's flagship smartphone should allay many of the concerns investors have had about it.
Our tech editor's first-hand experience with Apple's flagship smartphone should allay many of the concerns investors have had about it.
Worries seem to come as easily to investors of Apple Inc. (AAPL) - Get Report  as do, well, profits, and the concerns about the latest upgrade cycle have been legion.
Would the unprecedented release of two new high-end iPhones (the 8 and the X) at the same time confuse consumers and lead to weaker overall sales? Would the X's steep price tag ($999 and up) keep buyers away? And if not, would Apple be able to meet demand and deliver in time for the crucial holiday season?
I'm here to tell you to stop worrying, at least as far as any concerns about the X go.
I finally took the plunge and ponied up for the iPhone X last week, and it is indeed a slick and worthy upgrade to previous generations of the iPhone, with a beautifully sharp and vivid edge-to-edge OLED screen and a facial recognition system that's worked flawlessly in my case.
Not surprisingly, demand has been and should continue to be strong, and supply seems healthy as well (in my case, I ordered the phone via Verizon's (VZ) - Get Report website and received it in the mail just three days later).
The X's cost is initially what gave me pause and delayed my decision to upgrade from my (perfectly fine) iPhone 7 -- that and some concerns about how well the Face ID system would work. But a Verizon offer for a $250 credit for switching to FiOs home service, which I was planning to do anyway, convinced me to pull the trigger, effectively reducing the cost of my iPhone X to that of the iPhone 8 (which I also didn't technically need, either, but these are the kinds of rationalizations Apple is so good at forcing you to make).
In addition to the screen, Face ID has proven to be the best feature so far, working quickly and consistently to unlock the phone during the day, in dark conditions (its TrueDepth camera housed in the infamous "notch" sends a burst of invisible infrared light to scan your face), whether I wear glasses or not, etc. It's a huge upgrade for me over Fingerprint ID, which for some reason only worked about half the time for me, while the rest of the time I was annoyingly forced to enter in my six-digit passcode. I especially like how notifications, especially text messages, don't open up to reveal their full contents until the X is unlocked by your face, which helps to guard your privacy. When you hold the phone up to your face and the messages quickly expand, it feels a bit like magic in the way that Apple is famous for.
I haven't played with the X's new dual camera as much, but my limited experiments with using Portrait mode, which blurs out the background and highlights whatever is in the foreground, have turned out great (see below for a photo of my daughter and a friend at a ballet recital), and it's nice to be able to have that feature without the bulk of a Plus model.
I was also a bit wary of having to learn new gestures to replace the home button, but they literally took me about a minute to pick up and I'm pretty much used to all of them now. Finally, the X's battery life seems like a solid upgrade so far -- certainly better than the energy-hogging device my iPhone 7 became after I upgraded to iOS 11.
In short, with the iPhone X, Apple has delivered on the promise of a high-performance smartphone whose nifty new features are worth -- at least to me -- what some would consider an exorbitant amount of money. It helps that many phones are now sold by carriers on an installment basis, meaning you're not paying all that money up front.
To that point, Tim Bajarin of market research firm Creative Strategies noted that he never had any concerns that the X's high cost would dampen demand.
"The majority of people buying new iPhones today are early adopters, and they'll almost inevitably buy the next big thing from Apple every cycle," Bajarin said, adding that the fact that reviews of the X were very strong right from the beginning also helped.
Those factors, coupled with Apple's deft management of its supply chain, which proved better than was initially reported, has led Bajarin to expect record iPhone demand in the current fiscal quarter, as well as the following two quarters.
What's more, many of the new features of the iPhone X will inevitably find their way into subsequent Phones and iPads that Apple launches, and the upgrade cycle will continue.
The bottom line seems to be -- don't doubt Apple. Although there may be some concerns along the way about features, or supplies or cost, the iPhone juggernaut is unlikely to face any significant issues like, say, an exploding battery (and even Samsung (SSNLF) didn't ultimately suffer all that much from that debacle). Apple is a well-oiled machine befitting its status as the world's most valuable company, with its stock up almost 50% this year and its market capitalization getting closer and closer to $1 trillion.
As long as the smartphone continues to dominate the consumer electronics world, and I think it will be a while before things such as virtual reality headsets or other new platforms come to full fruition, Apple will be just fine.
Apple is a holding in Jim Cramer'sAction Alerts PLUS Charitable Trust Portfolio. Want to be alerted before Cramer buys or sells AAPL? Learn more now.
More of What's Trending on TheStreet: