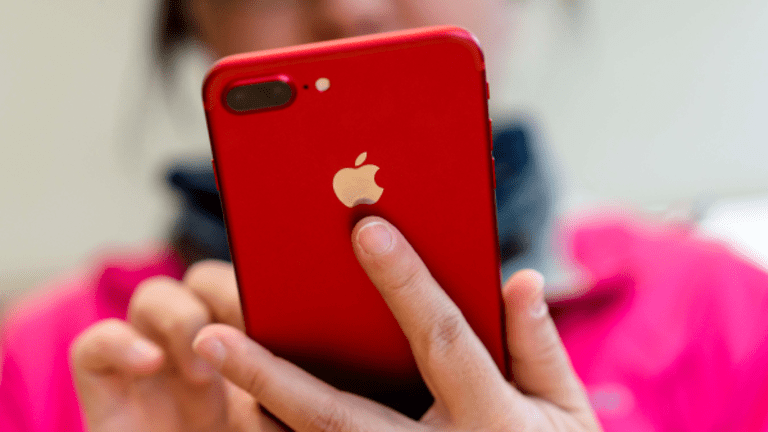 Publish date:
iPhone X Is Apple's Most Expensive Smartphone Ever: Here's Everything We Know
The $1,000-plus tenth-anniversary edition iPhone is expected to mark a major departure from its predecessors.
The $1,000-plus tenth-anniversary edition iPhone is expected to mark a major departure from its predecessors.
Apple Inc. (AAPL) - Get Report is slated to unveil three new iPhone models at its big September event on Tuesday, but one version could arguably be its most important phone for the next several years. 
That phone is expected to be dubbed the iPhone X, according to Apple news website 9to5Mac, which discovered the information via leaked software code for the new operating system, iOS 11. Alongside the iPhone X, Apple is expected to release two other phones, including the iPhone 8 and iPhone 8 Plus. 
Shares of Apple were climbing more than 2% to $161.90 per share on Monday morning. The stock is up roughly 39% so far this year. 
The tech giant typically releases two iPhone models at the annual event, but in honor of the smartphone's 10-year anniversary, Apple is planning to introduce a third, top-of-the-line device that's expected to pack in some more advanced features, as well as a higher sticker price. For several months, speculators had anticipated that the highest-end model would be called the iPhone 8, but Apple may have chosen to call it the iPhone X to commemorate the anniversary and to signify its departure (both aesthetically and software-wise) from previous models. 
The iPhone X is expected to have an organic LED screen with very slim bezels, meaning the screen will take up almost the entire front portion of the phone, similar to Samsung's
(SSNLF)
recently-released Galaxy S8 and Note8. To make room for the edge-to-edge screen, Apple is removing the Touch ID and home button, both of which have been mainstays of the iPhone's design for several years now. The iPhone X's screen is expected to measure slightly larger than that of the iPhone 7 Plus (5.5 inches), but the phone will still be about the same size as the iPhone 7,
to Bloomberg. The back of the iPhone X will likely feature a dual-lens, 12 megapixel camera that can record 1080p HD video at up to 240 frames per second. 
In place of fingerprint authentication, it's likely that the iPhone X will come with facial recognition capabilities. The iOS 11 software code revealed some details about this feature, aptly named Face ID. It appears that Face ID can be used for iPhone unlocking, iTunes and the App Store, as well as Safari Autofill, a setting on the web browser that allows users to save their passwords and credit card and contact information. Users will also be able to use Face ID in the dark. 
The top-tier iPhone is also expected to introduce wireless charging, which allows users to place the phone on a charging pad, instead of plugging in a lightning cable. Samsung's Galaxy Note8 features inductive charging, as well as some Google Nexus phones. 
The iPhone X won't come cheap and is expected to come with a $1,000 price tag. Analysts remain divided over whether Apple consumers will be thrown off by sticker shock or if the smartphone market has adjusted for higher average selling prices. In a note to clients on Monday, JPMorgan analyst Rod Hall said he expects the iPhone X to be priced at $1,100 for the 256 gigabyte model. The LCD iPhone 8 and iPhone 8 Plus pricing should be similar to that of the iPhone 7, he added. The iPhone 7 starts at $649, while the 7 Plus starts at $769.
Watch: Everything We Know About Apple's Upcoming iPhone 8:
More of What's Trending on TheStreet:
Hall also believes the iPhone X to become available in October, which would be good news for Apple, given that Wall Street has been concerned that OLED supply constraints might lead to shipping delays for the high-end device. Some have suggested that the production issues might lead the iPhone X to be delayed until January of next year. 
KGI Securities' Ming-Chi Kuo has estimated the current iPhone X production rate amounts to less than 10,000 units per day, a level that would spell massive near-term shortages.
Macquarie analyst Ben Schachter was bullish on the iPhone X, saying that he believes "pent-up" demand among existing iPhone users will lead to a super-cycle, or a surge in upgrades and unit sales. 
"The days of pure spec increases driving demand are long over," Schachter said in a Monday research note. "If we look back to the iPhone 6, our view is that simply having a larger screen was a key factor that led to the largest upgrade cycle. We think that with expected innovations around [augmented reality], wireless charging, viewable screen size, OLED, and more, the next iPhone is clearly poised for its largest upgrade cycle yet." 
Analysts and investors have been betting that Apple will be able to benefit from massive pent-up demand among users who own the iPhone 6 and older models. As part of a recent survey of more than 1,100 iPhone users, RBC Capital Markets found that 65% of them would consider purchasing the iPhone X, which the firm said is high given that the phone hasn't been launched yet and no marketing efforts have been put behind it. 
The results show that the iPhone X is poised to be a "game changer" thanks to the myriad of fancy new features, said RBC analyst Amit Daryanani. 
"This year's September event is easily the most anticipated iPhone launch given expectations for the first major form factor change since the iPhone 6 cycle and excitement surrounding a host of revolutionary features/capabilities alongside evolutionary updates surrounding the flagship device," Daryanani noted.
More of What's Trending on TheStreet: