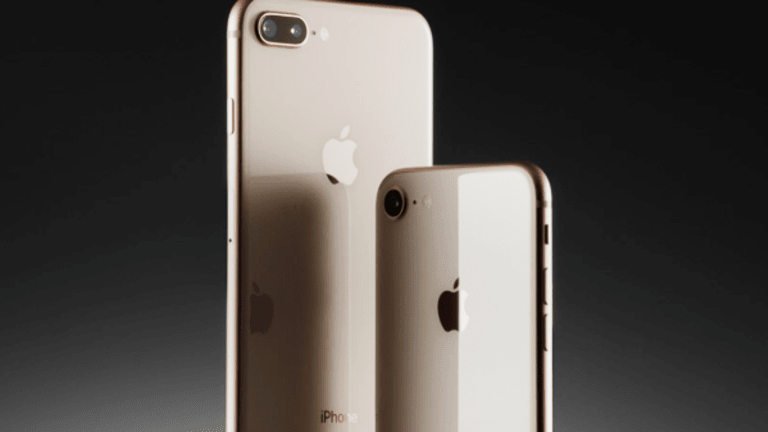 Apple iPhone 8 and iOS 11's Positive Reviews Bode Well for the iPhone X
Though getting much less hype, Apple's iPhone 8 and 8-Plus deliver several improvements also provided by the iPhone X. And reviews are mostly good, especially for their new rear cameras.
Updated from Sept. 20 with information about additional reviews.
It's safe to say that fewer iPhone owners were holding their breath for the first batch of iPhone 8 reviews, which came out on Tuesday, than they were for the first iPhone 7 or even 6S reviews. With all eyes on the $999 iPhone X -- polls have shown a 3-to-1 or even 4-to-1 edge in purchase intent for the X compared to the $699 iPhone 8 and $799 8-Plus -- its cheaper siblings are being treated by many as an afterthought.
But with several of the improvements delivered by the iPhone 8 and 8-Plus relative to the 7 and 7-Plus also relevant to the X, which won't see pre-orders start until Oct. 27, there's still much of value to be gleaned from iPhone 8 reviews. Likewise, the first formal reviews of iOS 11 -- which rolled out to iPhone and iPad users today -- are quite relevant to both the iPhone X and the iPad Pros that Apple Inc.  (AAPL) launched in June.
Like the iPhone X, the iPhone 8 and 8-Plus ship with Apple's new A11 Bionic system-on-a-chip (SoC), wireless charging support and displays that (like recent iPad Pros) support Apple's True Tone technology, which automatically adjusts a display's color temperature in response to an environment's lighting. And though the dual-camera setup on the iPhone 8-Plus is slightly inferior to the X's -- the X supports optical image stabilization (OIS) for both lenses rather than just one, and has a slightly larger aperture for its telephoto lens -- both deliver major improvements compared with the iPhone 7-Plus' camera with the help of better sensors and image-processing.
Reviewers generally gave a thumbs-up to these improvements, even if many argued that consumers who can afford to buy it should wait for the iPhone X. The X, as many readers doubtlessly know, does away with the home button, packs an edge-to-edge OLED display and 3D face-mapping/unlocking abilities and promises superior battery life.
Engadget observes that the A11's extra horsepower relative to the A10 Fusion SoC inside the iPhone 7 and 7-Plus makes a real difference when running more demanding apps and games -- including ones using Apple's new ARKit augmented reality platform. Its tests showed the iPhone 8-Plus outperforming the 7-Plus by 67% when running the 3DMark IS graphics benchmark, by 28% when running the popular Geekbench 3 CPU benchmark in single-core mode and by 84% when running Geekbench 3 in multi-core mode.
True Tone was generally found to work as advertised: Though there was a complaint or two about its impact on color accuracy, reviewers also reported the technology led the iPhone 8 and 8-Plus' LCDs to show more pleasing colors in various environments.
The New York Times' tech columnist Farhad Manjoo praised the iPhone 8's super-fast processor and new wireless charging feature, although he noted the overall upgrade might not be as substantial for iPhone 7 and 7 Plus owners.  
See as Apple Unveils the New iPhone 8 and 8 Plus
Meanwhile, the cameras were given very high marks, especially that of the iPhone 8-Plus. In a review that focused heavily on camera improvements, TechCrunch's Matthew Panzarino found the 8 and 8-Plus, aided by larger image sensors, new color filters and better high dynamic range (HDR) photography support, delivered "better color with a wider range of tones across all kinds of shooting environments." He also saw improved texture details, skin tones, shutter lag, noise-reduction and flash photos, and raved about the 8-Plus' Portrait Lighting mode, which Apple promises will deliver "studio-quality" lighting effects for portrait shots. The iPhone X, unlike the 8-Plus, supports Portrait Lighting for front-camera shots in addition to rear-camera shots.
CNET senior photographer James Martin took 2,000 shots with the iPhone 8-Plus camera over three days, and came away impressed with their texture detail, saturation and noise levels, as well as (thanks to its HDR abilities) the details it delivered for highlights and shadows. "While these cameras and 12-megapixel sensors may not yet compete with the pure resolution of DSLRs, Apple's processing power is pushing photography in ways the traditional camera companies don't," he wrote.
Jim Cramer and the AAP team hold a position in Apple for their Action Alerts PLUS Charitable Trust Portfolio. Want to be alerted before Cramer buys or sells AAPL? Learn more now.
Don't miss these top stories on TheStreet:
There was a bit of disappointment over the iPhone 8's wireless charging speed: The Verge's review found that the 8-Plus saw its charge increase by just 15% for every 30 minutes on a Mophie wireless charging pad. That said, Apple promises that a future iOS update will enable even faster charging times. For now, the iPhone 8 and X's wired fast-charging mode, which requires a high-power charger, is more useful: The Verge saw a 50% charge boost in 30 minutes when using a 29-watt MacBook charger.
As for iOS 11, reviews are mostly positive, though reviewers do note its multitasking features make it a more significant update for the iPad than the iPhone. "[I]f you can install iOS 11, there's really no good reason not to," writes Ars Technica's Andrew Cunningham at the end of a lengthy review. "[W]hen we look back on iOS 11 in two or three years I suspect we'll recognize it as a major milestone on the road from 'limited phone OS' to 'full-fledged productivity OS.'"
iOS 11's revamped Control Center, which puts all controls on a single pane, is well-liked (some concerns arose this week, however, that its Bluetooth and WiFi controls don't completely shut down the receivers when they're turned off, raising potential security concerns). Also well-reviewed are new iPad features such as an app dock that can be pulled up from any app, the ability to drag and drop items between apps, more flexibility to resize apps and the ability to scan opened apps in a manner similar to macOS.
It's still far from a given that these improvements will drive many PC users thus far wary of Apple's attempts to sell them on the iPad as a notebook replacement to change their minds -- the traditional keyboard/mouse UI still has some clear advantages -- but one can see Apple gaining some converts by virtue of the iPad's ease-of-use and portability.
Aside from the Control Center, improvements that matter for both iPhone and iPad users include an overhauled App Store interface (most reviewers like it), a file-manager app, revamped Photos and Maps apps, better grouping and ordering of notifications and a slew of Siri improvements such as automatic language-translation and new attempts to recommend content based on user activity. Outside of minor complaints about potential confusion caused by interface changes, reviewers don't have a lot of bad things to say about how the core features of Apple's latest OS functions.
There's also, of course, ARKit, which went over as well with iPhone 8 and iOS 11 reviewers as it did with those gushing over the first demo apps for the platform. "[I]t's impressive that Apple was able to build something that works this well on phones it designed and introduced two years ago," writes Cunningham. He does, however, admit that ARKit works best when digital objects are superimposed over "large, flat planes like tables, desks, floors, or walls," and that anything requiring rendered images to "interact with or work around smaller real-world objects" will face challenges. With ARKit requiring Apple's A9 SoC or something faster to work, the arrival of popular apps supporting the platform could drive some owners of older iPhones and iPads to upgrade.
There are still some big questions about the iPhone X that won't be answered until the first reviews for the phone arrive in late October or early November. In particular, there's the quality of its OLED display relative to the ones on high-end Android phones, the performance and reliability of its face-unlocking feature (Face ID) and its real-world battery life. But iPhone 8 and iOS 11 reviews still unearthed some valuable details, and on the whole give little reason to think Apple's next flagship phone will disappoint.
Don't miss these top stories on TheStreet: