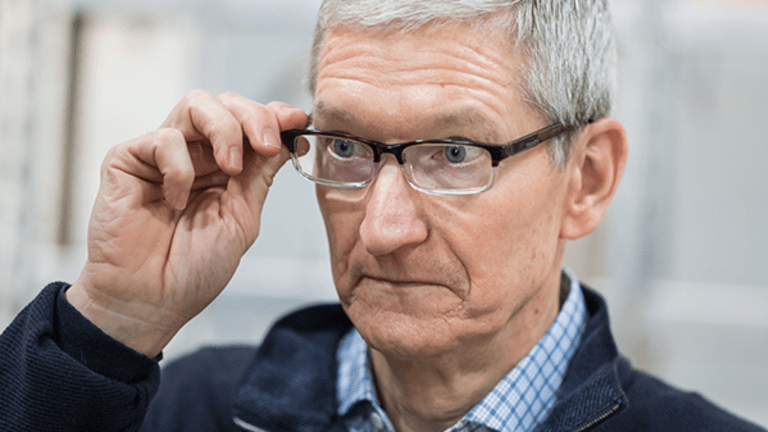 Publish date:
Apple's Big Leaks About the Next iPhone Could Be a Blessing in Disguise
Despite Tim Cook's frustrations with leaks, the newly-disclosed information might actually help sales of Apple's 10th anniversary iPhone.
Despite Tim Cook's frustrations with leaks, the newly-disclosed information might actually help sales of Apple's 10th anniversary iPhone.
If Apple Inc. (AAPL) - Get Report is really cracking down on product and design leaks, the slew of new information released this weekend seems to indicate anything but that.
The software code for the final version of Apple's latest operating system, iOS 11, made the rounds on Saturday and disclosed numerous, revealing details about what the next iPhone will look like. Most importantly, the code referred to three new models, the iPhone X, iPhone 8 and iPhone 8 Plus. It largely settles the debate about what the 10th anniversary model will be called (prior rumors said it might be called the iPhone 8), while demystifying most of its premium features. 
It's unclear how Apple news websites 9to5Mac and MacRumors first obtained the source code, though the BBC reported on Monday that an anonymous source, thought to be a "rogue Apple employee," leaked the information. Longtime Apple blogger John Gruber of  "Daring Fireball," argued that it marked one of the tech giant's worst-ever leaks. 
"Someone who works at Apple emailed these URLs to 9to5Mac and MacRumors -- possibly without even knowing just how much information could be gleaned from these builds compared to the last developer beta builds," Gruber wrote in a blog post. "That person should be ashamed of themselves, and should be very worried when their phone next rings." 

Indeed, if Apple had no hand in the latest leaks, the company will probably do all it can to figure out how the information got out.
Earlier this year, Apple CEO Tim Cook called out media organizations for having a hand in the drop -off in iPhone 7 purchase intent because of their coverage of the new iPhone's features. During the fiscal 2017 second quarter, Apple sold 50.8 million iPhones, down from the 51.2 million it sold a year earlier. 
"We're seeing what we believe to be a pause in purchases on iPhone, which we believe are due to the earlier and much more frequent reports about future iPhones," Cook said in May during a call with investors. 
While the iPhone X leaks may have tempered consumers' excitement about the iPhone 7, several Wall Street analysts believe that may actually help generate even more demand for the newer model, causing a sales super-cycle in second half of 2017. 
"I'd say as a result of the leaks that we've seen, what we're seeing now ahead of the next generation iPhone launch is an older installed base and much larger installed base at the start of this cycle that could contribute to a much stronger than expected iPhone cycle," said CFRA Research analyst Angelo Zino. "That's why people are calling this a potential super cycle." 
Apple and Alphabet are holdings in Jim Cramer'sAction Alerts PLUS Charitable Trust Portfolio. Want to be alerted before Cramer buys or sells AAPLor GOOGL? Learn more now.
More of What's Trending on TheStreet:
Hurricane Irma Spurs Price Gouging Accusations at Happiest Place on Earth Disney
Apple iPhone X Likely to Ship in October, JPMorgan Says
That being said, Zino noted that Cook might be upset about the leaks because they also reveal when Apple changes its mind about certain features. Apple was widely reported to be integrating a fingerprint sensor within the iPhone X's display, but due to supply chain constraints, decided to scrap that feature in favor of facial recognition technology.
"A lot of times you get leaks that come out way too soon," Zino explained. "And some of the stuff you hear doesn't necessarily transpire." 
In recent years, Apple has taken extreme measures to control product leaks. The company has a New Product Security team that's part of its Global Security team, which employs investigators who previously worked for the National Security Agency, the FBI, the Secret Service and the U.S. military, according to The Outline, which obtained a recording of an internal meeting titled "Stopping Leakers -- Keeping Confidential at Apple." In one case, the company trailed a leaker for three years before finding the person at an Apple campus. 
In the past, Apple has suffered from some pretty embarrassing leaks. In 2010, an Apple employee mistakenly left an iPhone 4 prototype at a bar in Redwood City, Calif., which was eventually purchased by Gizmodo for $5,000. Then a similar thing happened with an iPhone 5 in 2011, when another Apple employee left the prototype at a tequila bar in San Francisco. 
Many believe that we may already know everything set to be released at Tuesday's big iPhone event. The iOS 11 code included detailed information about Apple's highly-anticipated facial recognition technology, called Face ID, as well as the Apple Watch Series 3. The new smartwatch is expected to include LTE connectivity, which might allow users to make phone calls, use FaceTime and check their messages directly from the device. 
The leaks could end up leaving little to the imagination in terms of Tuesday's event. Apple clearly enjoys maintaining an element of surprise and Phil Schiller, Apple's head of marketing, recently said the company has "doubled-down on secrecy" out of respect for its engineers. But Zino pointed out that leaking has become part and parcel of Silicon Valley, with many firms such as Samsung (SSNLF) and Alphabet Inc. (GOOGL) - Get Report experiencing similar issues. 
"I think Tim Cook can really complain all he wants about the media leaks, but it's not the only phone that we see leaks arise from. We see Samsung devices, too," Zino said. "There's nothing Tim Cook himself can do that would change that."