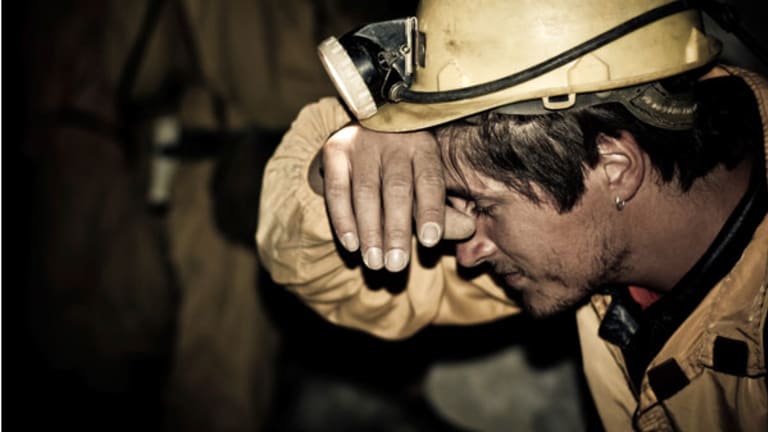 Investors Steel Selves for Steel's 2011
Steel prices have rocketed as the hot-metal industry tries to pass rising raw materials costs onto customers. But investors worry that tentative demand isn't enough to support those price hikes.
NEW YORK (TheStreet) -- Steelmakers have lifted prices for certain products to levels not seen since the boom era, inducing a bullish spirit in some industry watchers, who say share prices among steel names have yet to catch up.
A run-up in raw materials costs has helped steel mills press home higher prices with their biggest customers, especially auto makers and distribution centers. The going price for a ton of hot-rolled coil -- the core product of the traditional Big Steel blast furnace -- has spiked from about $500 in early December to more than $800 as of mid January. The last time it saw such heights came in April 2008.
Certainly, steel stocks experienced a sharp rally in December as they announced price hike after price hike. But bullish observers point out that the last time steel prices were at these levels,
U.S. Steel
(X) - Get United States Steel Corporation Report
shares were trading north of $150,
Nucor
(NUE) - Get Nucor Corporation Report
traded at more than $70 and
AK Steel
(AKS) - Get AK Steel Holding Corporation Report
was above $65. The stocks now stand at $55, $45 and $15, respectively.
The reasons behind the raw materials price inflation have been well documented. Epochal floods have inundated the coal mines of Queensland, Australia, which supplies nearly 70% of the planet's coking coal, used to smelt iron ore in blast furnaces, and therefore a crucial steel ingredient. China's steel industry -- the biggest on earth -- continues to absorb so much coal and iron ore that the likes of
Rio Tinto
(RIO) - Get Rio Tinto plc Sponsored ADR Report
and
Vale
(VALE) - Get Vale S.A. Sponsored ADR Report
posted record production during the fourth quarter. Meanwhile, the price of scrap metal has roared higher, allowing the electric-arc furnace companies such as Nucor and Steel Dynamics to increase prices as well.
Still, investors are understandably wary of the bullish argument on steel. In the first half of 2010, as the economy looked to be entering recovery, steelmakers cranked up production at mills around the country. The decision turned out to be premature, and prices fell hard later in the year as too much supply entered the market.
Industry watchers are wondering whether the most-recent price hikes are sustainable. A recent survey of institutional investors conducted by the metals analysts at UBS revealed that most of the participants "were not convinced ... that price hikes
would stick much beyond April/May," wrote the firm's lead analyst in the sector, Timna Tanners, in a note Tuesday.
The bearish argument rests on doubts about real demand. For one thing, capacity utilization -- or the percentage of the nation's steelmaking capacity -- stands at just over 70%. That's a middling number. The U.S. steel industry has been stuck there for nearly a year, and needs to approach 80% to support price hikes.
The figures include the range of steel products, from flat-rolled, hot-coil sheet metal used in car bodies and appliances (the specialty of traditional blast furnaces) to rougher stuff used for I-beams and other structural products (the specialty of electric-arc furnaces, which make steel out of recycled scrap metal.)
Some observers believe weak demand for long products like I-beams has masked strengthening demand for flat-rolled products. The recovering auto industry, for example, has been a robust buyer of flat-rolled steel since last summer, while the construction industry remains more or less dormant. The nation's flat-rolled mills, says Rick de los Reyes, the metals and mining analyst for
T. Rowe Price
, "are running full out. There's not a lot of excess capacity."
Industry observers also point to the long lead times that have developed, up to 14 weeks for the delivery of an order, which means that steel mills have deliberately held back from ramping up dormant capacity to meet demand, which has supported prices as well. Some customers have even complained behind the scenes of oligopoly-esque behavior, noting that steel-industry consolidation over the last decade has put 70% of the nation's sheet production in the hands of just three companies: U.S. Steel, Nucor, and
ArcelorMittal
(MT) - Get ArcelorMittal SA ADR Report
.
Demand remains weak enough that investors will be looking for any sign whatsoever of a rebounding construction industry, which accounts for 30% of all end-market steel consumption in the U.S., according to some estimates. The most recent architectural billings numbers, released just before Christmas, may have offered the first sign of a recovery. For the second time in three months, the American Institute of Architect's monthly billing index surpassed 50, which represents growth.
Investors will need more than that, however. Expectations are that Nucor Chief Executive Dan DiMicco will once again offer a view of attenuated steel demand when the company reports quarterly results Jan. 27, wrote UBS analyst Tanners in the Tuesday research note.
As steelmakers report fourth-quarter earnings, Wall Street will also scrutinize profit margins. "We need some indication that the margin squeeze has begun to abate," says Leo Larkin, the metals equities analyst at Standard & Poors.
Larkin has a slew of neutral and sell ratings on stocks in the sector, though that's based more on valuation than a bearish view of the industry's prospects this year. His 2011 estimates are higher than the Wall Street consensus. For example, Larkin is calling for U.S. Steel to earn $4.87 a share for the full-year 2011, compared with the consensus estimate of $3.01 a share.
U.S. Steel
Forward P/E Ratio: 18.5
Company Profile
Investors are waiting for U.S. Steel's vaunted operating leverage to kick in. the company surprised Wall Street by posting another loss when it reported third-quarter results in October. This time around, investors will be looking for the company's traditional qualitative guidance for the year ahead. When the economy is growing, U.S. Steel's profit soars, since its costs are fixed (the company controls its own iron ore mines.)
Income Statement
U.S. Steel is slated to report fourth-quarter results before the bell on Jan. 25. On average, analysts are looking for a loss of $1.11 a share on revenue of $4.22 billion. A year ago, the company lost $1.83 a share on revenue of $3.35 billion. Expectations are for the company to return to the black in the first quarter of 2011.
Analyst Ratings
Of the 11 analysts covering U.S. Steel, six rate the stock at the equivalent of strong buy or moderate buy. Four have holding ratings and one has a strong sell view of the stock.
Nucor
Forward P/E Ratio: 19.25
Company Profile
Nucor already preannounced fourth-quarter EPS, and it isn't pretty. For just the second time during this downcycle -- since the financial crisis and the recession began -- Nucor will show a loss on its quarterly bottom line. The company told investors to expect red ink of 10 to 15 cents per share for the fourth period. The company depends on a vibrant construction market more than many of its peers.
Income Statement
Nucor is scheduled to release fourth-quarter results on Jan. 27. Analysts are calling for a loss of 9 cents a share, on revenue of $3.93 billion. A year ago, it earned 18 cents a share on revenue of $2.94 billion.
Analyst Ratings
Of the 11 analysts covering Nucor, four have buy ratings on the stock and five have holds. Two analysts, meanwhile, rate Nucor as a sell, making the sentiment surrounding Nucor among the most bearish in the sector.
Steel Dynamics
Forward P/E Ratio: 12.96
Company Profile
Steel Dynamics
(STLD) - Get Steel Dynamics, Inc. Report
issued fourth-quarter guidance in December -- on the same day as Nucor, in fact, a company to which it will be forever twinned. (Steel Dynamics was founded in the 1990s by former managers at Nucor). The company, known as a low-cost producer, is attempting to free itself from some outside raw materials suppliers by creating its own pig-iron replacement.
Income Statement
Steel Dynamics is scheduled to release official fourth-quarter results on Jan. 24. Analysts are calling for a profit of 9 cents a share, on revenue of $1.6 billion. A year ago, it earned 12 cents a share on revenue of $1.18 billion.
Analyst Ratings
Of the nine analysts covering Steel Dynamics, eight have the equivalent of strong or moderate buy ratings on the stock. The last one rates the company's stock at hold.
AK Steel
Forward P/E Ratio:25.74
Company Profile
AK Steel has been squeezed by rising feedstock costs for nearly a year. The blast-furnace operator doesn't control its own sources of iron ore, like U.S. Steel. Earlier this month, the stock took a hit when Goldman Sachs cut its ratings to sell from neutral based on a weak outlook for electrical steel, used in power cables, stations and transformers.
Income Statement
AK is scheduled to release results on Jan. 25. Wall Street is expecting a bloody quarter from the West Chester, Ohio, company: a loss of 63 cents, on revenue of $1.4 billion. That compares with a year-ago profit of 41 cents a share, on revenue of $1.32 billion.
Analyst Ratings
Only one of the ten analysts covering AK Steel recommends buying the stock. Of the rest, seven rate the company's shares at hold a two at sell.
-- Written by Scott Eden in New York
>To contact the writer of this article, click here:
Scott Eden
.
>To follow the writer on Twitter, go to
.
>To submit a news tip, send an email to:
.
Disclosure: TheStreet's editorial policy prohibits staff editors and reporters from holding positions in any individual stocks.