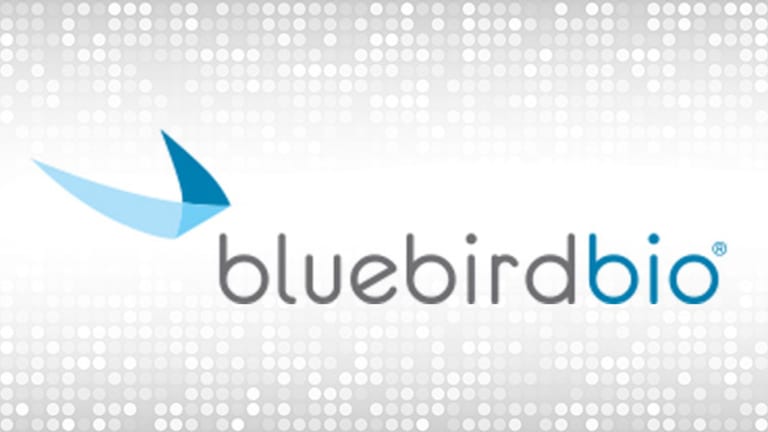 Investors Remain Skeptical about Bluebird Gene Therapy for Blood Disease
Bluebird Bio is going to have a rough Monday because of the disappointing gene therapy data presented over the weekend at the American Society of Hematology annual meeting.
Bluebird Bio (BLUE) - Get bluebird bio, Inc. Report is going to have a rough Monday because of the disappointing gene therapy data presented over the weekend at the American Society of Hematology (ASH) annual meeting.
How bad I can't predict with certainty, of course, but $50-ish per share was the stock price I heard most from investors after Bluebird's investor meeting last night. I attended the meeting, too.
Bluebird shares closed at $83.66 on Friday, so a drop to $50 is 40%. Some investors I spoke with Sunday night expect a fall that significant to be bought, so perhaps Bluebird could rebound to near $60.
These are all guesses, of course. No one speaking to me on Sunday night had a crystal ball in their hand. The impact of the worrisome gene therapy data could be less, it could be more.
I didn't speak with every investor who attended the Bluebird meeting on Sunday night at the Hilton hotel in Orlando, but I did survey enough of them to know the mood was flat. What we heard from Bluebird CEO Nick Leschly and his team last night during two hours of presentations and Q&A was not enough to brighten the mood.
Bluebird's stock is going to take a hit on heightened concerns about the development of its gene therapy platform for beta-thalassemia and sickle cell disease.
For those who may have had better things to do on a Saturday and Sunday than examine gene therapy data, please take a few minutes to read the story I wrote Sunday on the disappointing Bluebird gene therapy results in sickle cell disease patients.
Bluebird, on Sunday night, spent a good amount of time discussing the sickle cell data. The company emphasized that while patients treated with its gene therapy are not responding quickly, improvements in functional and healthy red blood cells are being seen. More time is needed before anything definitive can be concluded.
There are potential reasons, including incomplete ablation of the patient's bone marrow, prior to the gene therapy infusion, which could explain the slower-than-expected response, Bluebird said.
Investors I spoke with after the presentation appreciated the work Bluebird is doing to understand and explain the data but they remain unconvinced. At this point, they are more likely to significantly discount or eliminate entirely the sickle cell disease market from Bluebird's valuation until more clarity is provided.
Bluebird is having more success using its gene therapy to treat, perhaps even cure, beta-thalassemia patients, but here, too, investors are worried. As first disclosed in November and reiterated this weekend, Bluebird's gene therapy is less effective for patients with the "beta zero/beta zero" subtype of beta-thalassemia.
These patients have the most severe genetic mutation and are not reaching transfusion independence yet despite treatment with Bluebird's gene therapy. On Sunday night, Bluebird emphasized that these treated patients, while not reaching a functional "cure" like other beta-thalassemia patients, are still benefiting because of less frequent blood transfusions.
Over time, the benefit seen in "beta zero/beta zero" patients could grow, Bluebird believes.
Great and possibly true, investors told me, but at this point, they're more likely to eliminate these severe beta-thal patients from the Bluebird revenue bucket in their models. The concern is that simply reducing blood transfusion frequency, but not eliminating it, might not be enough of a benefit to warrant the risk and complexity of undergoing gene therapy.
That's the second hit to Bluebird's gene therapy valuation.

Bluebird's ASH weekend was not all bad. The company talked at great length Sunday night about its early-stage cancer therapy platform. An engineered T cell therapy targeting a protein known as BCMA found on the surface of multiple myeloma cells will enter clinical trials next year. Bluebird is partnering with Celgene (CELG) - Get Celgene Corporation Report -- multiple myeloma experts --on this project.
Data from a older version of this BCMA-targeted engineered T cell therapy were presented at ASH this weekend -- and were quite positive.
Investors I spoke with Sunday night were pleased with Bluebird's move into cancer but also cautious. The engineered T cell therapy field is crowded and competitive. The technology is changing rapidly. Bluebird's effort is just getting started, so few investors (based on my discussions) were willing to give the company a lot of credit for the work just yet.
If Bluebird's stock price is a loser coming out of this weekend's ASH meeting, are there any companies which can take advantage?
Watch Global Blood Therapeutics (GBT) - Get Global Blood Therapeutics Inc Report on Monday. The company is developing a pill to treat sickle cell disease so it's stock may move higher Monday. Global Blood presented updated results from an early-stage study of its sickle cell drug GBT440 on Sunday. Generally, the results were in-line with investors expectations.
Bellicum Pharmaceuticals
(BLCM) - Get Bellicum Pharmaceuticals Inc Report
and
Acceleron Pharmaceuticals
(XLRN) - Get Acceleron Pharma Inc Report
-- both developing therapies for sickle cell -- might also gain from Bluebird's pain.
Adam Feuerstein writes regularly for TheStreet. In keeping with company editorial policy, he doesn't own or short individual stocks, although he owns stock in TheStreet. He also doesn't invest in hedge funds or other private investment partnerships. Feuerstein appreciates your feedback; click here to send him an email.