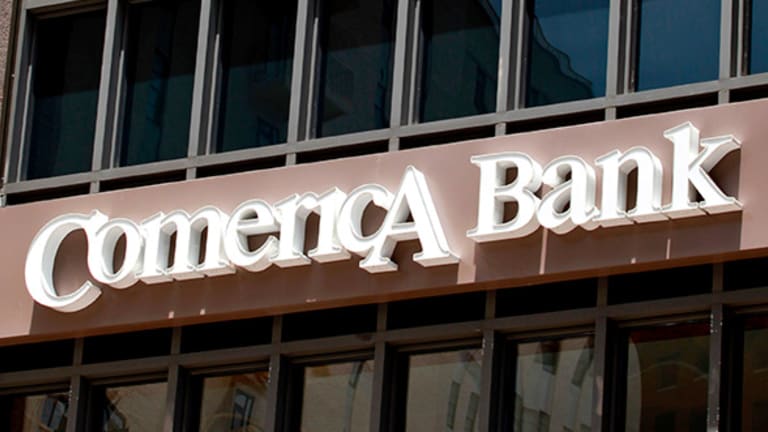 Comerica Gets a Wake-Up Call From Investors Pushing Potential Sale
Comerica's CEO and board got an earful from some of its largest shareholders, who traveled to Dallas for the bank's annual meeting to express their discontent.
This article, originally published at 1:16 p.m. on Tuesday, April 26, 2016, has been updated with comments from investors.
Comerica (CMA) - Get Comerica Incorporated Report  , the Texas lender strapped with loans to the energy industry, got reprimands at Tuesday's annual meeting from some of its biggest shareholders, who reinforced their comments with a vote that showed waning support for the board of directors.
A preliminary tally showed that each of the board's directors, including Chairman and CEO Ralph Babb, got at least 86% of votes, according to the bank. While a mere majority is needed for reelection, it's rare for such votes to register approval levels below 90%. Last year, all of Comerica's directors garnered at least 96% of votes.
Many large investors have become disenchanted with Comerica's failure to produce returns on par with rivals. At Monday's meeting, representatives of Fiduciary Management, the third-largest shareholder, and Invesco, the sixth, scolded Babb and lead director Richard Lindner for a lack of improvement, saying it's time for the bank to consider alternatives such as a sale.
"You need to look at strategic options," said Tom Bastian, a senior portfolio manager at Invesco, which oversees $771.5 billion. "There has to be a tremendous sense of urgency." The firm owns about 5% of Comerica's shares, according to data collected by Bloomberg.
His comments echoed those of CLSA analyst Mike Mayo, who has mounted a public campaign to urge Comerica to pursue a board shakeup, management changes, a new strategy, a sale of the entire bank, or a combination of those options. The matter is especially urgent, he argues, now that oil prices have tumbled to around $40 a barrel, swelling loan defaults in the lender's home state of Texas.
"Comerica is an excellent franchise, so thank you for that, it just doesn't seem like Comerica is optimized," Mayo told Babb. 
Babb, 67, acknowledged the criticism, noting that management and the board are already undertaking the steps needed to cut costs and boost revenue and are open to alternatives such as a sale. Last week, he announced on a conference call with investors that Comerica had hired Boston Consulting Group to lead a review of strategy. The last time the bank hired a consultant was in the 1990s, and the effort led to job cuts, according to Babb. 
"There's a sense of urgency on the board's part, management's part," Richard Lindner, a former AT&T CFO who serves as Comerica's lead independent director, said at the meeting. "It's not that we have not looked at those alternatives."
During a press conference after the meeting, Babb said he was pleased with the outcome of the director elections. "It was in the 80s," he said. "That's a good vote."
Comerica shares have returned an average 5.5% over the past five years, compared with 11% for all regional banks, according to Morningstar. Last week, the bank said first-quarter net income tumbled 45% from a year earlier, as bad loans more than doubled. Comerica has branches in Texas, Michigan and California. 
Hudson Executive Capital, a hedge fund co-founded by former JPMorgan Chase CFO Doug Braunstein, took a 0.8% stake in Comerica late last year. The investment turned heads because Braunstein and co-founder James Woolery, a fellow JPMorgan alum, both have long experience in mergers and acquisitions. The fund's panel of advisers include former Wells Fargo CEO Richard Kovacevich, who led that bank's acquisition of the ailing Wachovia during the financial crisis of 2008. 
"Hudson believes in the scale benefits of consolidation," John Holland, the firm's New York-based head of research, said at the meeting. "We believe Comerica should be a part of that."  
Jack Barnes, a New York-based analyst at Samlyn Capital, Comerica's 13th-biggest shareholder, told Babb and the board that he attended the meeting to "demand strategic change." 
The results of the shareholder vote indicate a "substantial decline in support for the chairman and the board," Barnes said. "It's imperative that the board immediately consider all strategic options."
Mayo, in an interview after the meeting, said he was pleased with the responses from Babb and Lindner, in that they indicated, no fewer than seven times over the course of the meeting, that they were willing to consider strategic alternatives. 
"Comerica woke up," he said.