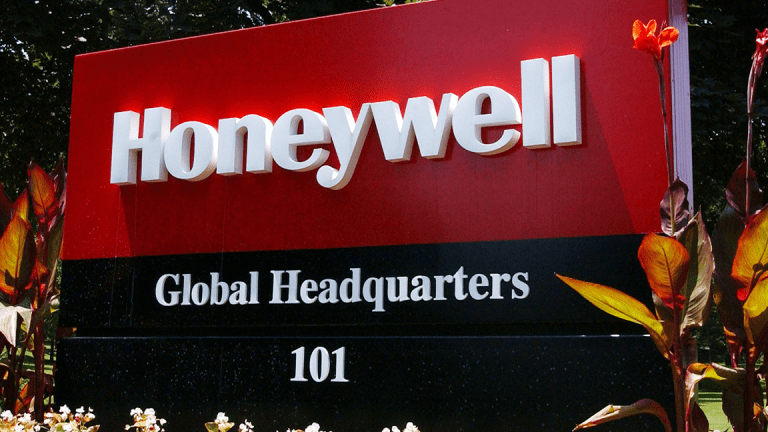 Investors Flock to Honeywell After Issuing Conservative 2018 Profit Forecast
The Morris Plains, N.J.-based industrial conglomerate said that earnings per share are expected to be $7.55 to $7.80 for 2018.
Honeywell International Inc. (HON) - Get Honeywell International Inc. (HON) Report set a profit range for 2018 below Wall Street's estimates, which sent the stock lower in premarket trading leading investors to buy the industrial conglomerate once the opening bell rang.
The Morris Plains, N.J.- based company said that earnings per share are expected to be $7.55 to $7.80 for 2018, which puts the lower end of that range below analysts' prediction of $7.79, according to FactSet Research Systems Inc. Honeywell is aiming for free cash flow growth between $5.2 billion and $5.9 billion for next year, which would represent growth of more than 20%.
For the fourth quarter of 2017, the company anticipates EPS of $1.84, which is at the upper end of its previous guidance range of $1.79 and $1.84, and raised its organic sales growth to 7% to 8%. For the full-year fiscal 2017, Honeywell is targeting EPS of $7.10, excluding separation costs, and expects organic sales growth of 4%.
"If this stock is down, just go buy the thing," TheStreet's Jim Cramer said on CNBC on Wednesday. "It is a great American industrial that is dominant in every single division." Honeywell is among the stocks Cramer is considering adding to his Action Alerts PLUS Charitable Trust Portfolio.
Investors appeared to heed Cramer's advice. The stock slipped by more than 1% in premarket trading, but shares of Honeywell rose by 1.7% to $156.42, on lower than average volume, at 11:30 a.m. EST on Wednesday. The shares are up abut 35% so far this year.
Under recently installed Chief Executive Officer Darius Adamczyk, Honeywell is gearing up for a year of transformation.
"We expect that the spin-offs of our homes and global distribution and transportation systems businesses will be completed by the end of the year," Adamczyk, 51, said in a statement. "Following these transactions, Honeywell's portfolio will be more focused and simple with significant opportunities for profitable organic and inorganic growth, while reducing the cyclicality of our total business and leveraging cross-Honeywell synergies."
Honeywell makes dozens of products including thermostats, fans, work boots and generators.
"Honeywell is ideal, they are splitting into two main business, and I think the stock is cheap," Cramer said.
Cramer reviewed Honeywell's stock chart on CNBC's "Mad Money" on Tuesday. He said that the stock had a strong move in November on high volume, "but in the past couple of weeks it seems to have run out of gas." The stock pulled back on lower volume, indicating that the big institutional investors are not selling it in quantity, Cramer noted. He also mentioned that Real Money's technical expert Bob Lang sees the potential for Honeywell stock to go up to $170 near the beginning of the new year.
(The Vanguard Group, BlackRock Fund Advisors and Massachusetts Financial Services Co. are the top three institutions that own Honeywell, according to FactSet.)
Stephen Tusa, an equity analyst at JPMorgan Chase, had a more muted reaction to the earnings update.
"The outlook event for Honeywell looks neutral, with a better-than-expected 4Q, and conservative guidance for 2018," Tusa wrote in a research note. J.P. Morgan has an "Overweight" rating on Honeywell stock.
There is, however, some "incrementally negative details on the spin," Tusa noted.
"A minor negative is the disclosure of spin costs totaling $800 million to $1.2 billion, new news that hits the [sum of the parts analysis] by $1, and is excluded from the $5.2 to $5.9 [free cash flow] guidance," Tusa said. "All in, some lingering questions, but trend line out of the fourth quarter is sufficiently positive to support upside to initially conservative guidance, and FCF and balance sheet story are fully intact."
Jefferies equity analyst Sheila Kahyaoglu said that the proposed Honeywell spin-offs aggregate to about $7.8 billion in revenues, including the $3 billion transportation segment, in addition to the home and building distribution sub-segment expected to generate $4.8 billion in revenues in 2017. The Jefferies analyst also noted that Honeywell expects to receive a total "spin dividend" of $3 billion. 
"The new Honeywell should be able to generate cash flow of about 90% to 100% of net income," Kahyaoglu wrote in a research note. "Honeywell has $14 billion available for deployment with $10.2 billion post dividends, CapEx and share repurchases required to keep share count flat." Jefferies has a "Buy" rating on the stock and a $162 price target.
More of What's Trending on TheStreet: