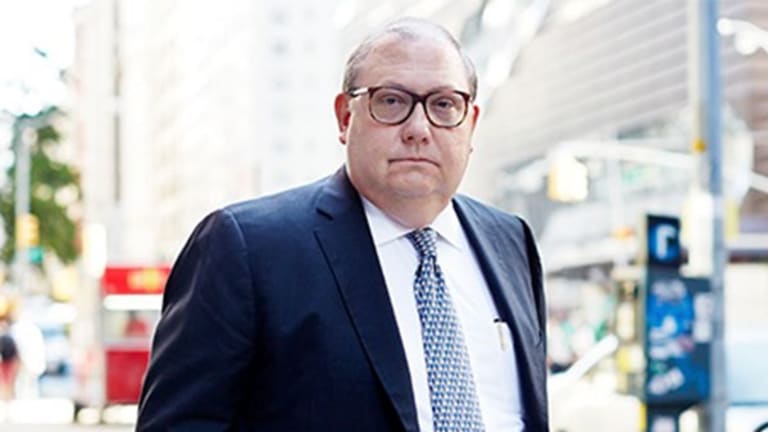 Activist Investor Employs Hitler Video and Legal Threats
An investor in Altisource Residential Corp. who is shorting shares of Altisource Asset Management, published a report Wednesday accusing the two Bill Erbey-led companies of a conflict and threatening legal action.
NEW YORK (TheStreet) -- An investor in Altisource Residential Corp. (RESI) - Get Front Yard Residential Corp. Class B Report who is shorting shares of Altisource Asset Management (AAMC) - Get Altisource Asset Management Corp. Report, published a report Wednesday accusing the two companies of a conflict and threatening legal action.
"We believe that AAMC's Incentive Fee is at least four to seven times higher than the compensation received by similarly situated asset managers, and as such, is a sweetheart deal that will unjustly enrich insiders with a beneficial stake in AAMC at the expense of RESI's shareholders," states the 27 page report from Glaucus Research Group. The bold letters in this quote and subsequent ones are reproduced from the report, which is really more of a campaign. In an especially bizarre move for a company threatening a lawsuit, Glaucus makes use of the ubiquitous Hitler video to poke fun at itself.
Bill Erbey, who is the Chairman of both companies, as well as Ocwen Financial  (OCN) - Get Ocwen Financial Corporation Report, Altisource Portfolio Solutions (ASPS) - Get Altisource Portfolio Solutions S.A. Report and Home Loan Servicing Solutions (HLSS) , responded via email that "we do not comment on alleged lawsuits."
The report, which kicks off with a quote from Game of Thrones ("Winter is coming") states that "as shareholders of RESI, we believe that RESI's independent directors have a fiduciary duty to either terminate or substantially renegotiate its asset management agreement with AAMC. We expect to sue RESI's independent directors for violating their fiduciary duty of loyalty to RESI's shareholders unless they address the lopsided compensation deal given to AAMC."
Glaucus is not the first to accuse Erbey's companies of being conflicted. New York financial services superintendent Benjamin Lawsky has also zeroed in on the issue. Lawsky has not publicly raised concerns over the issue highlighted by Glaucus, though his investigation is ongoing. A spokesman for Lawsky had no immediate response to questions.
Glaucus argues "RESI's shares will increase by up to 114% if RESI captures a significant part of the market cap of AAMC, whereas AAMC's share price has up to 87% to fall."
That prediction showed a bit of promise early Wednesday, with AAMC shares losing ground and RESI in positive territory on the day, but shortly before noon in New York AAMC shares went positive on the day. Shortly after 1 pm they were up 4.59% to $1071. RESI shares were up 1.68% to $31.56.
Rick Biggs, partner at New York-based hedge fund Consector Capital, argues "the compensation agreement is fair, incentive-based, and fully disclosed. Both companies are publicly traded (unlike other externally managed firms) so investors can choose which entity to own."
Biggs criticized the report's use of mortgage REITs as comparable companies to make its case that AAMC is overpaid, an argument Biggs called "almost as laughable as their parody video," since they are, in his view "completely different business[es]."
Biggs believes "holders of RESI would be very ill-served by even considering a change in management and vendor relationships; that would be insanely disruptive."
--Written by Dan Freed in New York
Disclosure: TheStreet's editorial policy prohibits staff editors, reporters and analysts from holding positions in any individual stocks.