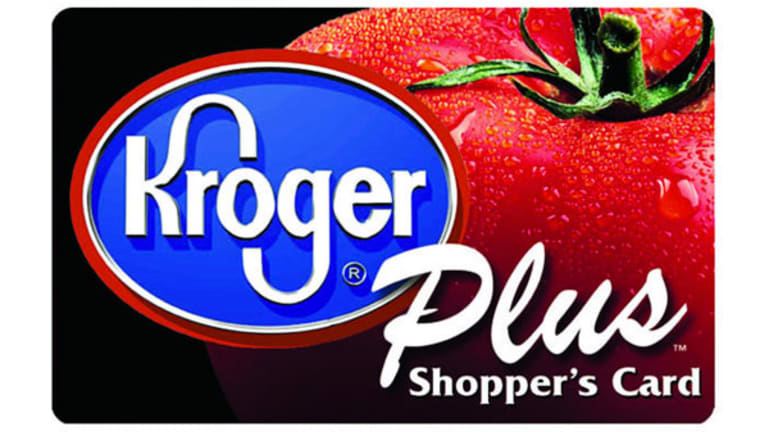 Investor Alert: Here's Why Kroger's Stock Is a Buying Opportunity
Shares of Kroger fell on Monday, but with the company set to report fiscal first-quarter earnings on Sept. 9, investors should be ready to buy shares.
Monday was another bad day for supermarket chain Kroger (KR) - Get Free Report shareholders, but the stock's slide represents a buying opportunity.
Kroger's stock is down more than 22% this year, though it rose more than 193% over the past five years, so this decline ahead of the release of fiscal second-quarter results on Sept. 9 may allow a brief buying window.
The time to buy investments is when they are under-appreciated gems.
Before we get into why the future for Kroger looks promising, let's see what has happened in the recent past.
First off, the competition has gotten stiffer.
Walmart has been reducing prices in an attempt to bring customers back.
Meanwhile, the privately held Albertson's and Safeway chains have remodeled locations to make the shopping experience more enjoyable.
And Whole Foods Market, while still offering organic and healthy products, has also reduced prices in an attempt to build its customer base.
At the end of the day, everyone is fighting for customers any way that they can. The only real way to grow, is by stealing customers from the competition.
Unlike other industries, the actual product being sold doesn't vary much from company to company, so the industry competes on price and the shopping experience.
The second issue hurting Kroger is deflation in food prices.
Grocery spending fell in the first half this year, and Zachary Fadem, an analyst at Wells Fargo, thinks that the third quarter will also show a drop.
With falling food prices, grocers have a harder time increasing sales and earnings because the customer base is essentially fixed, with the U.S. population not growing fast enough in one year to make a huge difference in food sales.
To help put the deflation issue in perspective, last month the Department of Agriculture released updated figures for its 2016 outlook on food prices and estimated that the cost of food would edge up just 0.25% to 1.25%.
The historical average over the past 20 years shows food price inflation at 2.5% a year.
Moving forward, though, Kroger is already priced at just 15 times trailing earnings and 13.5 times forward earnings. Furthermore, many analysts think that Kroger will miss estimates and that therefore the stock will fall even further.
Analysts expect Kroger to report quarterly earnings of 45 cents a share, a penny higher than a year earlier, on revenue of $26.81 billion, slightly higher than the $25.54 billion reported a year earlier.
Regardless of earnings, Kroger's stock looks like a superb value play. 
Kroger is the largest U.S. grocery store operating in an industry where scale matters. Kroger can battle Walmart or anyone else on price and still post healthy earnings.
The company also has a very loyal customer base due to its rewards programs for gas. That network may even get stronger in the coming years as Kroger opens stand-alone gas stations.
Finally, there was speculation Monday that Kroger may be interested in buying up to 500 Rite Aid and Walgreens locations that will need to be sold before Rite Aid and Walgreens Boots Alliance can complete their merger. These 500 locations could help Kroger expand its pharmacy business, which is the fifth-largest in the U.S., and give the company more smaller-footprint grocery locations.
Walgreens Boots Alliance is a holding in Jim Cramer's Action Alerts PLUS Charitable Trust Portfolio. See how Cramer rates the stock here. Want to be alerted before Cramer buys or sells WBA? Learn more now.
Kroger looks posed for another five-year 200% increase, but only investors who are patient will reap those kinds of returns. Food prices will again rise to historical averages, but investors may have to wait a few more quarters for that to happen.
The same goes for the competition.
Kroger can keep prices low and still turn a profit longer than most of its competitors, it just may take time for the others to back off.
Buy shares of Kroger before other investors get wise to the stock's value.
---
A crisis is coming. And when it hits, weak companies and their investors will be washed away. Don't let that happen to you! I've found seven companies you should own no matter what the economy is doing. Each one of these powerful, yet overlooked companies, barely notices when the market tumbles. And they'll skyrocket when it rebounds. You can pick all seven up for pennies on the dollar right now. But that'll change the instant average investors catch wind of just how bad things really are. Get their names here before it's too late.
This article is commentary by an independent contributor. At the time of publication, the author held stock in KR.