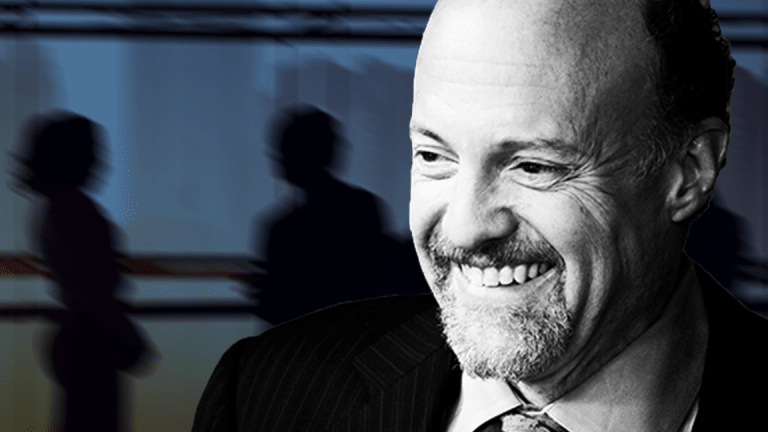 Why Investing Education Is More Important Than Ever Before In This Stock Market
Market volatility is back with a vengeance after being dormant for most of 2017. And the reality is that your investment portfolio is unlikely prepared for this new environment. Hosted by TheStreet's founder Jim Cramer, our May 5 conference 'How to Diversify Your Portfolio: A Boot Camp for Investors' will help you successfully navigate this new world order in the markets.
There is a new world order ripping through the stock market. 
Interest rates are rising, causing hot tech trades such as Amazon (AMZN) - Get Amazon.com Inc. Report to be unwound. President Trump continues to tweet away about the stock market and Corporate America. Volatility is all over the map after being dormant for most of 2017. Seemingly "cheap" stocks like General Electric (GE) - Get General Electric Company Report continue to plunge.  
Like never before, investors need guidance. And TheStreet has your back in the pursuit of this guidance. Hosted by TheStreet's founder and Action Alerts PLUS portfolio manager Jim Cramer, our May 5 conference 'How to Diversify Your Portfolio: A Boot Camp for Investors' will help you gain the tools to successfully navigate this new world order in the markets. With the help of top experts, the conference will cover topics such as long-term wealth building, trading the market, futures and alternative investments (blockchain, gold, cannabis and more).
In a special segment, Jim Cramer will sit down exclusively with PayPal CEO Dan Schulman to discuss the future of tech and PayPal's role in it. PayPal has been one of the best-performing tech stocks around, up a cool 80% over the last year.
Register here for the conference. And read on below for a small sampling of some of the topics the conference will touch upon.
Don't Forget the Long-Term
At one point on February 5, the Dow Jones Industrial Average undefined was down nearly 1,500 points. There was budding panic on Wall Street over a convergence of events: rising interest rates, possible trade wars, and a chaotic White House. A few weeks later, the Dow had recovered a good chunk of those losses.
The lesson here is that people must stay focused on long-term investing. One must move beyond chasing headlines and hot stocks - if not, one's portfolio is likely to return far less over time. Focus on the fundamentals of companies and then see how those companies fit (or don't) into your portfolio. Don't panic when others are panicking, instead consider being opportunistic or staying patient knowing full well the assets you own are best in class.
Reminded Fisher Investments chairman Ken Fisher in an interview with TheStreet on March 23 after a 724 point Dow drubbing:
"If you ask me where the market is going to be in a week, three weeks or 45 days I never know. But fundamentally this process is good and you should look past the short term, because short-term traders usually get whacked, and instead look toward the longer term which is still positive."
Fisher Investments will sponsor an in-depth discussion on how to build one's long-term wealth. You won't want to miss this, believe us. Check out more here. 
But If You Like to Trade Stocks...
And you thought buying FAANG (an acronym for Facebook (FB) - Get Meta Platforms Inc. Report , Apple (AAPL) - Get Apple Inc. Report , Amazon (AMZN) - Get Amazon.com Inc. Report , Netflix (NFLX) - Get Netflix Inc. Report , Alphabet (GOOGL) - Get Alphabet Inc. Report ) stocks was akin to owning a money printing press at home. How's your trading account looking over the past month? Or how about pulling up a chart of the Dow in late January and thinking it had at least 25% more upside, likely all coming in February? Talk about a rude-awakening. Did you do your research on Feb. 5 and think the S&P 500 undefined was too cheap to ignore after a vicious selloff? The market has continued to get cheaper since then.
This year, the market has proven consistent in one department: consistent inconsistency. The hot trades of 2017 are no longer working. What looks like a cheap broader market may be anything but cheap. RealMoney, one of the first services launched by TheStreet's founder Jim Cramer some 22 years ago, has been at the ground floor of this topsy turvy 2018 market.
The service's top minds, a who's who of financial services veterans, have uncorked a litany of winning trades for subscribers this year. Some have used fundamental analysis to unearth big winning trades, others tried and true technical analysis. Others have taken a step back from the daily news headlines and penned in-depth research reports to help subscribers with their longer term investing goals. During periods of market stress, these market veterans have hopped onto live blogs to give insight into what's happening and how to profit.
That actionable guidance is what TheStreet's RealMoney panel at the May 5 conference will bring to you. A true insider's look into what's driving the market today, and how to position ahead of its next move ... either up or down. What you need to know here.