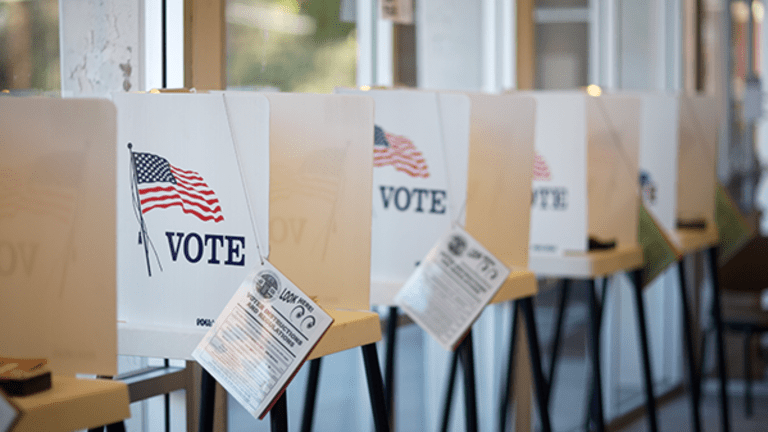 Invested In Healthcare? Cast Your Vote For Gridlocked Government
Healthcare stocks stand to benefit most from a Clinton presidency, Democratic House and Republican Senate.
While it may be disappointing from a political perspective, gridlock in the government is the best election outcome for your portfolio of healthcare stocks, analysts say.
"Our view still remains that the best thing for the space is a divided government," JPMorgan analyst Nadia Lovell said by phone. "It will make it very difficult for any sort of sweeping reform in 2017. [Healthcare] subsectors that would outperform in such an environment."
To put it concisely, "healthcare outperforms post-election when gridlock reigns," as analysts at Mizuho Securities wrote.
Most analysts and pollsters expect that the Democratic candidate, Hillary Clinton, will win the presidential race, while the House of Representatives swing majority Republican. The race for the Senate is seen as a much closer one, and could lean either Republican or Democrat.
Best for healthcare stocks though? A Clinton presidency, Democrat majority in the Senate and Republican majority in the House. It's under these conditions that the S&P 500 healthcare indices outperform, especially after the election.
According to Lovell, investors pulled back on biotech and pharmaceutical stocks as early as last fall in response to worries about the election. Analysts say they expect the space to rebound if the election results in government-wide gridlock.
It's likely that many investors interested in the healthcare space have been staying on the sidelines, waiting to see what the results of the election are before picking a group of stocks that looks safe for investment.
"We think there is money on the sidelines that could start to return after the election, assuming the scenario plays out generally within expectations," analyst Michael Yee of RBC Capital Markets wrote in a note. "Assuming no 'Democrat sweep,' it is possible biotech companies move back up since it would still be difficult to get any real legislation passed and gridlock would ensue."
So why are healthcare investors keen on gridlock?
"The healthcare sector, being largely publicly funded already, is especially sensitive to the risk of legislation, regulation and Congressional inquiry," Mizuho analyst Sheryl Skolnick wrote in a note.
Skolnick noted that gridlock in Congress itself is what really helps healthcare because it's what prevents legislation from being passed. Basically, as Skolnick puts it, the market "abhors uncertainty" which has by and large been a theme in the 2016 presidential election.
If all goes according to analyst and pollster expectations, the Affordable Care Act, which has been a hot button topic this election cycle, will likely remain in existence.
While both Clinton and Trump promised reform on the law, which mandates healthcare for all Americans, both parties will likely struggle with passing reforms they promised during the campaign season if the election results in a gridlocked government.
"With the polls still calling for a Clinton win and a chance that the Democrats control the Senate, it seems likely that the ACA will be preserved," Skolnick wrote in a note.
Stocks exposed by threats to the Affordable Care Act like HCA Holdings (HCA) - Get HCA Healthcare Inc Report and Universal Health Services (UHS) - Get Universal Health Services, Inc. Class B Report would benefit from a Clinton win, according to RBC Capital Markets analyst Jonathan Golub.
"If ACA remains in place, you will see some relief in the hospital names," Lovell said by phone. "They have been beaten down this year because of concerns of ACA going away."
That's because the costs and benefits of preserving ACA has been baked into stock prices, noted Mizuho's Skolnick in her research note. The $155 billion in pay-for cuts to hospital reimbursements and a host of regulations, taxes and fees on managed care have already been reflected in past years' earnings,
The most likely scenario under a Republican sweep would be for coverage benefits to go away but, because they raise$1 trillion over 10 years, to leave the pay-fors in place, which "is the worst of all possible worlds for hospitals," she wrote.
A Democratic sweep would be bad for specialty pharma, biotech, drug stocks and distributors," she said. "The fears, whether they are real or not, of drug price legislation, continued investigations, congressional hearings and a [Sens. Bernie] Sanders-[Elizabeth Warren] agenda in Congress, are likely to dominate trading in those stocks, at least through the 100-day Agenda  until the spring budget/legislative session."
The few areas where split control of Washington is possible are a threat to the industry too, she said. One of those areas is in the pharma sector. "The furor over egregious drug pricing took on a decidedly bi-partisan air-and that's the real danger in our view," she said. Lawmakers could restrict pharma pricing power through increased regulation or simply by browbeating the industry from the bully pulpit of congressional hearings and investigations, Skolnick warned.