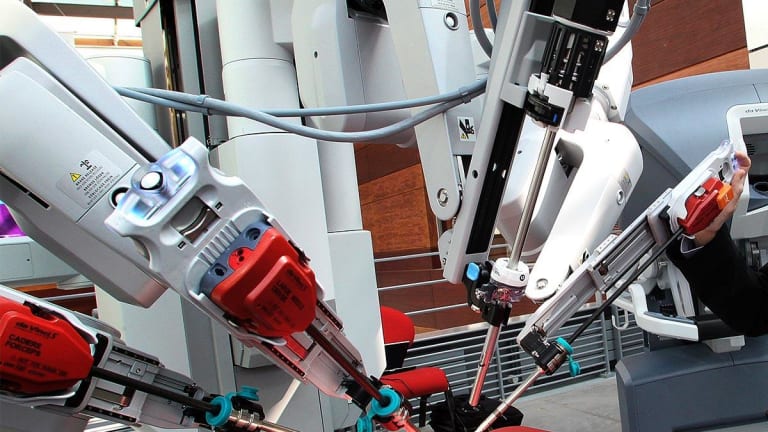 Intuitive Surgical Gets New Price Targets After Earnings Beat
The surgical equipment manufacturer's second quarter report surprised analysts, setting Intuitive up for a strong second half.
Investors should be excited about Intuitive Surgical Inc.  (ISRG) , analysts say.
The company reported second quarter profits of $327.4 million, beating analysts' consensus estimate of $292.8 million, while its per share earnings beat the consensus by more than 10%. Intuitive's EPS came in at $2.76 compared to Wall Street's prediction of $2.50.
Intuitive rose modestly by 0.5% to $523.61 a share in early afternoon trading Friday after the company announced its second-quarter earnings.
A combination of increases in procedures and system demands have analysts excited about Intuitive's potential growth in the future. Canaccord Genuity analyst Jason Mills argued that Intuitive has "solidified its position as the preeminent growth company in large-cap med-tech," according to a research note.
The Sunnyvale, Calif.-based company manufactures da Vinci surgical systems, which are used in minimally invasive surgeries for multiple types of procedures. Systems cost anywhere from $500,000 to $2.5 million depending on the product, according to Intuitive.
The company saw the use of da Vinci systems for different procedures increase worldwide by 18% from the previous year and shipped 220 new units globally, which is up from the 166 Intuitive shipped the previous year during the second quarter.
Analysts raised their consensus price target for Intuitive to $545 from $486, but did not change their position on the stock, according to FactSet data. Intuitive currently has seven "buy" and five "hold" ratings on it.
Mills has a Hold on Intuitive and did not raise his recommendation because he views the market as paying "an appropriate price for the growth we project in the business through 2019," according to a research note. Mills did raise his price target to $550 from his previous estimate of $430.
Intuitive management raised its procedure growth guidance by 200 basis points to 14.5-16.5% from 12-15% as the company expects more penetration into international markets, especially in Japan, and expanded use of its da Vinci systems for more types of medical procedures stateside. Leerink Partners Richard Newitter views this range as too conservative and sees growth topping 16%.
"Intuitive Surgical continues to be a unique, robotic surgery franchise developing numerous promising new general surgery procedures," Newitter wrote. "New product cycles should help sustain above-average top- and bottom-line growth as system advancements continue opening up incremental surgery/revenue sources over time."
Newitter raised his price target to $600 from his previous estimate of $540.
Meanwhile, Goldman Sachs analyst Isaac Ro raised his price target for the company to $630, arguing that Intuitive is a rare large-cap company with high growth potential and few competitors.
But Ro warns that Intuitive could be affected by the growing trade war with China, even though he expects the impact to be modest right now.
"Some of the recently imposed tariffs do impact components supplied to Intuitive Surgical, and the company is currently evaluating the impact," Ro wrote.