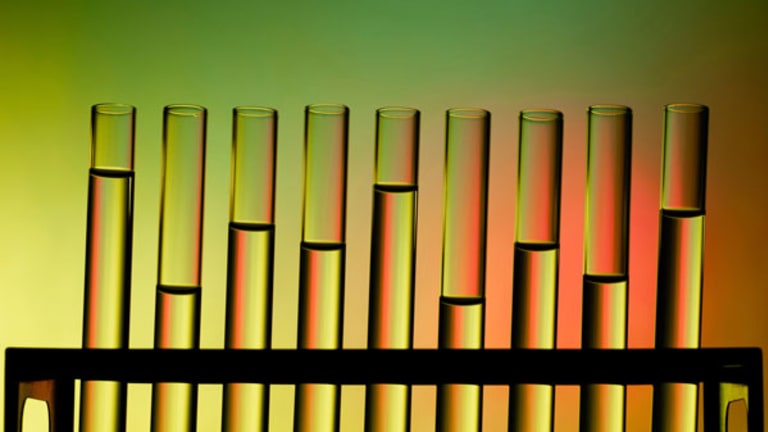 Introgen's Data-Mining Misleads
The company has tried to spin an underwhelming drug trial into a positive one.
My
critique last Saturday of
Introgen Therapeutics
(INGN) - Get Inogen, Inc. Report
sparked some sharp negative reaction by readers, mainly from those believing strongly in the potential of the company's Advexin cancer drug.
So let's take a closer look at the available data and, as a related byproduct, the difference between clinical data that are collected and analyzed prospectively vs. the same done retrospectively.
It's an important distinction that has a big impact on the quality of data and the subsequent conclusions you can make. This issue comes up often in biotech investing, so it's a good topic to explore that's applicable well beyond Introgen.
Introgen and its supporters believe that Advexin works because of clinical data from a phase II study announced in the past year that purports to show a survival benefit in a subset of patients with head and neck cancer who are given Advexin. Introgen's stated plan is to use this survival data to seek FDA approval of the drug before the end of the year.
But here's why I'm so bearish on Introgen: The survival benefit from the phase II trial was culled retrospectively -- in other words, after the trial's prestated endpoints were analyzed.
There's nothing wrong with data-mining, per se, except when you do it to spin a negative trial into a positive one. That's when retrospective data analysis becomes misleading and wrong, which is what Introgen has done with Advexin.
The following example, although exaggerated, will better explain why prospectively defined data analysis is more relevant than anything found retrospectively:
Suppose lung cancer Drug X is being tested in a trial of 500 patients. Half the patients receive Drug X plus chemotherapy, the other half gets chemotherapy alone. The goal of the study, or its primary endpoint, will be to determine whether Drug X improves survival of lung cancer patients, and by how much.
When the study is finished, patients in both arms of the study had a median survival of 11 months. Drug X, it seems, did nothing to improve survival of lung cancer patients, overall.
But wait, it turns out that 75 left-handed lung cancer patients who took Drug X in the study survived for 20 months, while 25 left-handers treated with chemotherapy alone only lived for 10 months. Moreover, this result -- a doubling of survival for left handed lung cancer patients -- was statistically significant.
On the basis of this analysis, would the FDA approve Drug X as a treatment for left-handed lung cancer patients?
Of course not. The clinical trial wasn't designed in advance, or prospectively, to test that hypothesis. Instead, the conclusion that Drug X boosted survival in left-handers was derived retrospectively, after the trial was designed and the data were collected and analyzed. What may look like solid proof of Drug X's efficacy from the study is actually just an observation found through data-mining (and a potentially biased one). Another clinical trial of Drug X in left-handers would need to be run to prove the observation true.
Steering this back to Introgen, nearly three years ago the company issued a
detailing results from a combined analysis of three phase II studies of Advexin in 217 patients with head and neck cancer. Here's how the company described the trial (emphasis added):
"The objective overall response rate of Advexin monotherapy was 10 percent (complete and partial response with greater than 50 percent reduction in tumor size). Tumor growth control (stable disease or better) was achieved in 59 percent of all treated lesions.
The primary objective of the trials was to assess tumor growth control and safety following Advexin monotherapy in patients with recurrent head and neck cancer.
All patients had failed previous conventional treatment."
Introgen's phase II study had as its primary endpoint, or objective, tumor response to Advexin. That was the prospectively defined analysis. A 10% overall response rate is not much to write home about.
But more than two years later, Introgen says it discovered something new from this phase II database. The following is from a
issued on June 5, 2006:
"Researchers at Introgen Therapeutics and their clinical collaborators have identified a set of prognostic indicators associated with high response rates and increased survival in Phase 2 trials of ADVEXIN in patients with recurrent squamous cell carcinoma of the head and neck (SCCHN)."
The release went on to say (the italics are mine): "A molecular biomarker predictive of ADVEXIN activity is abnormal p53 function detected in tumor tissues by a routine laboratory test.
In patients with the abnormal p53 marker, ADVEXIN therapy was correlated with a statistically significant increase in median survival of 11 months compared to only 3 months for patients without abnormal p53.
"
p53 is a gene believed to regulate cell growth.
Patients with an "abnormal p53 marker" who live longer taking Advexin sounds a lot like lung cancer patients who are left-handed, doesn't it?
It's a nice retrospective observation, but it's hardly a conclusion, and therefore it won't carry weight with the FDA. Back in 2004,
Allos Therapeutics
( ALTH) tried the same thing with its cancer drug but came back from the FDA rejected.
What's worse for Introgen -- even more so than my made-up left-handed lung cancer scenario -- is that the data-mined Advexin subgroup totals all of 16 patients out of the 217 patients in its phase II study. That's a bit of important information that Introgen chooses not to disseminate widely but will cop to when asked privately. (I did exactly that last summer during a meeting with Robert Sobol, the company's chief science officer, at an investment conference in Boston.)
Sobol also admitted that so-called p53 biomarker survival analysis was found retrospectively, and that patients in the phase II study were not routinely screened for p53 levels before or during the trial.
As I said in Saturday's column, this all adds up to a lot of bamboozlement on Introgen's part. Now, you might ask why a company would go to the FDA with drug data it knows has zero chance of approval. It's simple: Introgen has no other choice and not much to lose.
Introgen is running two randomized and controlled phase III studies of Advexin in head and neck cancer, which should give us better data on the drug's efficacy and safety. But those studies were started in June 2000 and have yet to complete enrollment, which tells you: 1) there is little or no interest from cancer research centers for Advexin; and 2) the odds of success in these trials are slim.
I truly hope that Introgen does finally send Advexin to the FDA, something it's been promising to do, in one form or another, for two years. If and when that happens, the company will no longer be able to spin stories, delay and mislead. The drug's fate will be out of Introgen's hands and under the control of the FDA, where all this nonsense will end.
And for those with no interest in Introgen, there's still a biotech investment lesson here: When a company announces clinical trial results, make sure you know what the trial was originally designed to show, and be careful of any data or conclusions gleaned after the fact.
Shocked that a biotech company might try to mislead investors? Don't be.
Adam Feuerstein writes regularly for RealMoney.com. In keeping with TSC's editorial policy, he doesn't own or short individual stocks, although he owns stock in TheStreet.com. He also doesn't invest in hedge funds or other private investment partnerships. Feuerstein appreciates your feedback;
to send him an email.