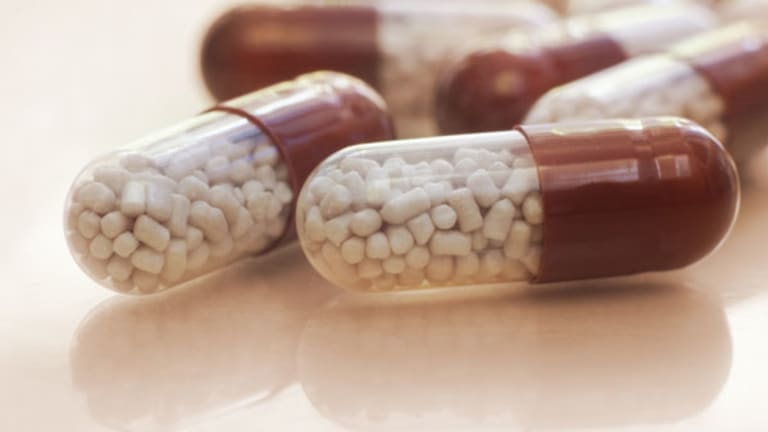 Introgen's Advexin Doesn't Work. Period.
Last week's conference call did nothing to assure investors that the gene therapy drug for head and neck cancer can secure regulatory approval.
(Editor's note: Come see Adam Feuerstein at the Money Show in San Francisco. Adam will be speaking to attendees on Friday, Aug. 8, at 2:15 p.m. ("Biotech Investing for Individuals: How to Turn Geeky Science Into Fat Profits"); on a lunch panel on Saturday, Aug. 9, at 12:35 p.m. ("Tech and Biotech: Picks and Pans for 2008 and Beyond"); and on Sunday, Aug. 10, at 8 a.m. ("Biotech Investing for Individuals: How to Turn Geeky Science Into Fat Profits").
The highlight for me from Thursday's conference call sponsored by
Introgen Therapeutics
(INGN) - Get Inogen, Inc. Report
came when Canaccord Adams' analyst Joe Pantginis -- he's a table-thumping Introgen bull -- said the following about Advexin, Introgen's gene therapy drug for head and neck cancer:
"So, thanks again for being on the call and just a quick question -- as with all novel technologies, there continues to be some skeptics out there. I would really love to get the views of our experts regarding an existing comment that exists currently that Advexin just doesn't work."
I was flattered, naturally, because the "existing comment" Pantginis referred to is mine, although he didn't capture its full flavor.
What I wrote, back in a
December Biotech-Stock Mailbag
, was: "Introgen is a terrible company. Advexin is junk. The drug doesn't work. The data are manipulated and false. Management misleads."
Much juicier, don't you think?
The view of the experts assembled by Introgen for Thursday's call was unanimous in support for Advexin. The doctors, Jack Roth, John Nemunaitis, John Hamm and Jarrard Goodwin -- all either investigators in the Advexin phase III study or with hands-on experience using Advexin -- stated emphatically that Advexin works and that the drug will be approved.
Is it possible that these well-credentialed experts -- all with more letters after their names than me -- can be wrong? In the face of such overwhelming support for Advexin, how can I continue to be so negative?
Actually, it's quite easy.
Here's another
biotech investing lesson
courtesy of Introgen: Don't let so-called experts intimidate you into believing you're wrong when you have the facts and common sense on your side of the ledger. I'll take facts and common sense over a fancy medical degree and unsubstantiated opinion for hire any day when it comes to spotting a biotech blowup in the making.
Comparing Survival Data
Introgen claims that 75% of head and neck cancer patients have a readily identifiable genetic makeup, or biomarker, that allows them to benefit more from treatment with Advexin.
If that's true, then why did Advexin patients overall in the company's phase III study do so poorly? The median survival for Advexin-treated patients in the study was 4.4 months, compared to a median survival of 6.1 months for patients treated with the chemotherapy drug methotrexate, according to the intent-to-treat analysis of the study's primary endpoint.
Yes, Advexin's survival was numerically worse in this study.
On Thursday's call, Introgen's science chief Bob Sobol said survival between Advexin and methotrexate was "similar." Really? A patient on Advexin surviving for 4.4 months compared to a methotrexate patient living 6.1 months is similar?
Does common sense tell you that this survival difference is similar? If I was dying of head and neck cancer and was enrolled in this study, I know which treatment arm I'd want to be in. Hint, it wouldn't be Advexin.
Now, of course, Introgen's whole schtick is about the genetic biomarker that identifies patients who benefit more from the drug. Much of Thursday's discussion focused on data purporting to show how a subset of patients in the study -- dubbed "Advexin favorable" patients -- reported a median survival of 7.2 months, significantly longer than the subset of "Advexin unfavorable" patients with a median survival of 2.7 months.
Still, this doesn't explain why survival for Advexin-treated patients overall was so low. Introgen says that 75% of head and neck cancer patients are "Advexin favorable" so surely, that should translate into a survival benefit no matter how the patients are analyzed.
After all, it's not like Introgen is claiming that Advexin only works in a minority of head and neck cancer patients.
Perhaps the answer to this riddle lies in a difference between the genetic makeup of the patients in the "Advexin favorable" subset vs. the larger, overall patient population. Fewer "Advexin favorable" patients in the overall study population, for instance, might explain why Advexin survival was so much lower there.
Unfortunately for Introgen, this theory doesn't hold water because 75% of patients in the subset with biomarker information were "Advexin favorable." Moreover, Introgen says it ran an analysis that showed the makeup of the subset patients was the same as the overall patient population.
Introgen's science chief Sobol, again, from Thursday's conference call:
"We also did statistical analyses that confirmed that the clinical characteristics of the patients on whom we have samples are the same as the entire population. We believe that the results attained with the biomarker samples we have is
sic representative of the entire study group."
If the subset or biomarker patients are equal and representative of the entire group of head and neck cancer patients enrolled in Introgen's study, then why is there such a disparity in survival?
How can the "Advexin favorable" patients live for 7.2 months, but the larger pool of Advexin patients live only for 4.4 months?
The real answer, more likely, is that Introgen
cherry-picked a subset of patients
that lived longer and that it could identify as "Advexin favorable" in order to claim that Advexin was working. In fact, these biomarker patients do not resemble head and neck cancer patients overall, at all.
Advexin does not work.
Incomplete Biomarker Data
And while we're discussing facts and common sense about Advexin, here's another question: If Introgen were serious about finding a biomarker that identifies patients who benefit from Advexin, why did the company manage to collect biomarker data on only about 50% of patients in the study?
Introgen's management team and its panel of doctor supporters came up with all kinds of excuses Thursday: The tumor samples are too difficult to obtain, the study was challenging logistically because it was conducted all over the world; there was not hard requirement for a set number of tissue sample, nor did it matter how many samples were obtained because the results were positive anyway.
None of those responses passes the smell test. The truth is much simpler. Introgen is seeking regulatory approval for Advexin based on 67 patients (out of 123 total patients in a study that was supposed to enroll 240 patients originally) because the entire biomarker game was cooked up well after the phase III study was begun.
Everything Introgen does has been backwards, which is why the Food and Drug Administration will never approve Advexin. An FDA that gave
Genentech
( DNA) a hard time approving Avastin in breast cancer and that turned down
Dendreon
(DNDN)
last year, an FDA that is more conservative overall and that takes a very hard-line stance on biostatistics is going to look at the Advexin approval package and laugh.
Introgen's purpose for Thursday's conference call was to gather some doctors and experts to say great things about Advexin so that short-sellers might get spooked and cover, thereby lifting the moribund stock price. Introgen is running out of money and the tight-fisted capital markets will not be pried open easily, especially for a company with such a dubious reputation.
Alas, Introgen's call didn't spark much interest. The stock closed Friday down a penny at $1.49, just off its 52-week low. Introgen shares opened flat Monday.
Two years ago, almost to the day, Introgen held another conference call with many of the same doctors to extol the virtues of Advexin. Since that call two years ago, Introgen has lost more than 60% of its value.
On Friday, Cannacord Adams' analyst Pantginis issued yet another bullish note, reiterating his buy rating and $9.50 stock price target for Introgen. The note was cleverly titled, "Advexin Works. Period."
"Despite all the current controversy surrounding the Phase 3 study and Advexin's history, the response of the physicians was irrefutably positive toward Advexin and its potential role in the clinic as a 'personalized medicine' with an extraordinary safety profile," wrote Pantginis. "It is clear to us that the skeptics continue to lose their footing, and the static should be tuned out."
From the look of things, it's Introgen and Advexin that are being tuned out.
Know What You Own:
Other biotech companies developing drugs for head and neck cancer include
Amgen
(AMGN) - Get Amgen Inc. Report
,
ImCloneSystems
(IMCL)
and
Arqule
(ARQL) - Get ArQule, Inc. Report
.
Adam Feuerstein writes regularly for TheStreet.com. In keeping with TSC's editorial policy, he doesn't own or short individual stocks, although he owns stock in TheStreet.com. He also doesn't invest in hedge funds or other private investment partnerships. Feuerstein appreciates your feedback;
to send him an email.