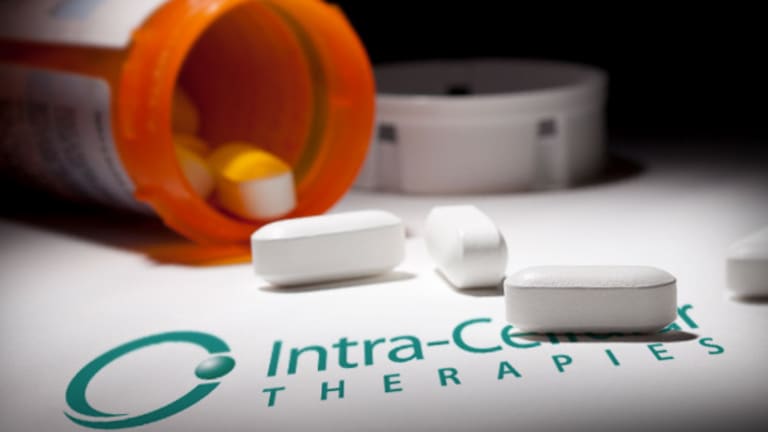 Intra-Cellular Evades Scrutiny on Schizophrenia Drug Safety, Shares Plunge
Today's Intra-Cellular update was probably going to send the stock price falling regardless of how management acted, but the refusal to be transparent made a bad day even worse.
Intra-Cellular Therapies (ITCI) - Get Intra-Cellular Therapies, Inc. Report was already on shaky ground with investors over the future of its schizophrenia drug, so management's refusal to answer obvious questions about a new safety concern was a self-inflicted wound that sent the stock plunging to an all-time low.
On Monday, Intra-Cellular reported on a meeting held with FDA in which regulators raised questions about toxicity observed in animals treated with its schizophrenia drug lumateperone (also known as ITI-007.) The FDA wants Intra-Cellular to provide more information about the animal toxicity before moving forward with an approval filing, the company said.
Intra-Cellular 's willingness to be transparent about the new safety issue basically ended there. On a conference call, company executives, include CEO Sharon Mates, said the lumateperone toxicity was seen in dogs treated at much higher dose levels than what's used in people. Dogs also metabolize, or break down, lumateperone differently than people, which led the company to believe the toxicity was not going to be a problem for FDA.
But what was the specific toxicity that caused FDA to raise questions and how severe was it? These are obvious, important questions but ones that Intra-Cellular refused to answer repeatedly on a conference call with investors and analysts. Animal toxicity can be a signal that safety issues could crop up later in people, particularly if a drug must be taken chronically. Investors get particularly nervous about preclinical liver toxicity.
And so with insufficient information about the nature of the lumateperone toxicity, investors sold the stock. Intra-Cellular shares fell 35%  in early morning trading to $8.99. The stock had never traded this low since since the company went public in 2014. The stock regained some ground by the end of the day, closing at $10.49, for a total drop of $3.33, or 24%.
Intra-Cellular now has multiple issues to deal with. The company ran two, large phase III studies of lumateperone in schizophrenia patients. One of these trials yielded positive results, the other failed. The company asked FDA if the mixed bag of clinical data (a smaller, phase II study was also positive) could support a new drug application.
The FDA told Intra-Cellular data from the failed phase III study "do not preclude" a lumaterperone filing, the company said Monday. That's good news but hardly a ringing endorsement.
And now the drug carries a safety overhang. If Intra-Cellular can answer the FDA's questions about the mystery dog toxicity, the lumateperone filing will be submitted in the middle of 2018. If the FDA still has safety concerns, the filing will be delayed and a long-term safety study of the drug in schizophrenia patients could be placed on clinical hold.
Today's Intra-Cellular update was probably going to send the stock price falling regardless of how management acted, but the refusal to be transparent with investors for no good reason made a bad day even worse.
Adam Feuerstein writes regularly for TheStreet. In keeping with company editorial policy, he doesn't own or short individual stocks, although he owns stock in TheStreet. He also doesn't invest in hedge funds or other private investment partnerships. Feuerstein appreciates your feedback; click here to send him an email.