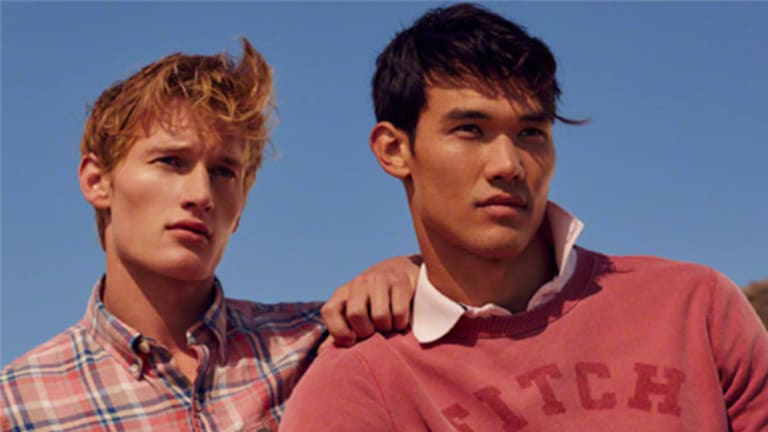 Abercrombie Shares Are Crashing and It's Mostly Because of Foreigners
Abercrombie & Fitch delivers its second straight earnings miss thanks to sluggish spending overseas.
Updated to include conference call details
Abercrombie & Fitch's (ANF) - Get Abercrombie & Fitch Co. Class A Report turnaround efforts were once again thwarted by the cautious international shopper.
Shares of the the apparel retailer plunged as much as 18% Tuesday after the company reported its second straight earnings miss, delivering a second-quarter loss of 25 cents a share vs. Wall Street estimates for a loss of 20 cents. Net sales fell 4.1% year over year to $783.2 million, slightly ahead of analyst forecasts for $782.7 million. Same-store sales, which measure sales from stores open longer than a year, fell 7% at the Abercrombie & Fitch brand and dropped by 2% at Hollister. Both results were slightly worse than the first quarter as the company told analysts on a call it had fashion misses in female tops at Hollister while the overall tops business at Abercrombie remained challenging.
Abercrombie fell victim once again to tepid sales at its flagship stores globally thanks to the strong U.S. dollar and threats of terrorism in Europe hurting spending by tourists. Such issues also plagued sales at Macy's (M) - Get Macy's Inc Report most important U.S. store, Herald Square in New York City, as well as at Tiffany's (TIF) - Get Tiffany & Co. Report flagships in NYC and Europe during the second quarter. In the U.S. and abroad, same-store sales each fell by 4% during the quarter. Year to date, same-store sales internationally are down 5% compared to a 3% decline in the U.S.
On the call, Abercrombie President and Chief Merchandising Officer Fran Horowitz said she doesn't see a "near-term catalyst" to reverse sluggish traffic trends at key international flagship stores.
"It's not easy in some of these international markets," Martinez told TheStreet in a phone interview in May. "Our large-volume stores are predominantly in Western Europe, and it's a very unsettled environment there -- whether it's personal-safety-related terrorism, the dollar, what's going on with Britain maybe leaving the EU, which could make some goods more expensive," Martinez added.
Abercrombie operates about 117 locations in Europe, with the U.K. being the largest at 34 stores.