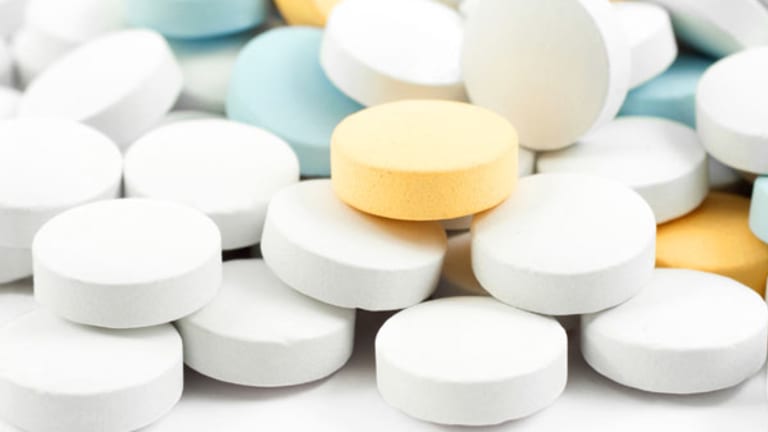 Publish date:
InterMune Soars on Mixed Lung Drug Data
InterMune shares were rising after reporting mixed results from two pivotal clinical trials for a treatment of a fatal lung disease.
InterMune shares were rising after reporting mixed results from two pivotal clinical trials for a treatment of a fatal lung disease.
Updated from 11:53 a.m. EST
InterMune
(ITMN)
shares rose Tuesday after the company reported mixed results from two pivotal clinical trials of the company's experimental drug pirfenidone in patients with idiopathic pulmonary fibrosis, aprogressive and fatal lung disease.
The first phase III study of pirfenidone failed, yet the second,slightly larger phase III study yielded positive results.
InterMune said it believes the combined data from the two studiesshow that pirfenidone significantly slows the decline in lung functionof patients with idiopathic pulmonary fibrosis, and the company plans toseek regulatory approval for the drug in the U.S. and Europe.
InterMune shares were up $4.24, or 35.8%, to $16.11 in recent trading, down slightly from the stock's opening bid and well off the high hit in pre-market trading, when the stock was up over 50%.
The intraday pullback probably represents some quick profit taking on the part of some investors, but also recognition that the mixed data picture for pirfenidone muddies the drug's regulatory outlook a bit. Even InterMune executives sounded a note of caution on a Tuesday morning conference call.
"We are optimistic given the totality of the data and the severity of the disease, but we also recognize that the challenge is not insignificant," said InterMune CEO Dan Welch.
The two pirfenidone studies represent high stakes for InterMune andits shareholders. If successful, pirfenidone is likely to become the firstdrug for idiopathic pulmonary fibrosis (IPF) approved by the Foodand Drug Administration or its counterparts in Europe. With well over200,000 IPF patients in the U.S. and Europe, InterMune could easilytransform pirfenidone into a highly profitable drug with more than $1billion in peak sales.
IPF is a disease marked by scarring of the lungs caused by thegradual buildup of fibrous tissue. As the fibrotic scar tissueaccumulates, air sacs in the lungs lose their ability to transfer oxygeninto the bloodstream. No effective treatments for IPF exist, and without a successful lung transplant, patients eventually die of the disease.
Pirefenidone is approved as an IPF treatment in Japan, where thedrug is sold by Japanese drug maker
Shionogi & Co.
Both of InterMune's phase III studies enrolled patients with IPF andtreated them with either pirfenidone or placebo for 72 weeks. Theprimary endpoint of both studies was the change in lung functionmeasured by the percent change in forced vital capacity, which is essentially the amount of air a patient can forcefully exhale from his or her lungs.
In the first study, dubbed CAPACITY 1, patients treated withpirfenidone reported a 6.5% worsening in forced vital capacity comparedto a 7.2% worsening in patients treated with a placebo. While thatrepresents a 10% relative improvement in lung function in favor ofpirfenidone, the result was not statistically significant, indicating afailed study outcome.
Pirfenidone patients in the second phase III study (CAPACITY 2) alsoreported a 6.5% worsening in forced vital capacity, but placebo patientsfared much worse, with a 9.6% decline. This translated into a 32%relative improvement in lung function for pirfenidone, and the resultswere statistically significant.
On its conference call Tuesday, InterMune executives spent a lot of time discussing various analyses of the phase III studies, both individually and pooled, to make the case that IPF patients were benefiting from pirfenidone treatment. Some of these cuts at the data were prospectively laid out in the studies' statistical analysis plan, but others were what the company deemed "exploratory," which means they were done after the data had been collected and, as such, may not carry as much weight with regulators in the U.S. and Europe.
ThinkEquity biotech analyst Jason Kolbert called the pirfenidone data a "mixed bag."
The challenge for InterMune now will be to convince the FDA that there is a real benefit in pirfenidone for IPF patients, said Kolbert, who has an accumulate rating on InterMune. "The data clearly shows the drug has modest activity and that patients seem to benefit early in treatment. The ultimate question comes down to the drug's risk versus benefit versus cost. Since the FDA doesn't focus on the cost question, I think InterMune probably has a chance at getting the drug approved."
Other companies with drugs in clinical trials for IPF include
Gilead Sciences
(GILD) - Get Gilead Sciences, Inc. (GILD) Report
,
United Therapeutics
(UTHR) - Get United Therapeutics Corporation Report
,
Celgene
(CELG) - Get Celgene Corporation Report
and
Actelion
.
Adam Feuerstein writes regularly for TheStreet.com. In keeping with TSC's editorial policy, he doesn't own or short individual stocks, although he owns stock in TheStreet.com. He also doesn't invest in hedge funds or other private investment partnerships. Feuerstein appreciates your feedback;
to send him an email.