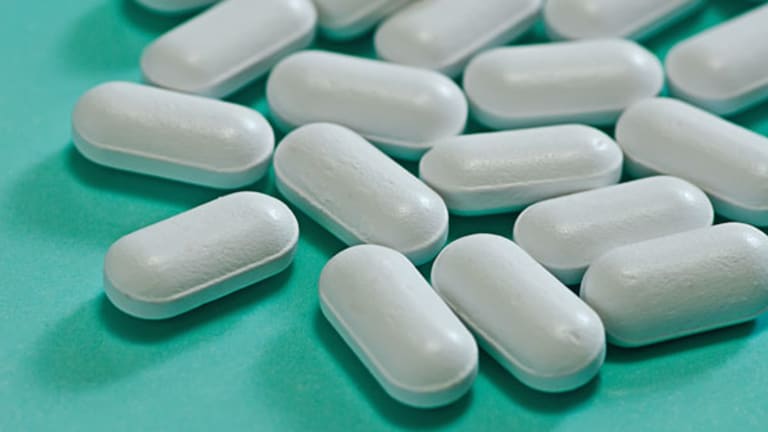 InterMune Investors Eager for Lung-Drug Data
InterMune investors are anxiously awaiting findings from two clinical trials that may yield the first blockbuster drug in the company's history.
InterMune
(ITMN)
investors are anxiously awaiting findings from two clinical trials that may yield the first blockbuster drug in the company's history.
Within the next week or two, the Brisbane, Calif.-based drug maker is expected to release results from two phase III studies that are testing the drug pirfenidone in patients with idiopathic pulmonary fibrosis, a progressive and fatal lung disease.
The two studies represent high stakes for InterMune and its shareholders. If successful, pirfenidone is likely to become the first drug for idiopathic pulmonary fibrosis (IPF) approved by the U.S. Food and Drug Administration. With well over 200,000 IPF patients in the U.S. and Europe, InterMune could easily transform pirfenidone into a highly profitable drug with more than $1 billion in peak sales.
A failure of the pirfenidone studies would obviously dash those blockbuster dreams and would be the second time that InterMune tried and failed to make a lasting dent in IPF. Without pirfenidone, InterMune loses its best and nearest-term shot at becoming a profitable drug company, forcing shareholders to wait years more to see if the company's nascent hepatitis C drug program pans out.
InterMune shares were up 2.3% to $11.25 in recent trading. The stock is up about almost 30% since the middle of January.
IPF is a disease marked by scarring of the lungs caused by the gradual buildup of fibrous tissue. As the fibrotic scar tissue accumulates, air sacs in the lungs lose their ability to transfer oxygen into the bloodstream. There are no effective treatments for IPF, and unless patients can undergo a successful lung transplant, they eventual die of the disease.
In 2002 and 2003, InterMune was on track to generate around $200 million annually in sales from another drug, Actimmune, which was FDA-approved as a treatment for two rare genetic diseases but garnered nearly all its sales from doctors who used the drug "off label" to treat IPF patients.
A phase III study of Actimmune in IPF patients failed in 2002, yet doctors, at InterMune's urging, continued to prescribe the drug to IPF patients. In 2006, InterMune settled a federal lawsuit that alleged the company illegally marketed Actimmune as an IPF treatment. In 2008, InterMune's CEO at the time, Scott Harkonen, was indicted for wire fraud and criminal violations of FDA law.
Today, the IPF community has largely abandoned Actimmune. The drug's sales to InterMune totaled just $27 million through the first nine months of 2008.
Enter pirfenidone. InterMune has greater confidence this time around because there is more clinical evidence to support pirfenidone as an effective treatment against IPF.
The drug is approved for IPF in Japan. Last year, Japanese drug maker
Shionogi & Co.
won pirfenidone's approval there based on two successful clinical studies, including one pivotal phase III study in which pirfenidone was shown to significantly slow the decline in lung function and disease progression of IPF patients compared to patients treated with a placebo.
Shionogi owns commercial rights to pirfenidone in Asia, while InterMune owns rights to the drug in the U.S. and Europe. Other companies with drugs in clinical trials for IPF include
Gilead Sciences
(GILD) - Get Free Report
,
United Therapeutics
(UTHR) - Get Free Report
,
Celgene
(CELG) - Get Free Report
and
Actelion
.
JMP Securities biotech analyst Liisa Bayko recently obtained and translated the Japanese approval document for pirfenidone, which provides a more detailed description of the pirfenidone study conducted by Shionogi than has been presented publicly. Discussing the document in a recent research note, Bayko wrote:
"We have analyzed the data and commentary provided in the document and believe that, overall, it continues to support our belief that the CAPACITY 1 and 2 trials
InterMune's phase III pirfenidone studies are more likely than not (we assume 60% chance of success) to support an approval in the U.S." Bayko has a market outperform rating on InterMune and a $35 price target. Her firm doesn't have a banking relationship with InterMune.
Yet, InterMune wouldn't still be valued at a $430 million market cap if pirfenidone's success was as easy as replicating the positive results from Shionogi's clinical trial.
There have been issues and concerns raised about the design of the Shionogi study, and whether it may have inadvertently skewed results in pirfenidone's favor.
One health-care hedge fund analyst who has examined the Shionogi data closely says there was a much higher dropout rate amongst patients taking pirfenidone vs. placebo. This probably over-estimated pirfenidone's positive effect on lung function because Shionogi used a statistical method known as last observation carried forward to analyze the study's results.
In this method, patients' results are counted at the time they drop out of the study, but "carried forward" to the end. Given that IPF patients tend to decline over time, patients who dropped out of the study early were likely to have better lung function. Since most of these early dropout patients were on pirfenidone, the study's results may have been biased in the drug's favor.
InterMune hasn't disclosed what statistical method is being used in its pirfenidone studies but has said that patients are being followed more closely and for longer periods than in the Shionogi study. This includes patients who dropped out.
"Given the biases in the Shionogi study that skewed results in pirfenidone's favor, I think it's very likely that InterMune's studies will show much less positive effect, if any at all," said this hedge fund analyst, who is short InterMune.
The worries about the Shionogi trial have been widely dissected by those following the pirfenidone story on Wall Street, to mixed opinion. JMP's Bayko, in her recent note, acknowledged that pirfenidone's efficacy in the Shionogi study was probably biased by the analysis used; however, other data collected from the study that showing pirfenidone slowed the overall progression of IPF was still positive and led to the drug's approval.
InterMune will not be able to rely on the Shionogi studies to get pirfenidone approved in the U.S. and Europe, which is why its ongoing phase III studies, with results expected any day, are so important to the company's future.
At the time of publication, Feuerstein's Biotech Select model portfolio was long GILD and CELG.
Adam Feuerstein writes regularly for TheStreet.com. In keeping with TSC's editorial policy, he doesn't own or short individual stocks, although he owns stock in TheStreet.com. He also doesn't invest in hedge funds or other private investment partnerships. Feuerstein appreciates your feedback;
to send him an email.