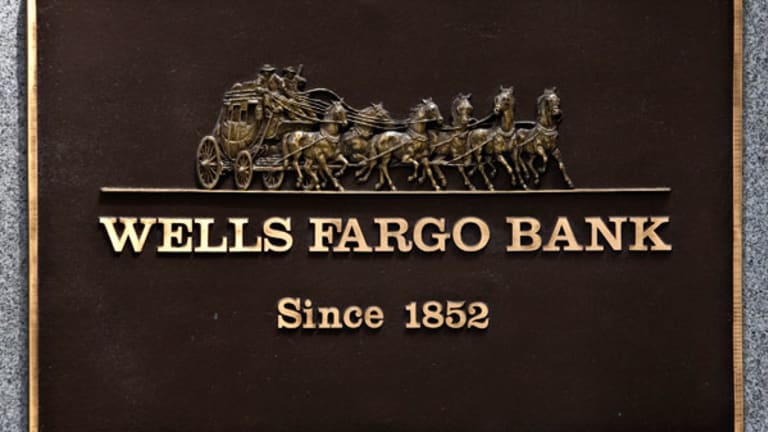 Interest Rate Rise Complicates Banking Recovery
The Federal Reserve's policy moves loom as a risk for the banking industry.
NEW YORK (
) -- Investors appear to have more confidence in banking industry stocks like
JPMorgan
(JPM) - Get JP Morgan Chase & Co. Report
,
Citigroup
(C) - Get Citigroup Inc. Report
and
Bank of America
(BAC) - Get Bank of America Corporation Report
than at any other point since the financial crisis, however, rising interest rates may prove expectations have moved too far.
Over the next year, large banks face the prospect a continued rise in rates eventually undermines forecasts of their earnings growth. Meanwhile, large second-quarter writedowns to some interest rate sensitive bond portfolios are already a threat to expectations of higher dividends and increased share buybacks next year.
As some red flags emerge in earnings across the financial sector, shares in the nation's largest banks continue to outperform the market. Valuation metrics for lenders such as Bank of America, Citigroup and JPMorgan are at multi-year highs, reflecting investors' expectation of a more normal earnings environment in the wake of the crisis.
Bank of America and Citigroup currently trade at their highest price-to-earnings and price-to-tangible book value multiples in about nine quarters. Those rising multiples come just as the book value of Bank of America's equity fell in the second quarter, the first drop since mid-2011, and Citigroup, JPMorgan and
Wells Fargo
(WFC) - Get Wells Fargo & Company Report
saw growth in their book values stall.
All four banks posted strong second quarter earnings, however, their balance sheets were weighed down by multi-billion dollar bond portfolio writedowns. Large banks, flooded with deposits and cheap money from the Federal Reserve, have invested hundreds of billions of dollars in mortgage, corporate and government bonds that they hold in available-for-sale (AFS) portfolios on their balance sheets.
As interest rates fell to historic lows in recent years, the nations' biggest lenders were able to record unrealized gains on those holdings that helped to bolster their overall capital ratios and book values.
The 25 largest banks in the U.S. held $37.7 billion in unrealized AFS gains on their balance sheets as of late November 2012, according to Federal Reserve data. Those gains were helpful to the industry, especially as firms petitioned the Fed to increase their dividends and share repurchase activity in stress tests conducted in early 2013.
In next year's stress tests, bond portfolios may loom as an under-appreciated risk.
A recent rise in interest rates has wiped out all of the banking industry's net unrealized AFS portfolio gains, according to the Fed's most recent data. The largest U.S. banks reported consolidated net unrealized losses of $423 million in early July,
Portales Partners
noted in an August research report.
Fitch Ratings
recently warned that AFS writedowns could push overall banking industry capital ratios lower starting in the second half of 2013. Falling capital ratios would surely temper investor expectations heading into a next round of Fed-supervised stress tests.
For Bank of America and Citigroup such an outcome may stall expectations that each firm can increase their one-cent quarterly dividend and small share repurchase activity.
At JPMorgan, the scenario may mean the company can't soon come close to a $15 billion stock buyback plan that was originally approved by the Federal Reserve, only to be suspended after the bank revealed its multi-billion dollar "London Whale" trading loss. JPMorgan in March received Fed approval for $6 billion between April 1, 2013 and March 31, 2013.
Unlike competitors such as Bank of America, Wells Fargo has yet to see AFS writedowns push its capital or book value ratios lower, however, the growth of its relatively high dividend and share repurchase activity could taper off.
Bond portfolio losses for each bank could escalate.
As
TheStreet
, Wells Fargo disclosed in its most recent 10-Q filing with the
Securities and Exchange Commission
that AFS mortgage bond portfolio losses could reach $11 billion if interest rates rise by 200 basis points. That disclosure represented a more-than-doubling of losses to the portfolio from the bank's first quarter projections.
Portales Partners highlights JPMorgan and Citigroup as most at risk to a further rise of rates given that both firms have at least 30% of their earning assets housed in securities portfolios. While the firm projects Wells Fargo could see its tangible common equity (TCE) and book value decline about 12% in the event of a 200 basis point interest rate rise, it nevertheless expects earnings from the nation's leading mortgage lender to handle rising long-term rates.
"
We expect Wells will be better positioned than most of its peers to manage through a more challenging interest rate environment," the firm wrote on August 8th.
Marty Mosby, a banking analyst with
Guggenheim Securities
, calculates that Wells Fargo's AFS securities writedowns could total $17 billion, however, those will be outweighed by the bank's strengthening core earnings. "Its not that investors initially won't have a little bit of a shudder," Mosby, said.
U.S. Bancorp
(USB) - Get U.S. Bancorp Report
,
PNC Financial
(PNC) - Get PNC Financial Services Group Inc. (The) Report
,
SunTrust
(STI) - Get SunTrust Banks, Inc. Report
and
Fifth Third Bancorp
(FITB) - Get Fifth Third Bancorp Report
are among banks with smaller AFS bond holdings, and thus are less exposed to the effect of rising interest rates on capital ratios and book values, according to Portales' analysis
In that respect, banks that have focused on making loans instead of investing in securities could finally see an outperformance of their business models, after loose Fed monetary policies have been perceived to benefit large banks over regional and community lenders.
Writedowns Become Realized Losses
For large banks, bond portfolio losses could also transition from weighing on capital and book value ratios and into a drag on actual earnings if AFS portfolio losses are realized over the next year.
Currently, AFS portfolio writedowns simply impact unrealized gains and losses on a balance sheet account called "other comprehensive income," which is calculated as part of Basel III regulatory capital ratios. If prospective writedowns or losses don't reverse in the next few quarters, banks will be forced to reclassify them as other-than-temporary-impairments (OTTI) and realize losses in their earnings.
"I do believe these unrealized losses are going to hit the income statement," Jennifer Thompson, a Portales Partners managing director, said in a telephone interview.
While the bank research firm believes interest rate risk is manageable for large firms and isn't a threat to the capital adequacy of lenders subject to stress tests, it is a headwind for book value growth and could impact the pace of capital returns to shareholders in 2014.
"There is a chance going forward that capital requests could be relatively conservative," Julie Solar, a
Fitch Ratings
Senior Director, said in a telephone interview. Near-term AFS securities writedowns could be an issue for some lenders, and rising interest rates could also damper the refinancing and loan activity that has bolstered bank earnings in 2013.
"We would expect over the near-term earnings to go down," Solar said.
The reality is that as interest rates rise from generational lows over the next few quarters, many large banks may struggle to maintain their recent strength.
A recent bubbling of investor confidence in large banks may wind up disappointing investors, in the short run.
The good news, however, is that rising interest rates are likely to be beneficial to the earnings of most banks over the long term. The industry also appears far better equipped to handle writedowns than at any previous point in recent memory.
Bill Smead, chief investment officer for mutual fund
Smead Capital
says lenders like Wells Fargo will see larger gains from loan portfolios than losses from securities books.
Smead, who began building stakes in large banks like Wells Fargo in 2009, takes a long view on investors' current daily obsession with interest rate moves. He expects the current rise in interest rates will allow banks to begin investing their excess capital in new loans instead of debt securities. Such a scenario would mark a strengthening earnings cycle for the banking sector.
In fact, as the yield curve steepens, Smead is more concerned with an eventual flattening years down the line. "Banks have been disappointing investments as you move from a steep yield curve to an inverted yield curve," he said.
The current rise in interest rates may expose overly-optimistic near-term valuations across the banking sector. A minimal long-term impact of bond portfolio writedowns could also strengthen arguments that the industry is far healthier than it was last time the Fed began to raise interest rates.
-- Written by Antoine Gara in New York