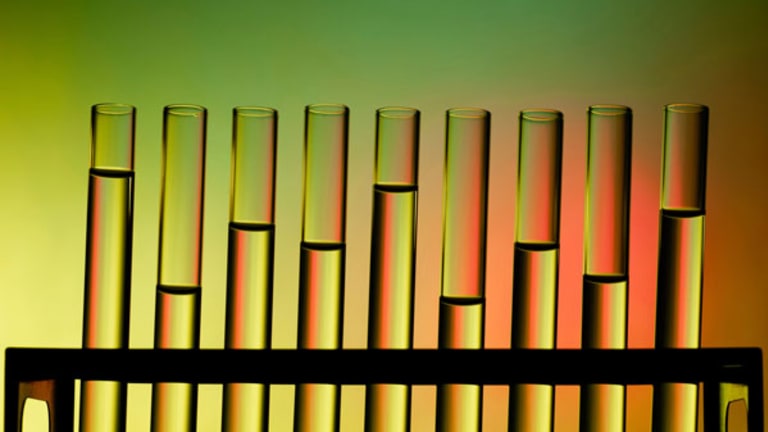 Intercept Pharma Drug Scores Pivotal Study Win Against Rare Liver Disease
The company intends to seek accelerated approval in the U.S. for OCA, based on the positive results from the phase III study in PBC patients.
The company intends to seek accelerated approval in the U.S. for OCA, based on the positive results from the phase III study in PBC patients.
NEW YORK (TheStreet) -- Significantly more patients with a rare liver disease responded to treatment with an experimental drug from Intercept Pharmaceuticals (ICPT) - Get Report compared to placebo, according to results from a phase III study announced Sunday. 
Based on the positive results from the phase III study, Intercept intends to submit the drug, known as obeticholic acid (OCA) for approval in the U.S. and Europe as a new treatment for primary biliary cirrhosis (PBC), a rare autoimmune disease which affects women primarily and causes progressive liver damage, cirrhosis and liver failure.
Investors will have a lot to chew over with Intercept when trading opens Monday. Sunday's positive news is tempered by a new disclosure late Friday of cardiovascular side effects tied to OCA in a separate phase II study involving patients with fatty liver disease. Intercept shares closed Friday's regular session at $462.26 but dipped 16% as investors read about the OCA heart-safety issues in the company's 10-K. [The company downplayed the OCA side effects as relatively insignificant.]
Intercept said the phase III study in PBC achieved its primary endpoint with 47% and 46% of patients responding to two different doses of OCA compared to 10% of patients treated with a placebo following 12 months of treatment.
A patient was counted as a responder in the study if he/she had a 1) a predefined reduction in serum alkaline phosphatase (ALP), a enzyme known to be marker of reduced liver function and damage; and 2) normal levels of bilirubin, a waste product and another marker for disease when elevated.
Patients treated with the two doses of OCA in the study had mean ALP decreases of 39% and 33% from baseline to 12 months. The corresponding ALP decrease for placebo patients was 5%, Intercept said. The reduction in ALP was statistically significant favoring OCA. 
"I believe that the POISE data indicate OCA will provide a meaningful clinical improvement in these patients," said Dr. Frederik Nevens of the University of Leuven, Belgium and the lead investigators in the phase III study, in a statement. POISE refers to the name given to the phase III study by Intercept.
Intercept made no mention of cardiovascular adverse events reported in the POISE study. There were more serious adverse events reported in OCA patients than placebo but none were considered drug related, Intercept said. Mild/moderate pruritis, or skin itching, was the common adverse event reported, occurring in 56% to 68% of OCA patients compared to 38% of placebo patients.
OCA-treated patients in the POISE study reported "modest decreases" in HDL (good cholesterol), "slight decreases" in triglycerides and no change in LDL (bad) cholesterol, Intercept said.
In a separate study in patients with fatty liver disease stopped early for positive efficacy in January, OCA was associated with worsening cholesterol levels. 
Intercept will ask the FDA to approve OCA for patients with PBC who are not responding to, or cannot tolerate, ursodiol, a drug used to treat the disease for the past two decades. The company believes the primary endpoint of the POISE study -- reductions in the harmful liver enzyme ALP -- is strong enough to get the drug approved on an accelerated basis, although FDA has not yet signaled agreement. If OCA is granted accelerated approval, Intercept will be required to conduct a post-marketing study to confirm the drug's efficacy, likely using a more definitive endpoint like reduction in liver transplant or death. 
The company has clinical data from a registry of 6,000 PBC patients showing reductions in ALP reduce the risk of liver transplant and death.
Intercept believes there are approximately 30,000 people in developed countries with PBC who would be eligible for treatment with OCA, if approved. 
Adam Feuerstein writes regularly for TheStreet. In keeping with company editorial policy, he doesn't own or short individual stocks, although he owns stock in TheStreet. He also doesn't invest in hedge funds or other private investment partnerships. Feuerstein appreciates your feedback;
to send him an email.