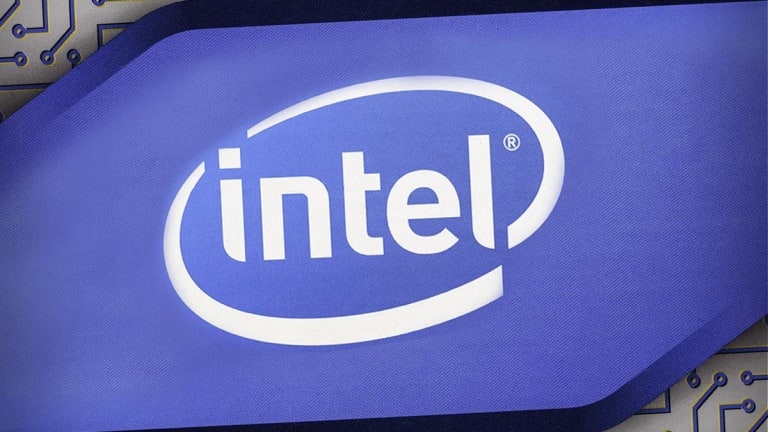 Intel's 3-Year Outlook May Be Weak, But Its Technology Roadmap Is Intriguing
The chip giant expects very little sales and earnings growth through 2021. But it also promises to launch cutting-edge data center and notebook products in the coming years, and to improve its manufacturing position.
Two weeks after issuing disappointing Q2 and full-year guidance, Intel (INTC) forecast this week that it would see limited revenue growth and continued margin and cash-flow pressure through 2021.
But while it makes perfect sense that Wall Street isn't thrilled with Intel's guidance, the outlook was accompanied by a product and manufacturing process roadmap that could put the chip giant on stronger competitive footing in two-to-three years' time, provided it executes well.
Eric Jhonsa will be hosting a live blog on Real Money on Friday at 11:30 a.m. ET to answer reader questions about Uber's IPO and other tech stocks. Please check the Real Money home page at that time to join us.
Intel's Three-Year Outlook
Intel, which forecast in its April 25 Q1 report that revenue would be down about 3% in 2019, announced at its May 8 Investor Day that it expects just low-single-digit annual revenue and EPS growth through 2021. Its "PC-centric" business, which covers products sold by the company's PC and mobile chip unit, is expected to be flat to slightly down over this time, while its "data-centric" businesses, which cover (among other things) server CPU, FPGA, IoT processor and memory sales, are expected to see high-single-digit annual growth.
Intel also forecast its non-GAAP gross margin (GM), which was at 63.3% in 2018, would be in a range of 57% to 60% over this timeframe, with its GM bottoming at 57% in 2021. The company plans to partly offset this via fresh spending cuts such as its planned 5G smartphone modem exit. Non-GAAP operating expenses are expected to drop to about 25% of revenue in 2021 from a 2018 level of 29% and a 2015 level of 36%.
In addition, though Intel expects its free cash flow (FCF) to grow faster than its earnings, the company still expects annual FCF to be less than annual GAAP earnings, as it spends $15.5 billion to $16.5 billion per year on capital investments. FCF is expected to be equal to about 75% of earnings in 2019, with Intel looking to bring that figure above 80% by 2021.
Intel's shares closed down 2.5% on Wednesday after releasing its 3-year forecast, and fell another 5.3% in Thursday trading. Shares are now down 19% since the Q1 report arrived.

Intel's financial outlook through 2021. Source: Intel.
What's Responsible for Intel's Guidance
Tougher competition from AMD (AMD) , whose shares rose slightly on Thursday, will clearly be a headwind in the near-to-intermediate term. As Intel rolls out notebook processors relying on its much-delayed, 10-nanometer (10nm) manufacturing process node later this year and preps a broader 10nm CPU rollout for 2020, AMD will launch desktop and server CPUs relying on a 7nm Taiwan Semiconductor (TSM)  process that's seen as competitive with Intel's 10nm process in mid-2019, with 7nm notebook products expected in 2020.
In addition to impacting its market share, AMD's efforts appear set to impact Intel's CPU average selling prices (ASPs). Intel has already suggested it will price more aggressively this year to hold onto market share, and said at its Investor Day that competition could continue weighing on ASPs over the next three years.
However, competition from AMD is far from the only headwind Intel will be contending with from 2019 to 2021. The company expects GM to be pressured by the ramp of 10nm chip production -- chips relying on new manufacturing processes tend to initially carry lower margins than chips relying on more mature processes -- as well as startup costs for its next-gen, 7nm process and a sales mix shift to lower-margin "adjacent businesses."
Meanwhile, a subdued PC market and declining enterprise server demand will act as revenue headwinds. And though demand could rebound later this year, sales to heavy-spending cloud giants are for now pressured as the companies digest the server capacity they've built up in recent years.
There's also the matter of Intel's non-volatile memory business. Though Intel is starting to see good traction for its Optane next-gen memory, its NAND flash memory business has been hit hard by tumbling NAND prices. At the Investor Day, CEO Bob Swan said Intel doesn't expect its memory ops to be profitable this year, and that it won't be putting additional NAND capacity in place "for the foreseeable future" as it works to lower costs. And following the recent dissolving of Intel's NAND partnership with Micron (MU) , Swan left the door open to a new NAND partnership.
Some Silver Linings
Though Intel's three-year outlook is soft, the company did share a product and manufacturing roadmap that was encouraging to some extent. Key details included the following:
After launching its first GPU(s) in 2020, Intel plans to launch a data center GPU relying on its 7nm process node in 2021. Judging by Intel's roadmap and commentary, this move will be followed by 7nm server CPU launches in 2022, with PC CPU launches coming afterwards.
Intel expects its 7nm process to deliver a 2x improvement in transistor scaling (i.e., transistor size) relative to its 10nm process, as well as a 20% improvement in performance per watt and a 4x reduction in design rule complexity. The disclosures come as TSMC pushes ahead with plans to start volume production for its next-gen 5nm process node in 2020.
Intel's manufacturing roadmap calls for the launch of 10nm+, 10nm++, 7nm+ and 7nm++ manufacturing processes that will improve, respectively, on its first 10nm and 7nm processes. 
Intel plans to launch new Xeon server CPU platforms every four-to-five quarters going forward, compared with a historical pace of every five-to-seven quarters. To that end, the company's first 10nm server CPU platform, which is based on its Ice Lake microarchitecture, will launch in the first half of 2020, and a successor platform based on a microarchitecture known as Sapphire Rapids will launch in 2021.
The company's first 10nm mobile processors, which arrive in late 2019 and rely on Ice Lake, will be followed in 2020 by a notebook processor line relying on a microarchitecture known as Tiger Lake. In addition to a revamped CPU core architecture, Intel promises Tiger Lake will feature better integrated GPUs (historically a strength for AMD) and next-gen I/O technology.
Intel says it will make its OneAPI software, which will help developers write software that can run across CPUs, GPUs, FPGAs and other chips, available in Q4. The company also highlighted its broader efforts to use software investments as a differentiator for its silicon, noting it employs over 15,000 software engineers and claiming to have over 12 million developers in its ecosystem.
Intel plans to steadily improve its manufacturing technology in the coming years. Source: Intel.
The Big Picture
With Intel making it clear that it expects limited sales and earnings growth through 2021, its stock could remain under pressure in the coming months. And there's a certainly a risk that share losses and/or demand headwinds could weigh on its near-term sales more than it already expects.
However, Intel's product and manufacturing roadmap, together with its growth opportunities in end-markets such as cloud and telco servers, 5G base stations, IoT systems and autonomous and semi-autonomous cars, might provide a light at the end of the tunnel. In particular, the company's roadmap and technical claims for its 7nm process node would -- though probably not giving Intel its historical manufacturing process lead back -- help make amends for its 10nm missteps and make its battle against TSMC (and by proxy, its battle against chip developers relying on TSMC) a very interesting one from 2021 and onwards.
Now all that's left is for Intel to deliver on what's certainly a very intriguing roadmap.