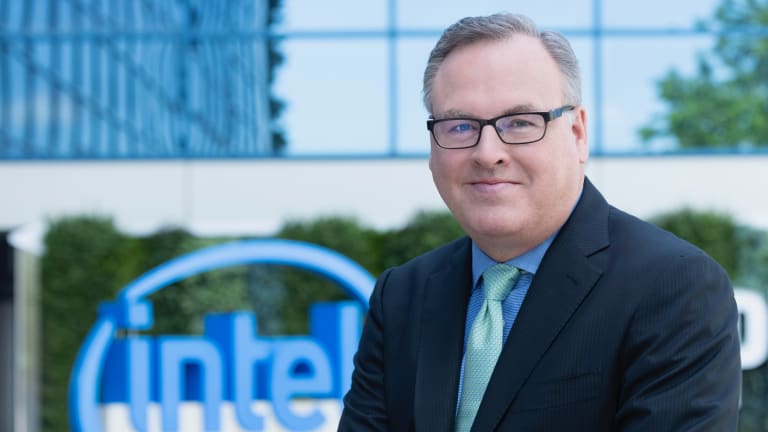 Publish date:
Intel CFO George Davis: Our Stock Is Too Cheap
The Intel executive lays out the logic for massive buybacks and discusses the company's latest chip production schedule in a chat with TheStreet.
The Intel executive lays out the logic for massive buybacks and discusses the company's latest chip production schedule in a chat with TheStreet.
Three quarters into joining chip giant Intel (INTC) - Get Report as chief financial officer, George Davis is still discovering the nuances of the job. 
Intel announced a mammoth buyback plan, $20 billion, when it reported third-quarter earnings on Oct. 24, but nary a peep about it was heard from analysts on the earnings call.
"At the end of the earnings call, I turned to Bob [Intel's CEO, Bob Swan], and I said, Bob, how much buyback do you have to do to get a question on the call?" said Davis, with a bit of a chuckle, in a sit-down meeting with TheStreet last week.
Chalk it up to Wall Street sell-side analysts covering Intel who are more interested in the vicissitudes of the personal computer market than return of capital. 
Davis joined in January after five-and-a-half years running finance at chipmaker Qualcomm (QCOM) - Get Report . He took over from Swan, who moved from CFO to CEO following the ouster of Brian Krzanich in 2018. 
To be a CFO working for a career CFO, said Davis, is turning out to be a smooth transition for him because "our similarities are much more than any differences." (Intel is turning out to be something of a family reunion, unsurprising in the tight-knit chip world: in addition to having known Swan from the days when Davis ran finance for Applied Materials (AMAT) - Get Report , where Swan served on the board of directors, Davis also knows Intel's head of chip design and manufacturing, Venkata "Murthy" Renduchintala, from their years together at Qualcomm.)
Davis stopped to talk to TheStreet on a swing through New York en route to Israel, where he was to preside over the first-ever investor meeting for Intel's Mobileye business for self-driving car chips. That business is expected to make $900 million in revenue this year, up almost 30% from last year, but it doesn't get the kind of consideration on Wall Street that it should, says Davis. 
"It is outperforming the investments thesis" versus what was expected when Mobileye was bought in 2017, he said. Despite that fact, outfits that aren't making as much progress, such as Google's Waymo subsidiary, get all the attention. Hence, Intel was gathering investors in Tel Aviv to allow them to literally kick the tires on the division. 
But just what about that $20 billion buyback? Can Intel continue to buy back shares at that pace over a period of years? Wait and see, is the response. 
"So, all we're committed to is a minimum of 100% return of free cash flow, and then we'll execute a $20 billion buyback over the next 15 to 18 months," said Davis. 
Intel is generating a large amount of free cash flow, $16 billion this year, noted Davis, an estimate it just increased by a billion dollars, and "we expect to continue to make [free cash flow] an important focus of the company."
"We have a very strong balance sheet even after the $20 billion is completed," he added. Intel can afford to run a negative net cash balance, said Davis. The company at the end of last quarter had $17 billion in gross cash and equivalents against $20 billion or so in long-term debt, he noted. "And our cash balance will come down over time because from an operating standpoint, you just don't need to have $15 billion to $20 billion," he said. 
"I think the amount of net cash that every company needs, post tax reform, has gone down substantially from where they were in the heyday of 'cash is king'", he said. 
In addition to that high free cash flow, Intel is getting money from selling its cellular modem business to Apple (AAPL) - Get Report , and exiting a memory-chip joint venture it had been running with Micron Technology (MU) - Get Report , and Davis expects more cash may come from "looking at paring our portfolio in other areas."
Regarding the unwinding of the Micron deal, Wall Street wants to know when Intel will get out of the memory business altogether. The business lost half a billion dollars last quarter, but some of that is one-time items such as an accounting inventory adjustment and a deferred subsidy payment, said Davis. 
"Its underlying operating earnings are improving," said Davis, and the unit will become a "tailwind" to profit in 2020 as the memory market's NAND chip pricing rebounds from a deep depression this year, he maintained. 
Nevertheless, Intel is "going through a process of looking for partners that can help us improve the return on our investment there," said Davis, "and as soon as we get through that process, we'll talk about what our plans are." That is a "matter of months, not years," he said.
The $20 billion repurchase plan is a reflection that the stock is too cheap. "We look at our valuation and we look at our plans, and we think we have a different view on the value than the market does right now." Intel's current yield, based on a dividend payment of $1.26 per share annually, against a stock price of $58.15, is 2.2%. That is a "strong yield compared to peers in the industry," and that's partly because "the stock is too low."
Balanced against the buyback, Intel needs to have "dry powder," so to speak, for any potential acquisitions, Davis implied. When asked if there is a realistic prospect that Intel would do a large acquisition, Davis implied that the focus for the moment is on getting leaner not heftier.
"We have a ton of opportunity in the $300 billion total addressable market that we're now serving," he said. "For many technology companies, the hardest thing to do is focus." 
Focus means keeping up with roaring markets but also fixing what had been a broken process of chip making in recent years. Intel missed its original goal of shipping transistors built at the smallest dimensions -- 10 billionths of a meter, or 10-nanometer -- by about three years. That caused tremendous hand-wringing on Wall Street. 
Now, said Davis, Intel is intent on "getting the company's operating cadence back to every two, two-and-a-half years" between new chip technology debuts. "We have all of the ingredients that we need to do it," he said, thanks in no small part to changes that Renduchintala has been carrying out. 
Intel's 10-nanometer chips, which are just finally ramping in production this year, will reach their peak of shipments sometime in 2021, said Davis. Around that time, 10-nanometer chips should "cross over" with the existing 14-nanometer chips, said Davis, meaning, overtake them in volume of shipments. 
That will be followed by the first 7-nanometer chips "in the second half of 2021," said Davis, "and then two, to two-and-a-half years later, we're going to hit five," meaning, 5-nanometer.
Some on Wall Street grumble that a late-2021 debut for 7-nano is yet another push-out of Intel's schedule, meaning a delay such as what happened to 10-nano. Davis replied, "No, it's not, it's what we committed to, and it's right in line with that commitment."
Intel is planning for a big jump in the amount of silicon wafers it expects to produce for PC chips this year and next, on the order of a 25% increase. The company plans for its personal computer microprocessors to increase by "mid-single digits to high-single-digits" in 2020. Davis acknowledged that such an outlook might have struck some observers as strange.
"If you're a student of the PC market, you'll say, well, that's more growth than the market has," David said. But Intel, he pointed out, is actually playing catch-up because the company couldn't completely fulfill demand this year. It also intends to take back some share lost to Advanced Micro Devices (AMD) - Get Report
Asked if Intel will cut chip prices as a weapon against AMD, something the Street has long expected, Davis replied, "We expect it to be a more competitive environment over the next 18 to 24 months, and that there will be some elements of share that we will be willing to compete on price." 
The other item that caused raised eyebrows on the call was a big surge in the company's sales of chips for server computers. Its Data Center Business revenue rose 28% from the prior quarter, to $6.4 billion, comprising just under half of Intel's revenue. 
Davis chalks it up to lumpiness of the timing of purchases by the cloud computing vendors that dominate data center chip buying, given the unit had struggled the prior three quarters. 
"The capacity has played through, and we're starting to see demand again," said Davis of the data center market. Asked if there will be greater predictability, less volatility, at some point, he offered, "We'll have to see; I think the next couple of years may give us an idea of what the new normal looks like."
All in all, it is not a terrible time to be at the chipmaker, Davis indicated. "We just reported the strongest quarter in the history of the company," he said. "To have that be your third earnings call, that's not a bad one." 
Apple is a holding in Jim Cramer'sAction Alerts PLUS Charitable Trust Portfolio. Want to be alerted before Cramer buys or sells AAPL? Learn more now.
Tiernan Ray neither trades nor owns any shares of any companies discussed in this article.