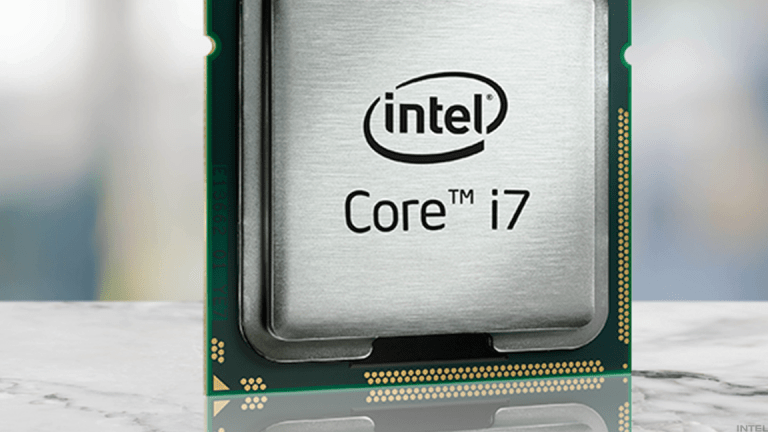 What Was Behind Intel's Very Solid Quarter
The chip giant's latest earnings report wasn't perfect, but it turned up strong growth in key areas and a solid full-year outlook.
After several quarters of posting disappointing or ho-hum sales figures, Intel's (INTC) - Get Report server CPU division turned in a blowout quarter.
That, along with solid guidance and a dividend hike, is giving investors reasons to cheer following the chip giant's latest earnings report. Even if those poring over the details can find a flaw or two.
Intel shares rose nearly 5% in premarket trading on Friday, Jan. 26.
Intel reported Q4 revenue of $17.05 billion (up 8% annually) and adjusted EPS of $1.08, easily beating consensus analyst estimates of $16.34 billion and $0.87. The chip giant also forecast 2018 revenue of $65 billion (plus or minus $1 billion, implies 4% growth at the midpoint) and EPS of $3.55 (plus or minus 5%), above consensus estimates of $63.9 billion and $3.27.
In addition, Intel hiked its quarterly dividend by 10% to $0.30 (2.5% forward yield). And it forecast free cash flow (FCF) will rise to $13 billion (plus or minus $500 million) this year from 2017's $10.3 billion.
Q1 guidance is a little soft: It's for revenue of $15 billion (plus or minus $500 million) and EPS of $0.70 (plus or minus $0.05), which at the midpoints is below a consensus of $15.03 billion and $0.72. Intel insists the outlook isn't due to the recently-disclosed Meltdown and Spectre security threats -- patches for the threats yield meaningful performance hits for Intel-powered systems when running a small number of workload types, and chips that address the performance issues aren't due until later this year. Rather, it blames the pull-in of some enterprise server CPU and programmable chip (FPGA) demand from Q1 to Q4.
The good news is easily overshadowing the bad: Shares rose 3.7% in after-hours trading to $46.99. After having recently slumped due to Meltdown/Spectre, they're once more close to a 52-week high of $47.64. Rival AMD's (AMD) - Get Report shares are up by about 2%, and those of chip equipment makers Applied Materials (AMAT) - Get Report  and Lam Research (LRCX) - Get Report  are up slightly thanks to Intel's guidance for 2018 capital spending of $14 billion (plus or minus $500 million), soundly above 2017 capex of $11.8 billion. FPGA rival Xilinx's (XLNX) - Get Report shares also rose a bit.
4 out of 5 of Intel's product reporting segments beat their Q4 sales estimates. But a solid majority of the quarter's upside came from the Data Center Group (DCG - sells server CPUs and complementary products): Its revenue rose 21% annually to $5.58 billion, easily beating a $5.09 billion consensus. Solid demand for the Xeon Scalable CPU lines launched last summer helped, as did a 35% sales increase for "adjacent" products such as Xeon Phi co-processors, Ethernet chips and Omni-Path interconnect fabric controllers.

Intel's server CPU division had a pretty good quarter.
Notably, DCG benefited from an 8% increase in average selling price (ASP), in addition to 10% volume growth; only 2% ASP growth was seen in Q3. Sales to cloud service providers rose 35%, as the likes of Alphabet (GOOGL) - Get Report , Facebook (FB) - Get Report and Amazon.com (AMZN) - Get Report continue installing servers by the tens of thousands. But Intel also saw sales to telecom carriers rise 16%, as share gains driven by network functions virtualization (NFV) adoption offset soft carrier capex. And after dropping 6% in Q3, enterprise/government sales rose 11% thanks to the Xeon Scalable upgrade cycle.
On the earnings call, Intel did caution that it doesn't expect the enterprise growth to last. With many types of enterprise workloads steadily moving to public cloud infrastructures, Intel for now is modeling a single-digit 2018 enterprise sales drop for DCG. On the other hand, telecom demand should be solid and cloud demand very strong. Thanks to AMD, IBM (IBM) - Get Report  and perhaps Qualcomm (QCOM) - Get Report , Intel could face tougher server CPU competition as 2018 progresses. But for now, it's as dominant in this space as ever.
The Programmable Solutions Group (PSG - sells FPGAs and is a product of the $16.7 billion Altera acquisition) also had a stellar quarter: Its sales rose 35% to $568 million, trouncing a $468 million consensus. Intel admitted that PSG benefited from purchases of "legacy" products that are set to be discontinued, but added the segment also saw "strong double-digit" growth for end-markets such as data centers and cars. Cloud giants such as Microsoft (MSFT) - Get Report and Baidu (BIDU) - Get Report have been using FPGAs for running AI algorithms against real-world data (inference), and the chips are also finding a home in some autonomous driving and infotainment systems.
The Client Computing Group (CCG - PC and mobile products) saw revenue drop 2% to $8.95 billion, but this was still above an $8.73 billion consensus. A 26% increase in modem sales -- driven by iPhone 8 and X-related sales to Apple -- provided a lift. On the other hand, tougher competition from AMD contributed to an 8% drop in desktop chip sales. In the notebook market, where AMD has done less damage, sales were flat.
For 2018, Intel is forecasting CCG's sales will drop by a low-single digit percentage. That will partly offset the mid-teens growth it collectively expects from its other product reporting segments, which it chooses to call "data-centric."
The Internet of Things Group (IOTG), which supplies chips for many embedded processing markets, saw revenue rise 21% to $879 million, above an $864 million consensus. Intel singled out the industrial, video (surveillance) and retail markets as strong points. And the company's recently-acquired Mobileye ADAS processor unit, whose sales are recorded in its "All Other" segment, saw revenue rise 20% to $128 million.
The Non-Volatile Memory Solutions Group (NSG) was a weak spot, with sales only rising 9% to $889 million (below a $937 million consensus) in the midst of a flash memory boom cycle. But Intel forecast NSG growth will accelerate over the course of 2018 as shipments of high-density 64-layer 3D NAND chips surge, and noted it expects to receive $2 billion worth of prepayments from memory clients during the year.

2018 guidance calls for modest revenue growth, but stronger earnings and free cash flow growth.
Those prepayments are part of the reason that Intel is comfortable setting a $14 billion capex budget; the company suggested memory investments will account for a healthy portion of its capex growth. But it also forecast capex related to logic (i.e., processor) investments would rise by $1 billion, as sales growth yields higher manufacturing commitments.
But while capex is set to grow, Intel is guiding for its operating expenses to be roughly flat, as higher spending on growth opportunities (DCG, NSG, autonomous driving, GPUs) is offset by cuts elsewhere -- for example, to the Intel Inside PC CPU marketing program. Opex was already down 3% in 2017 to $20.5 billion (35% of revenue), and Intel now expects to reach a goal of having opex equal only 30% of revenue by 2019, a year ahead of schedule.
Restrained spending is one of the reasons Intel expects free cash flow to rise strongly this year in spite of higher capex. The others: Revenue growth, the memory prepayments, lower working capital needs and (thanks to tax reform) an expected full-year tax rate of just 14%, which is below 2017's reported 22.5% rate.
At the same time, Intel is forecasting its gross margin, which rose 60 basis points in 2017 to 63.8%, will drop by 200 to 250 basis points in 2018. The company blames a sales mix shift towards lower-margin products such as flash memory and modems, as well a production ramp (particularly during the second half of 2018) for its much-delayed 10-nanometer manufacturing process. Sales of chips relying on new processes typically carry lower margins during the early stages of the process' ramp.
There are at least a few issues that those inclined to take a glass-half-empty view of Intel's report can raise within its results and guidance. But the company did produce some very encouraging numbers for a server CPU division that's expected to be its largest growth driver, as well as for a couple other businesses that it's counting on to help offset PC-related pressures.
For a stock that still only trades for 13 times the midpoint of its 2018 EPS guidance range, that's more than good enough.
Jim Cramer and the AAP team hold positions in Microsoft, Facebook and Alphabet for their Action Alerts PLUS Charitable Trust Portfolio. Want to be alerted before Cramer buys or sells MSFT, FB or GOOGL? Learn more now.
More of What's Trending on TheStreet: