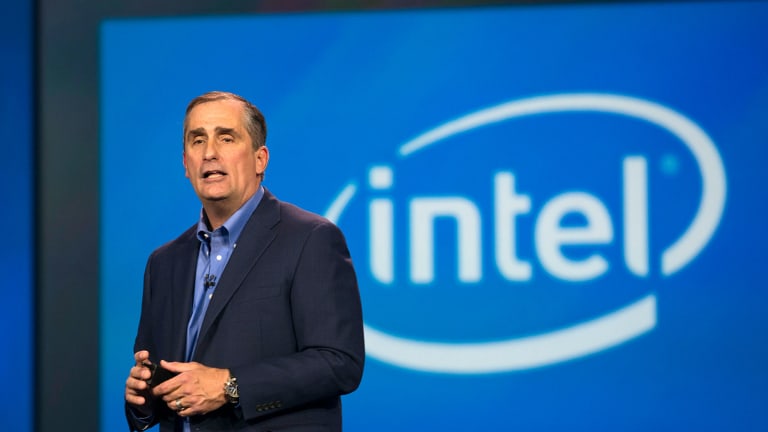 Intel's Latest Processors Are the Product of a Cautious Strategy That Could Backfire
The company is slowing the pace at which it adopts new manufacturing processes. That could give AMD and chip foundries a chance to gain ground.
Though providing some meaningful improvements over the PC CPUs Intel (INTC) - Get Free Report launched last year, the company's latest microprocessor line is unlikely to do much to boost flagging PC sales. And from a technology standpoint, the chips may be more notable for what they don't feature than what they do.
On Tuesday, Intel unveiled the first processors based on its Kaby Lake platform, which succeeds the Skylake line launched a year ago. The company promises up to a 12% increase in productivity performance and a 19% increase in web performance relative to Skylake -- third-party benchmarks might show different numbers when they arrive -- as well as better gaming and 4K video performance and improved power efficiency.
However, Kaby Lake is also the third CPU line based on Intel's 14-nanometer manufacturing process. Previously, the company launched only two CPU lines per process: An initial processor line that moved an older architecture onto a new process, and a second line featuring a brand-new architecture optimized for the new process.
This approach, commonly known as tick-tock, has been replaced by tick-tock-tock, in which a CPU line that further optimizes the new architecture is rolled out using the same manufacturing process. That's why Intel just launched Kaby Lake, and won't launch the first CPUs based on its next-generation 10-nanometer process (the chips are code named Cannonlake) until the second half of 2017.
Intel's strategy change allows it to spread out its capital investments for a given process over a longer time frame. The fact Moore's Law has gotten harder to maintain likely influenced Intel's decision. So, probably, did the fact the PC market has been declining and (barring new technologies and apps to drive upgrades) can't realistically be expected to act as a growth market.
The company made it clear earlier this year it's looking elsewhere for growth when it announced big job cuts that hit its PC operations hard, and later outlined a strategy meant to transform Intel "from a PC company to a company that powers the cloud and billions of smart, connected computing devices." As did the fact most of this month's Intel Developer Forum announcements involved non-PC product lines.
Still, there could be consequences to abandoning tick-tock. AMD (AMD) - Get Free Report is set to launch the first CPUs based on its Zen architecture in early 2017, and from the looks of things, the chips will make AMD more competitive with Intel than it has been in years. And foundries such as Taiwan Semiconductor (TSM) - Get Free Report, Samsung and Globalfoundries, which manufacture chips for AMD and many other Intel rivals, continue to aggressively invest in new processes. Taiwan Semiconductor's 10-nanometer process is expected to reach volume production in early 2017.
Intel is betting the cost savings that come from paring back its annual PC CPU and manufacturing investments will more than offset the narrowing (if not the elimination) of its traditional technology leads against AMD and foundry rivals. It's a calculated gamble, one that could easily start to backfire next year.