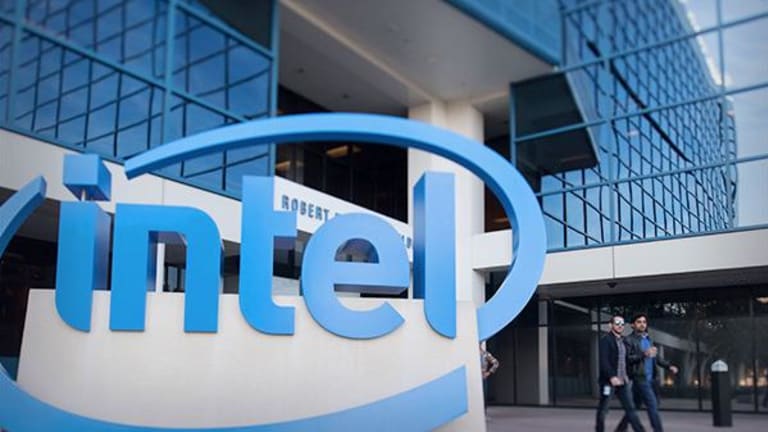 Intel's Powerful New Notebook Processors Aren't Just About Fighting AMD
The chip giant also wants to cater better to a strong high-end notebook market.
It's easy to look at Intel Corp.'s (INTC) - Get Intel Corporation Report unveiling of new high-end notebook processors based on its existing Kaby Lake architecture less than a year after launching the first batch as simply a pre-emptive strike against AMD Inc.'s  (AMD) - Get Advanced Micro Devices, Inc. Report expected fall launch of its Ryzen Mobile processor line. And countering AMD, whose shares are down over 3% in the wake of Intel's announcement, is almost certainly one of Intel's main motivations for refreshing Kaby Lake so quickly.
But there's also probably another one: Intel has found that parts of the PC market are holding up much better than it expected when it significantly cut its PC-related R&D spend last year. Its new chips aim to keep demand in one of those segments humming along.
Intel's four new notebook processors join its U-series line, which is meant for thin-and-light devices (ultrabooks, notebook/tablet convertibles, etc.) requiring a relatively high level of performance. Two of the chips, the Core i5-8250U and 8350U, sports MSRPs of $297 and come with 6MB on-chip Level 3 (L3) caches. Two others, the Core i7-8550U and i7-8650U, sports $409 MSRPs and have 8MB L3 caches. As is the norm for U-series parts, the chips sport integrated GPUs.
Though still based on Kaby Lake, which when launching last year was referred to as Intel's 7th-gen Core CPU platform, Intel labels its new chips its first 8th-gen products due to the their architectural improvements. Interestingly, chips based on Intel's Coffee Lake CPU architecture -- the first ones are due this fall -- will also be referred to as 8th-gen. As will chips based on Intel's Cannon Lake architecture (due in 2018), the first to rely on a 10-nanometer manufacturing process. Chips based on Intel's Ice Lake architecture, which the company shared some details about last week and might not arrive until 2019, will be the first to be labeled 9th-gen.
Notably, whereas the U-series chips being replaced by Intel's new processors -- they're also based on Kaby Lake, and were launched last fall -- only contain 2 CPU cores and support 4 simultaneous threads, the new chips each contain 4 cores and support 8 simultaneous threads. One tradeoff: The base clock speeds of the cores within the new chips are only between 1.6GHz and 1.9GHz, down from the 2.2GHz to 2.5GHz range of their predecessors. However, their turbo clock speeds of 3.4GHz to 4.2GHz match or exceed those of the chips being replaced, and in spite of the extra cores, the chips match the 15-watt max power draw (TDP) of last year's parts.
Thanks to the higher core and thread counts, as well as improvements in chip design and the 14-nanometer manufacturing process Kaby Lake relies on, Intel claims its new U-series processors deliver a 40% performance improvement over the 2016 chips, as measured by the SYSmark 2014 SE benchmark. Nonetheless, Intel insists notebooks running on the chips can provide 10 hours of battery life when playing 4K video relying on the efficient HEVC (H.265) codec.

Intel is promising its new notebook processors will deliver big performance gains without sacrificing battery life.
Those performance gains are likely a big reason why AMD has sold off following Intel's announcement. Right now, some 1080p gaming issues notwithstanding, AMD's Ryzen 7 and Ryzen 5 high-end and mid-range desktop CPUs are pretty competitive on a price/performance basis with the Kaby Lake-based Core i5 and i7 desktop chips they take aim at.
And benchmarks show AMD's new Threadripper 1950X high-end desktop CPU (it costs $999, contains 16 cores and supports 32 threads) outperforming Intel's new $999 Core i9-7900X CPU (10 cores and 20 threads, based on the older Skylake architecture). That might motivate Intel to cut the 7900X's price, as well as prices for some of the soon-to-launch Core i9 chips that are set to sell for between $1,199 and $1,999.
More of What's Trending on TheStreet:
But in the "mainstream" parts of the desktop market, the performance gains delivered by the new U-series chips bode well for what the 8th-gen desktop CPUs (possibly based on Cofee Lake) Intel is set to launch later this year will deliver. As well as for Intel's upcoming 8th-gen H-series notebook CPUs for the gaming and workstation markets, and its low-power Y-series CPUs ultra-thin, fanless notebooks. More powerful Y-series processors could help Intel contend with the pending launch (assuming Intel's legal threats don't stop it) of Windows 10 notebooks running on Qualcomm Inc.'s (QCOM) - Get Qualcomm Inc Report  Snapdragon 835 flagship processor.
Intel's success over the years at developing powerful CPUs that are very power-efficient when not running at full throttle -- a legacy that the new U-series processors appear to continue -- could also help it fend off AMD and Qualcomm. AMD's upcoming Ryzen Mobile processors should have a GPU performance edge against Intel, since they'll sport integrated GPUs based on AMD's new Vega architecture. But on the CPU side, it looks like Intel will be well-positioned.
But even if Ryzen Mobile wasn't launching, the strength of the high-end notebook market, driven by strong demand for both gaming systems and powerful thin-and-light notebooks/convertibles, gave Intel a strong incentive to quickly refresh the U-series. High-end notebook demand, together with inventory replenishment, led Intel's notebook-related sales to grow 20% annually in Q2. It also helped the company's total PC platform average selling price (ASP) rise 8%.
Apple Inc.  (AAPL) - Get Apple Inc. Report can also vouch for the high-end notebook market's strength: Its June quarter Mac sales grew 7% to $5.6 billion, thanks largely to a well-received MacBook Pro refresh. Mac ASP grew by $70 annually to $1,302.
Nvidia Corp. (NVDA) - Get NVIDIA Corporation Report , meanwhile, saw its gaming product revenue rise 52% in the July quarter to $1.19 billion, thanks in large part to strong high-end desktop and notebook GPU demand (Nintendo Switch processor sales also played a role). The company recently unveiled Max-Q, a platform meant to let powerful Nvidia notebook GPUs be built into the kind of thin-and-light systems Intel's U-series targets.
Jim Cramer and the AAP team hold a position in Apple and Nvidia for their Action Alerts PLUS Charitable Trust Portfolio. Want to be alerted before Cramer buys or sells AAPL or NVDA? Learn more now.
During a briefing about the new U-series chips, Intel exec Chris Walker mentioned that Intel's data indicates that about half of all U.S. digital time spent is still on PCs. He added that about 50% more time is spent using "entertainment" and sports applications on PCs than smartphones, and about 90% more time is spent doing online shopping on PCs.
Those numbers might not be as high in emerging markets where the smartphone is the only computing device used by a large subset of consumers. But it is safe to say that PC demand and usage aren't nearly as weak as many media reports would suggest. Especially among gamers, content creators and other types of enthusiasts requiring systems providing high-end performance.
With or without AMD lurking in the background, Intel has a strong incentive to invest in giving such PC users new reasons to upgrade.
Jim Cramer Reveals What Bitcoin Means for Nvidia