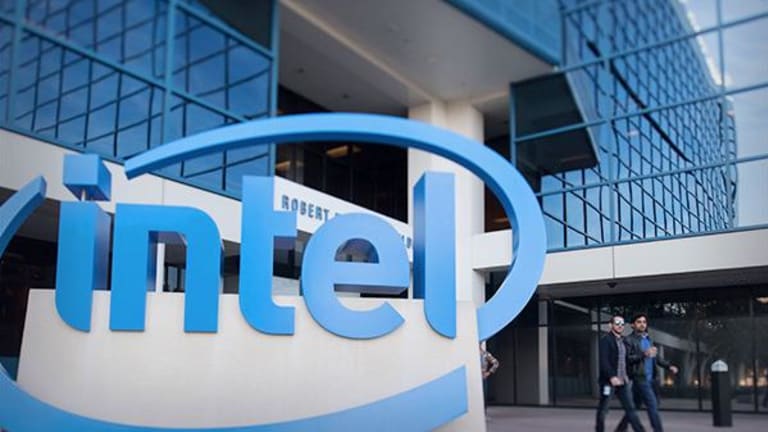 Why Intel's Dominant Server Chip Position Remains on Pretty Solid Ground
The chip giant's newest server platform promises big performance gains, and is backed by a powerful ecosystem.
The chip giant's newest server platform promises big performance gains, and is backed by a powerful ecosystem.
Over the last two years, Intel Corp.  (INTC) - Get Report has frequently stressed that growing the sales of its massive Data Center Group (DCG) is a top priority, and that it will make big R&D and manufacturing investments in support of this goal. With its latest chip launches, Intel went a long way towards backing up its talk.
On Tuesday, July 11, Intel officially launched its much-anticipated Xeon Scalable server CPU line, formerly codenamed Purley. The chips are based on Intel's Skylake CPU architecture, which first appeared in the PC market in 2015, and are meant to replace two CPU lines, respectively codenamed Brickland and Grantley, based on the older Broadwell architecture.
Though Intel hasn't touched on it much today, the company is significantly overhauling how it segments and brands Xeon chips with its Skylake refresh. It previously placed Xeons into its E3, E5 and E7 product families. E3 chips generally went into small single-CPU servers; E5 chips (the most popular) went into 2 and 4-CPU servers; and E7 chips went into "mission-critical" enterprise servers featuring 4, 8 or more CPUs.
Going forward, Xeon chips will be placed within 4 metal-themed families -- Platinum, Gold, Silver and Bronze -- that differ in terms of performance and features, rather than server size. As a result, Intel can be more flexible in terms of the features it can provide for a given type of server -- for example, cloud giants prone that have been deploying thousands of 2-CPU E5 servers can now access features that were reserved for giant E7 servers.
Though performance gains vary a lot based on CPU and workload, Intel claims that the average gain relative to Broadwell Xeon CPUs is around 65% -- the largest generational improvement in a decade. As evidence, Intel trotted out an impressive slide showing how the likes of IBM Corp. (INTC) - Get Report , Baidu Inc. (BIDU) - Get Report , SAP SE  (SAP) - Get Report and Tencent are seeing gains in the 50% to 100% range for cloud, AI, analytics and telecom/networking workloads, following software optimization.
Reported performance gains delivered by Intel's newest server chips.
The performance gains aren't just driven by raw processing power improvements, but also by things like larger on-chip memory caches; sizable improvements in memory and PCI Express (PCIe) connectivity bandwidth; a new instruction set (called AVX-512) that delivers performance gains for AI, analytics and others workloads; and a higher-performance architecture (known as the Mesh architecture) for linking CPU cores with each other.
Editors' pick: Originally published July 11.
There's also Intel's QuickAssist technology, which was previously available via accelerator cards and is now being built into Xeon motherboard chipsets. QuickAssist can significantly improve the speed at which data is encrypted or compressed. Intel, eager to talk up the Xeon Scalable line's security features, claims it can nearly eliminate the performance overhead traditionally involved in encrypting data, and also notes it has integrated data-protection technology meant to prevent encryption keys from being accessed.
With regards to AI workloads, Intel claims performance gains of up to 140% for inferencing tasks, in which machine learning algorithms handle real-world requests. Unlike the demanding task of training AI algorithms, for which Nvidia Inc.'s  (NVDA) - Get Report Tesla GPUs are widely deployed, quite a lot of inferencing work still happens on Xeon CPUs, even if competition from Nvidia and others is intensifying.
All of these advances put Intel on better footing to deal with the recent launch of AMD Inc.'s (AMD) - Get ReportEpyc server CPUs, formerly codenamed Naples. Epyc puts up to 4 chips that each feature up to 8 cores into a single package; the cores communicate with each other, and possibly with a second Epyc CPU, via AMD's innovative Infinity Fabric. AMD claimed healthy advantages relative to comparable Broadwell Xeon CPUs in terms of raw horsepower, memory bandwidth and PCIe bandwidth, and will no doubt price Epyc parts aggressively as it tries to challenge Intel's server CPU dominance.
The improvements Skylake Xeon CPUs deliver in terms of horsepower, cache size and bandwidth, as well as the gains that technologies such as AVX-512 and QuickAssist can provide, should narrow, if not neutralize, AMD's price/performance edge for many workloads. Just as important, however, is how the unmatched scope of Intel's server CPU platform, and the ecosystem that supports it, gives it an edge.
Whereas AMD has launched 9 Epyc CPUs, Intel is launching over 30 Xeon Scalable CPUs just within its Platinum and Gold families. The company also has much experience providing custom Xeon chips for big cloud clients; Intel's launch event featured videos in which Google and Amazon engineers each gushed over their company's plans to deploy Skylake Xeon servers, with the latter mentioning plans to use them for AI workloads.
Intel's chips are also supported by a number of complementary hardware solutions. These include its Xeon Phi co-processors (used for many analytics and high-performance computing projects), its high-speed Omni-Path fabric for connecting servers and storage system, solid-state drives relying on the company's next-gen Optane high-speed memory and CPUs that are packaged with FPGAs that can be re-programmed to handle new algorithms.
On the software side, as indicated earlier, Intel has an unmatched base of big-league enterprise developers that have optimized their code for its CPUs. With the Skylake Xeon line, Intel is hoping to build on this edge by launching Select Solutions, a set of server reference designs (to be sold by OEM partners) that are optimized for software such as Microsoft Corp.'s (MSFT) - Get Report SQL Server 2016 database and VMware Inc.'s (VMW) - Get Report vSAN 6.6 storage virtualization platform.
AMD still has some interesting selling points for Epyc. Among them: The platform's built-in support for full memory encryption, and its ability to deliver features for single-CPU servers that Intel has traditionally only offered for larger servers.
Nonetheless, following its latest server CPU refresh, Intel's dominant market position remains on pretty solid ground. As enterprises and cloud firms that have been holding off on placing server orders in anticipation of Intel's Skylake Xeon launch make deployments, Intel's DCG sales growth, which has underwhelmed in recent quarters, should improve markedly during the second half of the year.
Visit here for the latest business headlines.