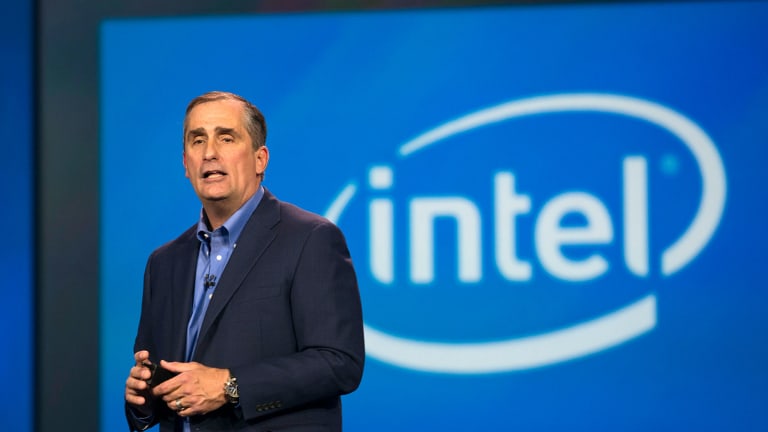 Intel Shares Jump on Earnings Beat: 7 Biggest Takeaways
The chip giant beat earnings and sales expectations for the fourth quarter as the Data Center group continued to see robust growth.
Shares of Intel (INTC) - Get Report were up more than 4% after hours on Thursday as the chip giant beat both earnings and revenue expectations for the fourth quarter and issued strong full-year guidance for 2018.
For the fourth quarter, Intel reported earnings of $1.08 per share vs. $0.86 per share expected on revenues of $17.05 billion versus expectations for $16.34 billion earlier. Intel also announced it was increasing its dividend by 10% to $1.20 a share. Shares of Intel are up almost 25% over the last 12 months.
Here are the 7 biggest takeaways from Intel's earnings report (the company hosts an earnings call at 5 p.m. ET):
Server CPU sales were strong in Q4, and drove much of the upside. Intel's Data Center Group (DCG) saw revenue grow 20% year-over-year to $5.6 billion, well above a $5.09 billion analyst consensus, and much better than Q3's 7% growth.
A 35% increase in sales to cloud providers drove much of DCG's growth. But it also helped that enterprise/government sales rose 11% and sales to telecom service providers increased 16%. The Xeon CPU refresh launched this summer is clearly being well-received.
The Client Computing Group's (CCG) performance was more mixed, with sales dropping 2% to $9 billion. But that's still above an $8.73 billion consensus estimate. Desktop chip sales fell 8%, which suggests some share loss to AMD. But notebook sales were flat and sales of modems and other adjacent products (boosted by iPhone 8/X modem sales) rose 15%.
The Programmable Solutions Group (PSG), a product of the Altera acquisition, was also a standout, with revenue of $568 million (+35%) trouncing a $468 million consensus. While some one-time factors appear to have helped, it also looks as Intel is doing a good job of cross-selling PSG products to its Xeon customer base.
Q1 guidance isn't that great, possibly due to the recent Spectre/Meltdown security issues. But full-year guidance is stronger, suggesting that Intel expects the current Xeon upgrade cycle to be a pretty strong one.
Full-year capex guidance of $14 billion (+/- $500 million) is well above reported 2017 capex of $11.8 billion. This suggests Intel is getting more serious about holding onto its manufacturing process edge, which Asian rivals have chipped away at in recent years. Nonetheless, free cash flow is expected to rise to $13 billion (+/- $500 million) from 2017's $10.3 billion.
Following the 10% dividend hike, Intel's dividend yield stands at 2.5%, based on Intel's after-hours trading price.
More of What's Trending on TheStreet:
This article was written by a staff member of TheStreet.