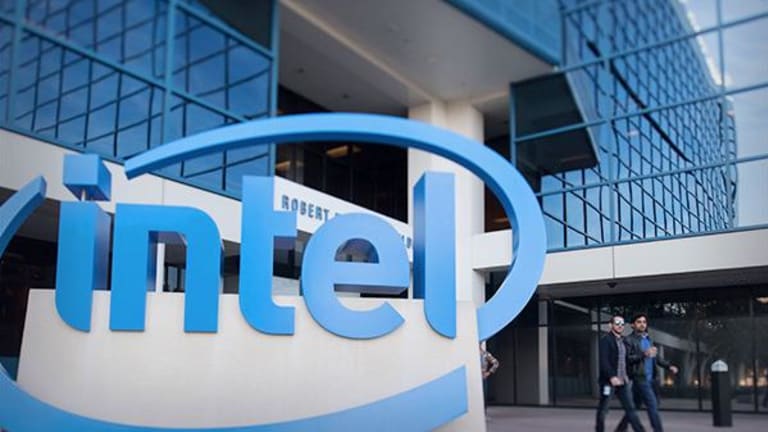 Intel Will Soon Have 100 Self-Driving Cars on the Road
Intel said that it will begin building a fleet of level 4 fully autonomous vehicles for testing in the U.S., Israel, and Europe.
A day after Intel (INTC) - Get Reportfinalized its tender offer for Israeli tech company Mobileye (MBLY) , the U.S. tech giant announced its initial plan for the newly acquired provider of systems used in automotive collision detection technologies.
Intel said on Wednesday that it will begin building a fleet of level 4 fully autonomous vehicles for testing in the U.S., Israel, and Europe. That fleet will eventually scale to 100 automobiles.
"Building cars and testing them in real-world conditions provides immediate feedback and will accelerate delivery of technologies and solutions for highly and fully autonomous vehicles," said Amnon Shashua, soon-to-be senior VP of Intel Corp. and future CEO/CTO of Mobileye.
He added that the company's vision is to bring autonomous driving anywhere in the world, and will accomplish the feat by testing in various geographical regions.
The fleet will comprise of several car brands and vehicle types to exhibit the technology's "agnostic" nature, Intel said.
"Delivering 100 test cars very quickly will demonstrate how this hybrid system can be adapted to meet customer needs," Shashua said. "Neither company could do this alone. Given resident skill-sets within the two companies, a standalone fleet of test vehicles is possible almost immediately."
While Intel's more than $15 billion move to purchase Mobileye advances its efforts to compete in the highly-coveted autonomous car space, its rivals have not been quiet in their attempt to disrupt the industry as well.
Semiconductor rival Nvidia (NVDA) - Get Report has also been active in developing chips for autonomous vehicles. The company's NVIDIA DRIVE PX is its open artificial intelligence car computing platform designed to accelerate the production of automated and autonomous vehicles.
Nvidia has inked deals with the likes of Baidu (BIDU) - Get Report , Toyota Motors (TM) - Get Report , Volvo (VOLVY) , and Tesla (TSLA) - Get Report to develop hardware and software technologies that will enhance the capabilities of autonomous driving systems.
Another Intel rival chasing the coveted autonomous driving space is Advanced Micro Devices (AMD) - Get Report , which has developed the Radeon Instinct, a line of deep learning oriented GPUs. These chips combine hardware and open-source software, which AMD hopes will make its GPU accelerators more broadly adopted in machine intelligence.
The chips have the capabilities to transform a wide variety of segments, including the development of autonomous cars and drones. 
Nevertheless, as TheStreet's Jim Cramer noted, Mobileye's autonomous driving platform gives Intel a sizable lead in this most important space.

Don't miss these top stories on TheStreet:
Sell Disney. Sell Netflix. Sell It All!
Priceline Shares Being Pummeled -- Here's What We Know
Disney Goes to War With Netflix, Apple to $1 Trillion Are the Hot Tickers: DIS, NFLX, GOOGL, AAPL
Tesla Headlines This Lineup of 12 Amazing New Cars for 2018