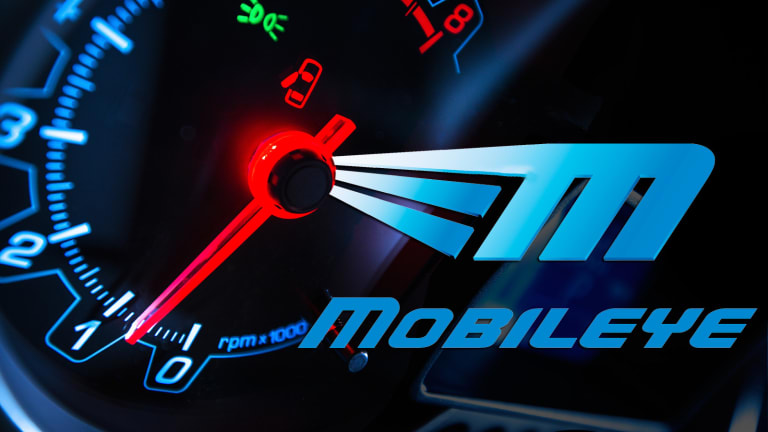 Intel Mobileye Executive Talks About Autonomous Driving Efforts
The company is banking on its software experience and the breadth of its chip lineup as it does battle in a competitive self-driving hardware market.
Like Nvidia (NVDA) - Get NVIDIA Corporation Report , Intel (INTC) - Get Intel Corporation Report has made its share of autonomous driving announcements at CES, and is eager to talk about the products they involve.
The chip giant, which is five months removed from closing its $15 billion purchase of top driver-assistance (ADAS) processor supplier Mobileye, announced deals with Chinese automaker SAIC and mapping provider Navinfo, detailed an autonomous driving (AD) hardware/software solution and showed off the first car in a planned fleet of 100 self-driving test vehicles (CEO Brian Krzanich plans to use it to get to work).
I talked with Dan Galves, Mobileye's Chief Communications Officer, at CES about Intel's AD strategy and expectations for consumer and industry adoption going forward. I also spoke with Galves at CES last year, about two months before the Intel-Mobileye deal was struck.
I started off by asking about Intel/Mobileye's expectations for its REM program, which -- unlike Alphabet/Waymo's (GOOGL) - Get Alphabet Inc. Class A Report mapping efforts that  rely on the company's own data -- uses crowdsourced data to create the detailed maps needed for AD, and is now supported by several top automakers. Galves noted REM is enabled by the launch of Mobileye's EyeQ4 vision processor, which just entered production. The company expects 2 million cars will be producing data for REM by year's end, thanks to deployments by BMW, Nissan and Volkswagen.
Interestingly, Intel expects REM maps to be ready for real-world use in 2019, when Nissan is expected to begin using them within a car supporting Level 3 autonomy (able to take over from drivers in some, but not all, situations). And with the cost of L3 solutions likely restricting them to high-end cars in the near-term, Galves also indicated Intel thinks REM could be used to enable "L2+" solutions that go a little further than current ADAS offerings in taking control of driving functions in certain scenarios.
Thanks partly to the EyeQ4, Intel currently has L3 deals in place with BMW, Fiat-Chrysler, Honda, Nissan and SAIC. There's also the new Audi A8, which supports L3 functions at limited speeds and features Intel, Nvidia and Infineon chips. "The interesting thing about [the A8] is that it shows this isn't a zero-sum game," Galves said.
As for Level 4 autonomy, which allow cars to take over from drivers in most (though not all situations), Galves agrees with an assessment from Nvidia's Danny Shapiro that L4 cars will be on the road in 2-to-3 years in a limited set of environments. "There are certain use cases where you can control the variables and you can safely deploy fully autonomous vehicles in the near-term," he argued. But by 2021, he expects "full use case" L4 cars that can take over from drivers more broadly on roads to be in production.
Regarding Intel's just-announced AD hardware/software solution, which pairs two of Mobileye's powerful EyeQ5 SoCs (due in 2020) with an Intel Atom CPU, Galves states the offering is good enough to power Level 5 autonomous cars (able to take over from drivers in all situations, no steering wheel needed). He also suggests Mobileye's software experience in areas such as vision-processing and mapping helps Intel deliver efficient hardware platforms. "We've got the software and the hardware under one roof...we know exactly what type of software will be involved in L5," he said. BMW, Fiat Chrysler (FCAU) - Get Stellantis N.V. Report and SAIC have embraced the EyeQ5/Atom solution.
However, Intel still sees an opportunity to sell its Xeon CPUs (more commonly found in servers) and programmable chips (FPGAs) to automakers and platform providers creating their own advanced self-driving software. "Some of this software is requiring more compute power," Galves noted. Waymo is a good case in point. The Alphabet company writes all of its self-driving software, develops its own maps and doesn't use Mobileye's processors. But it does rely on Xeon CPUs and FPGAs to run its software, as well as Intel's 4G modems and Ethernet chips for connectivity.
The Waymo deal highlights how Intel is banking on the breadth and versatility of its chip offerings, as well as its software/mapping expertise, to compete against Nvidia, which has racked up an impressive set of design wins and engagements for its AD hardware and software platforms, which include its powerful Drive Xavier and Pegasus computing boards. Galves placed Intel's AD clients into three groups: Those wanting "turnkey" solutions such as what Intel is developing with auto parts giant Delphi (DLPH) - Get Delphi Technologies Plc Report; those (like some automakers) willing to rely on Mobileye's software for some functions, but want to directly handle others; and those (like Waymo) who want to fully control software development.
Galves insists Intel is eager to cater to all three segments. "We want to sell as much Intel content as possible," he declared. "If a developer can do it own their own, we would love for them to be using Intel platforms."
Jim Cramer and the AAP team hold positions in Nvidia and Alphabet for their Action Alerts PLUS Charitable Trust Portfolio. Want to be alerted before Cramer buys or sells NVDA and GOOGL? Learn more now.
More of What's Trending on TheStreet: