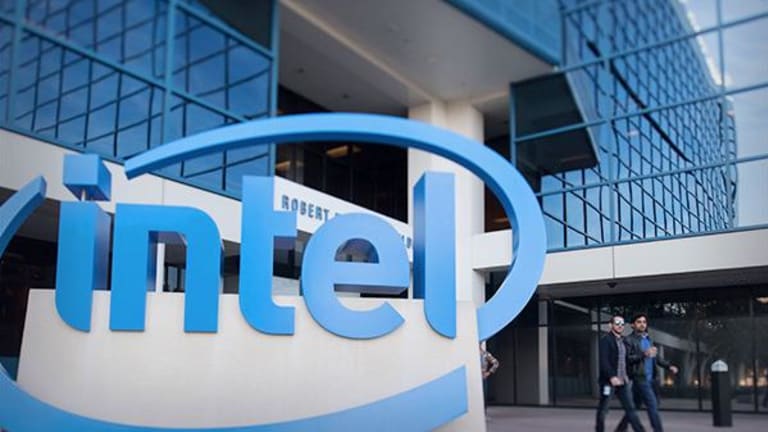 How Intel Is Putting More Effort Into Fighting AMD
Though Intel had promised to cut its PC R&D spending, it's reportedly speeding up the launch of new processors meant to take on AMD's very competitive Ryzen CPUs.
This column originally appeared on April 20 on Real Money, our premium site for active traders. Click here to get great columns like this.
Considering how PC sales have trended over the last several years, it's hard to fault investors for generally backing Intel's (INTC) - Get Intel Corporation (INTC) Reportstrategy -- outlined last spring in a memo from CEO Brian Krzanich, and discussed in detail at this year's Investor Day -- to pare its PC-related investments and direct more resources towards data center, automotive and embedded opportunities.
But this strategy was always a little riskier than many assumed, both due to how financially important Intel's PC CPU business remains and because it was unfurled just as AMD (AMD) - Get Advanced Micro Devices, Inc. Reportwas getting ready to launch CPUs that put it on much better footing in the high-end and mid-range segments than it has been for many years. Now it looks as if Intel is rethinking its stance a little, even if doing so will probably lead to some near-term margin pressure.
Taiwan's Digitimes, which appears to have good sources at local PC contract manufacturers and motherboard makers, reported on Wednesday that Intel plans to unveil its new high-end Skylake-X and Kaby Lake-X high-end CPUs -- part of a new platform called Basin Falls -- at the Computex trade show, which runs in Taipei from May 30 to June 3. Prior reports had pointed to an August launch.
Digitimes also states the first CPUs based on Intel's Coffee Lake architecture, the successor to the Kaby Lake architecture launched last fall, will debut in August. It adds the Coffee Lake launch is being pulled in January 2018, but Intel previously indicated Coffee Lake would arrive by this holiday season.
The report comes about six weeks after AMD launched its high-end Ryzen 7 desktop CPUs, based on its new Zen CPU core architecture. Benchmarks showed AMD's flagship Ryzen 7 1800X chip ($499 MSRP) holding its own against Intel's Core i7-6900K (based on the older Broadwell architecture, $1,089 recommended price) in many tests. The 1800X did lag the 6900K, as well as Intel's Core i7-7700K (based on Kaby Lake, $339 recommended price), in many 1080p-resolution gaming benchmarks, but was more competitive in higher-resolution gaming tests for which GPU power matters more.
AMD recently followed up on the Ryzen 7 launch by rolling out its mid-range Ryzen 5 desktop CPUs. With 6 cores and the ability to handle 12 simultaneous threads, AMD's Ryzen 5 1600X ($249 MSRP) often trounces Intel's Kaby Lake-based Core i5-7600K (4 cores and threads, $242 to $243 recommended price) in productivity and content-creation benchmarks. Moreover, the Ryzen 5 line provides a level of overclocking support that Intel's mid-range offerings generally lack.
1080p gaming is again a soft spot at times, but less so when a game has been optimized for Ryzen (Ashes of the Singularity saw about a 20% performance improvement in 1800X tests after being optimized) and/or uses Microsoft's (MSFT) - Get Microsoft Corporation (MSFT) ReportDirectX 12 programming interfaces, which can take better advantage of the 1600X's extra cores. That bodes well for the competitiveness of Ryzen CPUs in general in future gaming tests, including the 16-core desktop CPU AMD reportedly plans to launch in August and the notebook processors due at some point in the second half of the year.
Intel already appears to be cutting prices below "recommended" levels for some high-end desktop parts in an effort to counter AMD. And the performance gains that Basin Falls and Coffee Lake should respectively deliver over the Broadwell and Kaby Lake CPUs they'll gradually replace should give Intel a little more breathing room in the face of AMD's aggressive pricing.
Microsoft could also aid Intel's efforts to fend off AMD, not to mention lift PC upgrade rates, particularly in the corporate market. Redmond has been baking features into Windows 10 that can only be leveraged by Intel CPUs based on Skylake or a newer architecture. Security and performance-optimization features were shown off in 2015, and this week Microsoft unveiled an upcoming Windows 10 feature for newer Intel-based systems that it claims can lower CPU power draw by up to 11% by limiting how much power background apps can use.
But even if Intel's more aggressive PC stance pays off, there will likely be a cost attached. In February, the company forecast its PC CPU R&D spend would drop about 5% from 2015 to 2017. With the company significantly upping its data center, flash memory and IoT R&D spend over this time, and also planning to hike its capital spending this year to $12 billion (plus or minus $500 million) from a 2016 level of $9.5 billion, cuts in PC R&D, marketing and manufacturing process investments are a key part of Intel's strategy to grow profits during a time of limited top-line growth.
Speeding up the Basin Falls and Coffee Lake launches will presumably require some extra R&D spend. And if Intel also speeds up the production ramp for its Cannonlake CPUs -- the first PC CPUs based on Intel's next-gen 10-nanometer manufacturing process -- to counter AMD, that will also require some extra capex. It could also ding gross margin for a while since chips based on newer manufacturing processes tend to initially have lower yields.
The first Cannonlake CPUs are expected in late 2017 or early 2018. AMD is expected to rely on 14-nanometer processes for Ryzen until 2019, when 7-nanometer chips based on a new "Zen Plus" CPU core architecture are forecast to arrive.
There's a lot at stake for Intel. The company's Client Computing Group (responsible for PC and mobile processors) accounted for 52% of its 2016 revenue, and together with the Data Center Group (responsible for server CPUs, among other things) produced nearly all of its 2016 operating profits.
After 12 months of talking endlessly about how it's becoming a "post-PC" company, and making some splashy acquisitions to aid that transformation, Intel might finally be realizing how much it has to lose if its treats its PC business as a "legacy" operation in the face of a resurgent AMD. The solid work that AMD has done with Ryzen, together with its undercutting of Intel's high-margin products, still leaves it well-positioned to take share.
But Intel -- for a price -- might be poised to limit the damage.
Read MORE trending tech stories on TheStreet:
Why You Should Put IBM's Stock in the Garbage Can and Then Light It on Fire