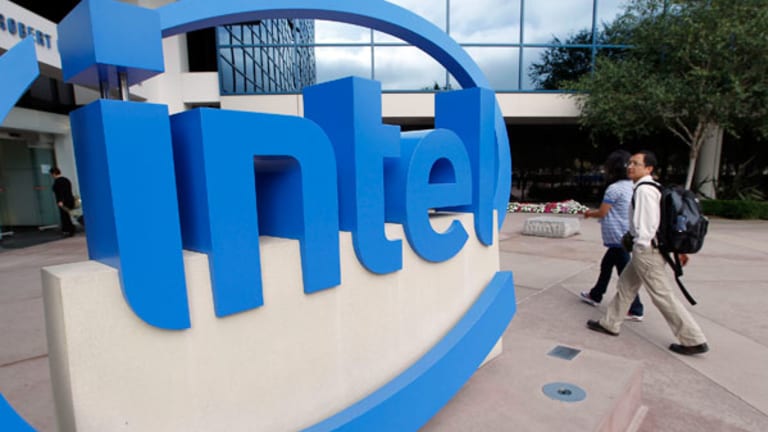 Intel, Home Depot, UPS, Dollar General Want to Pay You More
Here's a look at four stocks that are ready to give investors a raise at the start of 2017.
It's the most wonderful time of the year for dividend investors.
We're coming up on the final stretch of 2016, which means that a slew of companies are gearing up to give investors a fatter paycheck in the weeks ahead. While the Federal Reserve's rate hike earlier this month is generally seen as a negative for income stocks, don't be thrown off -- it could actually help to give corporate managers incentives to boost their dividend payouts even more than normal.
Even more directly, higher rates from the Fed don't change the fact that dividends have contributed a critical piece of the stock market's total returns this year. In the trailing 12 months, dividends have accounted for one-in-five performance points from the S&P 500. Maybe more telling, dividend payouts made up almost a third of the S&P's total returns in the 11 months leading into election day.
Put simply, dividends still matter a lot for your portfolio - and that fact becomes even more evident when you take a long-term view. For instance, over the last ten years, dividends have accounted for 40% of the S&P 500's performance, handing investors the difference between 56.9% gains, and 94.5% gains when reinvested dividends are factored in.
But, to find the biggest benefit from dividends, it's not enough to simply buy names with big payouts today, you've got to think about which names are going to be paying more tomorrow, too. So instead of chasing yield, we'll try to step in front of the next round of stock payout hikes.
For our purposes, that "crystal ball" is composed of a few factors: a solid balance sheet, low payout ratio, and a history of dividend hikes. While those items don't guarantee dividend announcements in the next month or three, they do dramatically increase the odds that management will hike their cash payouts to shareholders. And they've helped us grab onto dividend hikes with a high success rate in the past.
Without further ado, here's a look at four big stocks that could be about to increase their dividend payments in the coming months. Think of it as your dividend preview.
Intel 
Leading off our list of potential dividend hikers is tech giant Intel  (INTC) - Get Report. Intel is outperforming in a post-PC world -- shares of the semiconductor giant are up more than 30% since this stock bottomed back in the first week of February. And now, Intel looks primed to add to that with a dividend hike in the near-term. Currently, Intel pays a 26-cent quarterly dividend check that adds up to a 2.8% yield at current price levels.
Intel owns the global microprocessor business, with approximately an 80% share of the market. That dominance in building brains for PCs is what catapulted Intel to become the biggest chipmaker on the planet. But it's also been a major challenge more recently as more consumers replace their PCs with lower-cost mobile devices. Even though Intel's attempts to scale down its chips for the mobile market haven't been successful, it's finally been able to make up for the sagging PC market by going the other way and selling super high-end processors used in servers.
An uptick in PC demand in 2016 has been helping to propel Intel higher in the last few months. At the same time, Intel's balance sheet remains in good shape, with more than $5 billion in net cash and investments on the books. With a dividend payout ratio of just 36.43% at the last quarter, Intel has plenty of dry powder available for a dividend hike in the quarter ahead. Stay tuned.
Home Depot
The strength of the U.S. housing market is providing a major tailwind for Home Depot (HD) - Get Report in 2016. As home prices surpass their pre-2008 highs, homeowners have been spending freely on home improvement projects again, fueling revenue growth at Home Depot and its peers. That increase in home values has also given Home Depot the opportunity to expand outside its core DIY segment of the market, and more towards high-margin segments of the market like professional construction services.
Home Depot's opportunity to expand its reach has everything to do with scale. As the biggest home improvement retailer in the business, Home Depot boasts 2,274 locations throughout North America. That huge reach means that it's already in just about every geography that it wants to tap, and the company can pair professional services with consumers and collecting service fees and product revenue in the process.
Historically, Home Depot has been an excellent steward of shareholder value. The firm has returned more than $41 billion to investors through dividends and buybacks, and it has a long track record of hiking payouts. Currently, Home Depot pays a 69-cent quarterly dividend check that amounts to a 2% annual yield. If history is any indication, investors should look for that payout to increase in the coming quarter.
United Parcel Service
It's prime-time busy season over at United Parcel Service (UPS) - Get Reportright now, as more consumers skip the hubbub of brick-and-mortar retail and opt to let this package delivery giant bring them their holiday shopping instead. That trend is nothing new, but it's playing out in a big way in 2016, as UPS sits more than 20% higher than it started the year. Those market-beating returns stand to get even bigger now, as UPS sits primed to announce a boost to its 78-cent quarterly dividend payout this quarter.
UPS pays out a 2.65% dividend yield based on current share price levels.
UPS is the world's largest private package delivery company, beating out main rival FedEx (FDX) - Get Reportfor that top spot. The firm delivers more than 18 million packages a day, on average, with many more than that being dropped off daily between now and the new year. It's incredibly costly and difficult to replicate UPS' huge infrastructure of more than 500 aircraft and 100,000 ground vehicles, a fact that dramatically reduces the risks of newcomers competing for shippers.
Likewise, even though ecommerce companies like Amazon.com (AMZN) - Get Reportare investing heavily in their own delivery infrastructure, only UPS' lowest-margin shipments are really at risk here. The biggest e-commerce retailers simply can't cut their reliance on UPS. At the same time, stretched capacities and lower fuel costs are giving UPS an opportunity to raise prices in a way that overwhelmingly contributes to higher margins. UPS is hitting new all-time highs this winter, and that means that buyers are still squarely in control of this stock's price action as I write.
Dollar General
Discount retailer Dollar General (DG) - Get Reportrounds out our list of potential early 2017 dividend hikers. This $21 billion chain is built around moving low-cost merchandise at huge volumes. The firm sports 13,000 stores nationwide, a footprint that sounds staggering until you consider the fact that management sees the potential for nearly twice as many locations in the U.S. 1,000 new stores are slated to open in 2017.
As a dollar store chain, most of the 10,000-12,000 stockkeeping units (SKUs) found in a typical Dollar General location sell for $10 or less. When nearly everything in your store costs less than $10, margin discipline is truly critical, and Dollar General has historically done an enviable job of posting attractive returns, converting a higher proportion of revenues into profits than bigger, less cost-obsessed peers like Walmart (WMT) - Get Reportand Target  (TGT) - Get Report. At the same time, Dollar General's more defensive stance provides some attractive exposure at the exact same time that investors remain anxious about big changes on the horizon for the economy.
While Dollar General stumbled late in the summer on second-quarter earnings numbers that missed the mark, shares have recovered more recently, rallying more than 13% since the start of the "Trump rally" last month. Meanwhile, management looks ready to add to that rebound. After four straight quarters of paying a 25-cent quarterly dividend, investors should be on the lookout for a raise early next year.
At the time of publication, author had no positions in the stocks mentioned.