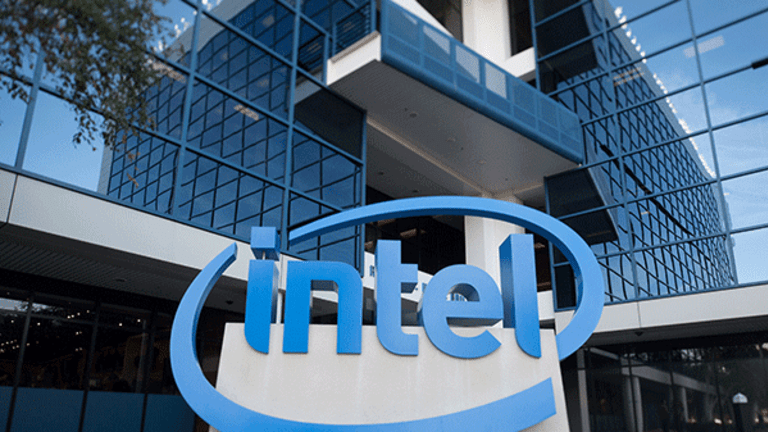 Intel's Growth Strategy Is Decent, But Could Create Openings for AMD and Qualcomm
The chip giant hopes to offset PC and enterprise server weakness with cloud, IoT and flash memory growth. But the strategy could create opportunities for AMD and Qualcomm.
Much like Cisco Systems (CSCO) - Get Report, Intel (INTC) - Get Report has few illusions about the long-term pressures facing some of its largest and most profitable businesses, and is using a mixture of M&A, re-structurings and internal investments to position itself better in the years to come. Also like Cisco, Intel's transformation efforts have a financial price attached to them, and involve making trade-offs that can create openings for rivals.
During Thursday's Investor Day, Intel spelled out its ambitious plans to offset the long-term declines expected in the PC and enterprise server CPU markets by targeting opportunities in cloud servers, non-CPU data center products, solid-state drives (SSDs), and IoT and autonomous driving platforms. It also provided a set of short-term and long-term targets for its main reporting segments.
In line with the outlook shared during its fourth-quarter earnings call two weeks ago, Intel predicted its Client Computing Group (CCG), which supplies PC CPUs and mobile chips, will see revenue decline at a mid-single digit clip in 2017 due to PC weakness. It also forecast CCG will decline at a low-single digit annual rate over the next three years, while adding that its margins will be boosted by spending cuts.
Relative to 2015 levels, PC CPU R&D spend is expected to be down about 5% in 2017, and mobile R&D spend (had previously contributed to giant mobile division losses) about 55%. Some of these spending cuts have already been made, courtesy of Intel's 2016 job cuts. CCG was responsible for 54% of Intel's 2016 sales.
Intel's Data Center Group (DCG), which towers over the server CPU market, is still expected to grow at a high-single digit clip this year. But Intel still expects low-double digit growth in subsequent years, as enterprise server weakness is offset by strong orders from cloud giants and carriers, as well as by the growth of non-CPU products such as Ethernet chips, the Omni-Path interconnect fabric, deep learning ASICs and silicon photonics transceivers.
But this growth is going to come at a price. DCG's R&D spending is expected to grow by 25% from 2015 to 2017. That, along with manufacturing process investments, will result in a 2017 margin hit. And thanks to both its investments and the fact that some non-CPU parts carry lower margins, Intel is now aiming for a long-term DCG margin in the low-40% range from a prior target range of 45% to 50%.
That's a big deal, given DCG and CCG currently produce nearly all of Intel's profits between them. The former had a $7.5 billion operating profit last year on revenue of $17.2 billion; the latter had a $10.6 billion operating profit on revenue of $32.9 billion.
Intel is paring back on its PC and mobile chip investments, while dialing up spending elsewhere.
Looking at Intel's other businesses, the company generally did a convincing job of arguing that its addressable markets are due to grow meaningfully over the next few years, and that it's well-positioned to grab a larger share of them. But as Intel's R&D spending forecasts (pictured above) show, there will be a cost involved here as well.
Intel's flash memory operations, the largest of these businesses, are forecast to see 20%-plus growth this year. And strong growth is expected in later years thanks to rising SSD penetration, big investments to ramp production of high-density 3D NAND chips and the adoption of Intel's 3D XPoint next-gen memory -- developed with flash partner Micron (MU) - Get Report-- which can act as a DRAM substitute for certain server workloads and (for a price) enable SSDs with blistering performance.
The IoT Group, which supplies embedded processors and related chips, is expected to see 10%-plus growth this year. Here, Intel is not only selling the kind of low-power processors one normally associated with IoT devices, but also Xeon processors that can do things like process a car's autonomous driving data and use sensor data to analyze what's going on inside of a store, factory or hospital.
Intel predicts autonomous cars will produce 4TB of data per day, and a "smart factory" 1PB (1,000TB) per day. It also expects autonomous cars to have 10 to 15 times as much chip content as the average modern-day car (estimated to contain $100 to $200 of chips today) by 2025. A long-term forecast like that needs to be taken with a grain of salt, but it's not too far removed from what Mobileye (MBLY) and other chipmakers targeting the autonomous driving space have predicted.
Intel's estimates for the 2021 addressable markets for its businesses, and the company's current share of them.
The Programmable Systems Group (PSG), the product of Intel's $16.7 billion purchase of FPGA developer Altera, is expected to see mid-single digit growth this year. But Intel is hoping to see stronger growth down the line as it furthers its efforts to create solutions pairing FPGAs with Xeon server CPUs. And in spite of the mobile R&D cuts, Intel is still betting big on 5G, hoping its modems will power many of the tens of billions of 5G-capable devices it expects to eventually ship. Major 5G network rollouts are expected to start in the 2019-2020 timeframe.
From a top-line standpoint, the plan looks great at first glance. But it does assume some things that may or may not play out.
Perhaps the largest of these assumptions is that Intel won't lose much (if any) PC CPU share in spite of its investment cuts. AMD (AMD) - Get Report is bent on taking share via its soon-to-launch Ryzen CPU line, which is based on its new Zen CPU core architecture. Benchmarks show Ryzen chips holding their own against high-end Intel Core CPUs, and a recent price leak suggests AMD plans to significantly undercut Intel's high-end pricing.
Moreover, Intel suggested on Thursday that its Cannon Lake PC CPUs, the first to rely on its next-gen 10-nanometer manufacturing process, won't ramp until 2018. Instead, Intel will lean this holiday season on Coffee Lake, its fourth CPU line to rely on a 14-nanometer process -- historically, Intel has created just two CPU lines for a process before moving on. That should give AMD more room to take share, particularly as cheaper Ryzen parts arrive later this year.
Intel is also assuming its enterprise server CPU sales will only decline at a 5% annual clip through 2021, even as more and more enterprise workloads move to public cloud infrastructures. Given how weak sales have recently been, and how they've led Intel to cut its short-term DCG growth targets, it wouldn't be surprising if the decline was steeper.
And it's also not a given that a dollar of enterprise sales lost to a cloud migration will be made up with a dollar of cloud sales. Cloud server CPUs carry lower (albeit growing) average prices, and cloud providers are generally more efficient than enterprises at using their servers and storage. On the flip side, the fact that public clouds are enabling many new business and consumer workloads is a long-term positive.
Finally, given the mobile R&D cuts and 5G investments, one has to wonder if Intel will spend enough to maintain its recent 4G modem momentum, the product of a deal with Apple (AAPL) - Get Report to supply modems going into some iPhone 7 models. The fact that Intel's top-of-the-line XMM 7480 modem (450Mbps peak speed) isn't as powerful as Qualcomm's (QCOM) - Get Reportflagship Snapdragon X16 modem (1Gbps peak speed) has already fueled speculation that Qualcomm could win back some share at Apple.
Intel shares are down about 3% since Wednesday's close, as markets mull the implications of its various growth, spending and margin estimates. Given its growth opportunities, it's still quite conceivable that the company could deliver healthy sales and profit growth over the next several years. But the margin for error is pretty small.
Jim Cramer and the AAP team hold positions in Cisco and Apple for their Action Alerts PLUS Charitable Trust Portfolio. Want to be alerted before Cramer buys or sells CSCO or AAPL? Learn more now.