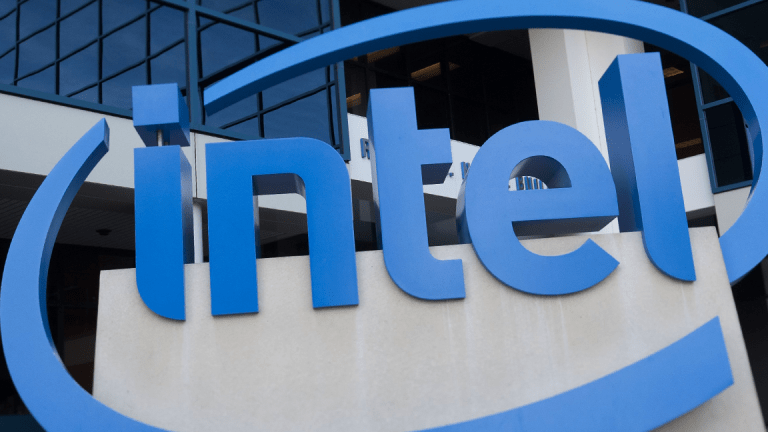 Intel Faces New Threats From IBM and Qualcomm, Even As It Fends Off AMD
Qualcomm is taking aim at Intel in the notebook and server markets, while Big Blue has rolled out an innovative new server platform.
During a week in which the Nasdaq is almost unchanged, Intel Corp.'s (INTC) - Get Report shares have dropped about 4%.
That likely has much to do with a pair of fresh attempts by Qualcomm Inc.  (QCOM) - Get Report and IBM Corp. (IBM) - Get Report  to take aim at Intel's mainstay CPU franchises.
Throw in recent efforts by Qualcomm and AMD Inc. (AMD) - Get Report  to battle Intel in the server market, and the chip giant is likely staring at a tougher competitive environment several months from now, even as its efforts to fend off AMD in the PC CPU market continue paying off.
On Dec. 5, Qualcomm and Microsoft Corp.  (MSFT) - Get Reportmade good on their plans to commercialize Windows 10 notebooks powered by Qualcomm's ARM-architecture Snapdragon 835 processor, which drives many high-end Android phones and some AR/VR headsets. Thanks to emulation software, Qualcomm-powered Windows systems will be able to run apps that were written for x86-architecture Intel and AMD CPUs.
HP Inc. (HPQ) - Get Report , Lenovo and Asus have each unveiled Qualcomm-powered notebook/tablet convertibles; volume shipments aren't expected until 2018. Three selling points made possible by the Snapdragon 835: The devices sport 4G modems (sometimes found on high-end Intel notebooks), offer superb battery life (20 to 22 hours) and feature a standby mode that -- much like an ARM-base smartphone or tablet -- allow devices to be woken instantly and can operate for about a month on a charge.
And prices should be reasonable: The base model for Asus' Qualcomm-powered NovaGo laptop goes for $599, and a model with extra RAM and storage goes for $799. HP and Lenovo haven't yet announced pricing.
Performance almost certainly won't match that of high-end notebooks running Intel's Core i5 and Core i7 CPUs, particularly given the performance hit that emulation software causes. And for now, the systems can't run 64-bit Windows apps (Microsoft says it's working on it). But for low-end and mid-range notebook buyers that value battery life and instant access and don't need cutting-edge performance, Qualcomm has an intriguing value proposition.
Just before Qualcomm and Microsoft made their announcement, IBM unveiled the AC922, a modular server featuring two of Big Blue's mammoth Power9 server CPUs. The system is optimized for workloads requiring GPUs, such as AI and high-performance computing (HPC), and supports up to six of Nvidia Inc.'s (NVDA) - Get Report flagship Tesla V100 GPUs.
It also delivers a ton of I/O bandwidth for connecting CPUs with GPUs and other accelerators: IBM claims 9.6 times as much as that of rival x86 CPUs such as Intel's, though Intel may be beg to differ with that figure. Notably, Alphabet Inc./Google (GOOGL) - Get Report , among the world's largest buyers of Intel's Xeon server CPUs, says it's deploying Power9 systems (just how many is unknown). The web giant is already a backer of IBM's OpenPower initiative, which allows third-party server makers to offer systems running Power CPUs.
Jim Cramer and the AAP team hold positions in Nvidia, Microsoft and Alphabet for their Action Alerts PLUS Charitable Trust Portfolio. Want to be alerted before Cramer buys or sells NVDA, MSFT or GOOGL? Learn more now.
IBM's move comes a month after Qualcomm launched its ARM-based Centriq 2400 server CPU line. Qualcomm, which is relying on a home-grown CPU core design, claims superior power efficiency relative to Intel CPUs, as well as major advantages in price/performance (again, Intel might disagree with the specifics).
And just a few months ago, AMD rolled out its Epyc server CPU line, which (like its Ryzen PC CPUs) is based on its new Zen CPU core architecture. The chips are priced aggressively, support healthy amounts of memory and I/O connectivity and offer features for single-CPU servers that Intel has traditionally reserved for dual-CPU servers. Microsoft just began offering the chips to clients of its Azure public cloud platform, and Baidu Inc.  (BIDU) - Get Report plans to support Epyc on its Baidu Cloud platform.
Individually, these moves aren't major threats to Intel, which this summer rolled out a major Xeon CPU refresh that (judging by industry sales figures) has been pretty well-received. Plenty of enterprises and cloud giants still swear by Intel's offerings, and no rival comes close to matching their breadth. Intel can also keep clients loyal via complementary solutions, such as its Xeon Phi co-processors, OmniPath interconnect and 3D XPoint next-gen memory, as well as via custom chip work for cloud giants and packages that pair Xeon CPUs with programmable chips (FPGAs).
But the server CPU landscape is changing some, and -- outside of the very high-end, where mainframes and other non-Intel systems maintain a presence -- Xeon's market share is so high that even moderate success by rivals would spell share loss. Throw in the fact that Intel's pricing for its latest Xeons isn't exactly aggressive, and odds are good that a growing number of firms will at least explore alternatives in 2018, if in some cases just to extract discounts from Intel.
Earlier in 2017, AMD's Ryzen PC CPUs were seen as the biggest competitive threat facing Intel, particularly since the first Ryzen desktop chips offered compelling specs relative to rival Intel chips available at that time. But such worries faded as Intel rolled out 8th-gen PC CPUs (some based on its new Coffee Lake architecture) that delivered sizable performance gains over predecessors launched in 2017.
Though AMD plans an incremental Ryzen update in the first half of 2018, a bigger refresh (featuring chips relying on a cutting-edge 7-nanometer manufacturing process) isn't expected until late 2018 or early 2019, by which time Intel is expected to have pushed the envelope itself.
Investors responded to the 8th-gen CPU launches and the Xeon refresh, along with improving server and high-end notebook markets, by bidding Intel's shares up to the mid-40s. But competitive fears are now picking up once again for a company that has long towered over its biggest markets. The latest moves from rivals are unlikely to have much of an effect on Intel's current quarter, but could have a bigger impact as 2018 progresses.
More of What's Trending on TheStreet: