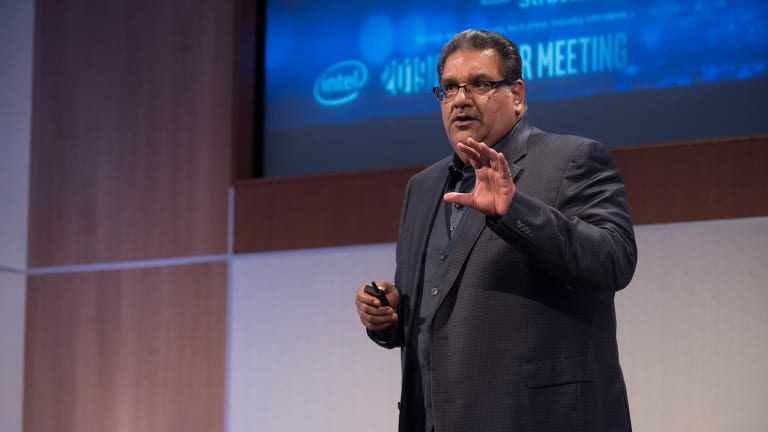 Exclusive: Intel Engineering Chief Discusses Plans to Speed Chip Making
Dr. Venkata Renduchintala outlined how the chip giant plans to becomes nimbler and less 'monolithic' following years of manufacturing stumbles.
Dr. Venkata "Murthy" Renduchintala has become something of the "fix-it man" at chip giant Intel (INTC) - Get Intel Corporation Report since joining the company in late 2015 from Qualcomm (QCOM) - Get QUALCOMM Incorporated Report .
After presenting at Intel's analyst day on Wednesday, during which he laid out a strategy to fix Intel's manufacturing stumbles, Intel's chief engineering officer sat down exclusively with TheStreet to discuss the chipmaker's strategy for ensuring that its chips come out on schedule and that it's competing effectively with rivals.
Stock-wise, Renduchintala's talk was overshadowed on Wednesday by Intel CFO George Davis's disappointing three-year financial outlook, which projected lower gross profit margin than analysts were expecting. Intel stock closed down on Thursday by 5% at $46.62 and were flat in early trading on Friday.
Intel missed its original goal of shipping transistors built at the smallest dimensions -- 10 billionths of a meter, or 10-nanometer -- by about three years. That caused tremendous hand-wringing on Wall Street, first under former Intel CEO Brian Krzanich, and then under his successor, current chief Bob Swan.
Now, says Renduchintala, the company is streamlining the complexity that had bogged things down, something he insisted will result in a new agility that will seem "delightful" to Intel's customers.
At the heart of that need for speed is finding a balance, he said, between designing chips with the most densely-packed transistors, which historically has been Intel's forte, and getting products to market in a timely fashion.
Intel traditionally imposed "very stringent" design rules for laying out transistors, Renduchintala said, to cram more into each new generation of chip, making the design process more arduous. 
Intel nowneeds to "move a much larger number of projects" through each generation of transistor technology, starting with 10-nano. That means finding a way to make chips much easier to design. "If you slacken those design rules, you get a much higher bandwidth of product," Renduchintala said, meaning, the ability to move from one generation of chips to the next more quickly and reliably.
Of course, relaxing those design rules could mean sacrificing some performance, but that's the balance to be struck -- to have decent design while also bringing Intel's design cycle more in alignment with the manufacturing speed that chip foundry Taiwan Semiconductor Manufacturing (TSM) - Get Taiwan Semiconductor Manufacturing Company Ltd. Report has achieved when it services Intel's competitors. TSM's speed has helped Intel competitor Advanced Micro Devices (AMD) - Get Advanced Micro Devices Inc. Report  take market share from Intel in the past year.  
Does that mean that Intel can avoid the manufacturing missteps of recent years? 
"I think we put a lot of work into making sure we really internalized the diagnosis of 10-nanometer," Renduchintala said, "and that we put in place the positive learnings that have come out of that experience, to make sure we have a smooth ramp of 10-nanometer, and a flawless ramp of 7 [nanometer] and the technology thereafter."
One surprising aspect not revealed on Wednesday that came out in Renduchintala's discussion with TheStreetis that Intel is essentially bringing out of mothballs its ambition from years past to be a sort of chip "foundry" by making chips that incorporate designs from other companies. It's not a foundry business strictly speaking, but the move does represent a new kind of flexibility on the company's part.
"We are prepared to work with our customers in the way they want to work with us," he said. "If they want to keep certain intellectual property at arm's length from us, and have us integrate their silicon onto our system platforms, we will work with them to do that; if they want to work in a more integrated fashion, we will be happy to do that."
The plan is to have customers come with either a pre-fashioned part of a chip's circuitry, perhaps built at TSM, or come with a circuit blueprint and have Intel make the transistors that can be designed into Intel's own chips. For chip designers, who mostly don't own their own factories, having access to Intel's manufacturing prowess has a certain appeal. But in the past, Intel was never able to make those deals come together. Renduchintala suggests Intel will try harder -- and smarter -- this time.
"They can just give us a fulfilled piece of silicon, and we would integrate that in a no-compromise way onto our platforms going forward," said Renduchintala.
"We will ultimately end up evolving that strategy," he said. "We will essentially provide that as a capability at whatever level a customer wants to engage in." 
Making this new kind of flexibility possible is a change in Intel's own view of how it designs its parts. "Most of our products will not be monolithic," he said, meaning adhering to one fixed design. Instead, they will be "constructions that use multiple forms of silicon." That approach moves Intel further in the direction of the "systems-on-a-chip," or SoC, approach to chips that the entire semiconductor market, save for Intel, has been moving towards for years now.
One of Wall Street's reactions to Wednesday's financial briefing was that the cost to make the newer 10-nanometer parts seems high. That, Renduchintala said, is an effect of delays of the past.
"We should have been at this point a couple of years ago," he said. The manufacturing costs are "only now going from balance sheet to P&L, in terms of the disposition of capital, so we're in a situation now where it's costing more."
"Over time, the costs will come down," Renduchintala asserted.
Although he promises a "massive array" of products at 10-nanometer this year, it sounds like parts for desktop PCs may have to wait until next year. 
Intel is "not letting up on our commitment to the desktop," Renduchintala said, while adding that the company is prioritizing the 10-nanometer transistors where they are "most advantageous." That, he said, tends to be "very much in the high-performance, low-power region," implying laptops. Desktops are "probably not the first article that benefits the most from logic scaling," he said.
Some observers on Wednesday were surprised to hear that the company's first product for its future 7-nanometer transistors will be a GPU. Renduchintala downplayed the looming battle with Nvidia (NVDA) - Get NVIDIA Corporation Report , which dominates the market for GPUs. 
"I'm sure we will bump into Nvidia along the way," Renduchintala said. There's something more at stake than market share, however, he indicated. In a world where "unstructured" data such as videos, photos and text is proliferating, Renduchintala said a "mastery of parallel computing is an absolute must" for Intel. To gain that mastery, Intel is "building a team and a leadership capability," of which the GPU is one part.
Renduchintala had been speculated last year as a possible CEO pick himself to replace Krzanich, who left Intel after having been found to violate the company's policy against fraternizing with employees. But Renduchintala brushed that suggestion aside on Wednesday, saying he has "enormous respect" for Swan and the leadership team he has assembled. 
"I'm extremely excited by my role at Intel," he said. "I have the ambition to do the best I possibly can do for Intel, and I hope in return for that I am compensated appropriately."
Nvidia is a holding in Jim Cramer'sAction Alerts PLUS Charitable Trust Portfolio. Want to be alerted before Cramer buys or sells NVDA? Learn more now.
Tiernan Ray owns no shares of any companies mentioned in this article.