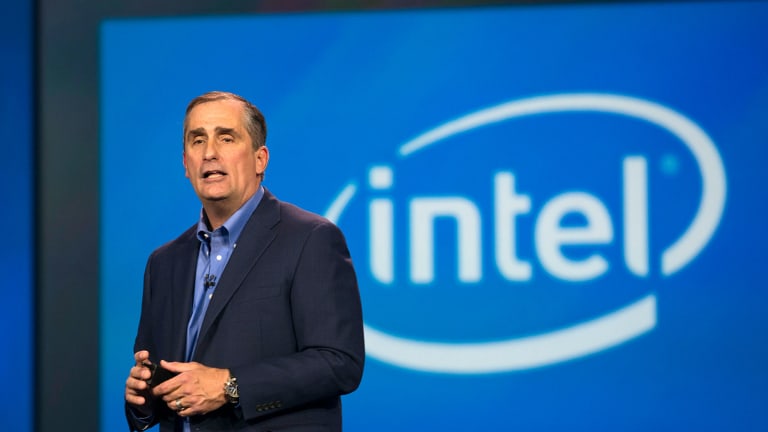 Intel Could Become a Buy Within Hours -- You've Been Warned
Intel has clocked new highs since September. A positive earnings reaction clears the path to more upside in 2017. Enter wait-and-see mode.
Any sign of a positive reaction to Intel Corp. (INTC) - Get Intel Corporation Report earnings call means buy.
At a glance, it looks as if Intel has had a decent year in 2017 -- shares are up nearly 13% since the calendar flipped to January. That's enough to make it a strong performer, but still not enough to keep up with the big-picture rally that's propelled the rest of the S&P 500 14.5% higher in 2017.
If you think Intel is just a slightly lower-beta proxy for the rest of the market in 2017, you need to think again. Intel's price trajectory totally changed course just two months ago, and shares are setting the stage for a potentially strong move in the final stretch of the calendar year.
Now, Intel's third-quarter earnings call could be the catalyst for that next move higher.
Intel is set to report its Q3 numbers after the bell Thursday evening. On average, analysts are looking for an 80.3-cent profit for the quarter, a number that Intel shouldn't have too much trouble hitting. Intel has a long track record of besting analysts' expectations -- it hasn't delivered a miss to Wall Street since the first quarter of 2015, and even then, it was a pretty tame one.
That doesn't mean that Intel won't see a big price reaction from earnings. The firm has swung as high as 9% in either direction over the last eight quarters following an earnings drop.
An even bigger potential driver for Intel is post-earnings-announcement-drift, which has historically led to outsized gains in the weeks and months following an earnings announcement. Put simply, an earnings beat Thursday evening could translate into some prolonged upside potential from Intel's chart.
That's being confirmed by the price action as well:
As I mentioned a moment ago, it's a mistake to think that Intel's performance has simply mimicked the rest of the broad market in 2017. Instead, this chip giant was a serial underperformer for the first half of the calendar year, and it's been a stellar outperformer in the second half.
One of the big catalysts for that upside was a pretty textbook example of an inverse head-and-shoulders pattern that broke out in the middle of September. Since that breakout, INTC has charged more than 12.6% higher, in a nearly straight-up fashion.
The inverse head-and-shoulders pattern in Intel came with a $40.40 price target, a level that Intel only just settled above before consolidating sideways for the past few sessions. This stock has been extremely technically obedient in recent months, and strong earnings could be the fuel that takes Intel to the next key upside level.
The good news is, you don't need to guess on Intel's earnings call now -- instead, it makes sense to wait and gauge investors' reactions to the numbers. If Intel manages to grab onto higher ground early in Friday's trading session, it makes sense to join the buyers as Intel holds onto its leadership status in this market.
More of What's Trending on TheStreet:
America's Love for Pumpkins by the Numbers: Video
This article is commentary by an independent contributor. At the time of publication, the author held no positions in the stocks mentioned.