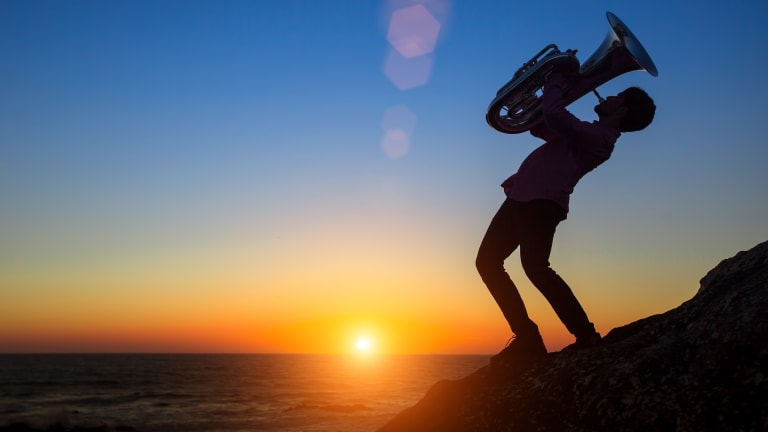 What Intel's CEO Did With His Stock Should Have Sounded a Loud Warning
Always respect the buying and selling of stock done by corporate insiders. The actions of Intel's CEO actions should have sent up red flags. Meanwhile, Sears continues to die.
PayPal gets it: I had an extensive conversation this week with PayPal  (PYPL) - Get Report CEO Dan Schulman. That guy just gets it. Several pieces to follow, but one nugget worth sharing now is his team's mindset after the company's spectacular 2017. The payment giant's stock soared more than 80%, earnings rocked and Wall Street gushed in almost every one of its geeky updates. I asked him how he is keeping the PayPal team focused and not allowing the team to rest on its laurels. Schulman's response: "I think we have in place now a team and a culture that's really committed to its mission and its vision. And I think our mission and our vision is one that inspires us to democratize financial services. I think it has nothing to do with 'where's your stock price' but everything to do with 'are we making a real difference in the world.'" These are the types of leaders you bet on.
Respect the moves of corporate insiders: Remember bullish investors, corporate executives ALWAYS know more than you. So it's good to check in on whether they are buying or selling their shares of the company. The dumping by Intel  (INTC) - Get Report CEO Brian Krzanich of $24 million in stock in late November should have been a sign of some form of negative event within the next six months. Even though Intel said the sales were pre-determined, the maneuver should have sent up red flags with investors that have bought into Intel being an autonomous driving powerhouse post the acquisition of Mobileye. Then there is Uber founder Travis Kalanick, who is selling 29% of his stake in the company. Although the move could be just that Kalanick wants to finally turn paper wealth into actual wealth, the sale suggests he isn't too confident in Uber's longer-term valuation. Considering all of this, I took a look at the insider selling ratio data that has been compiled for years by Barron's. The ratio was below 9 for most of 2017, meaning insiders were holding their stocks amid the broader marker rally. Two spikes above 60 were seen in January and late September -- each coincided with a pullback in the Dow. Currently, the ratio is trending higher to 20. Keep that in mind before hitting that buy button on Apple (AAPL) - Get Report this month.
To receive the FREE "Morning Jolt" daily newsletter, click here.
One way to play the death of Sears: Hat tip to TheStreet's Jim Cramer for reminding me of this play on the death of Sears (SHLD) . Cramer's tip - the companies stalking the real estate that the  dying owner of Sears and Kmart is giving up as it contracts. Companies such as gym operator Planet Fitness (PLNT) - Get Report , discount home furnishings company At Home (HOME) - Get Report and even Dick's Sporting Goods (DKS) - Get Report are going to get incredible deals on rent. And with those incredible deals, and solid volume to their concepts, returns on capital over time will be impressive. Here is Planet Fitness' CEO discussing with us back in 2014 how his company wins from retail's struggles.
What's Hot
Working Out
Hope you have hit the gym this year. Above is my interview with Planet Fitness CEO Chris Rondeau, who is no stranger to hitting the weights. 
Apple is a holding in Jim Cramer's Action Alerts PLUS Charitable Trust Portfolio . Want to be alerted before Jim Cramer buys or sells these stocks? Learn more now.
More of What's Trending on TheStreet: