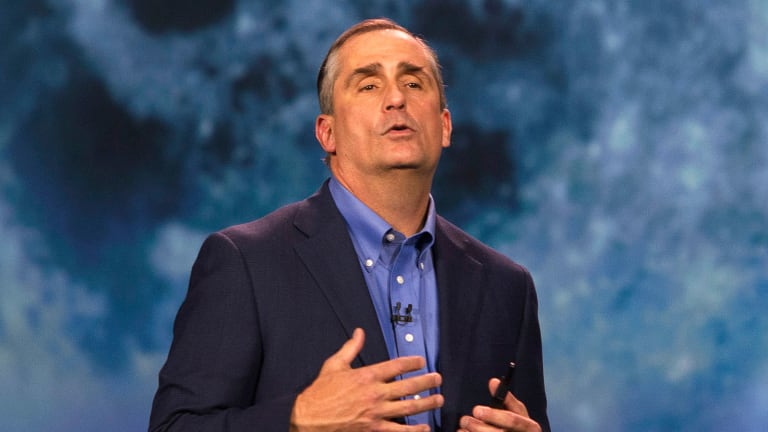 Intel's CEO Puts on a Real Show in CES Keynote Speech
Brian Krzanich's speech and presentation was all about reminding the world that Intel has big post-PC ambitions.
Though Intel (INTC) - Get Report has declared over and over in recent years it's pinning its fortunes on markets other than PCs, the chip giant is apparently worried some observers haven't gotten the memo.
That's the best explanation for a 90-minute spectacle of a keynote at CES 2018 in Las Vegas Monday night, featuring everything from several VR demos and a light show involving 100 drones to an autonomous helicopter (kind of) and an appearance by former NFL player Tony Romo.
Along the way, Intel CEO Brian Krzanich did make a few noteworthy announcements, although it was easy to overlook them thanks to everything surrounding them.
The central theme of Krzanich's keynote: The amount of data being produced by computing devices is exploding. He reiterated Intel's claim that autonomous cars will produce 4TB of data per day, and predicted that "smart factories" will product 1PB (1,000 TB) -- and Intel is there to offer solutions meant to understand and analyze it all.
For VR, Intel promoted its True View platform, which (with the help of many cameras and lots of storage and processing power) offers the potential to view sporting events and movie scenes from virtually any angle, with viewers able to scan from one location to the next. Krzanich noted the recent opening of Intel Studios, a new workspace in Los Angeles meant to film True View scenes, as well as a partnership with Paramount Pictures. He also promised 30 events from the Winter Olympics next month will be shown in VR with Intel's help.
On the autonomous driving front, Intel, which bought driver-assistance vision processor supplier Mobileye last year, announced new partnerships with Chinese automaker SAIC and Chinese mapping firm Navinfo.
A self-driving test car outfitted with 12 cameras, radar and LIDAR sensors was wheeled out onto the stage by Mobileye CTO Amnon Shashua. The kicker: Krzanich said he plans to start using it in a couple of months, and will be taking media members on rides to work.
The announcement comes a day after Nvidia (NVDA) - Get Report announced a slew of autonomous driving products and partnerships.
Jim Cramer and the AAP team hold positions in Nvidia for their Action Alerts PLUS Charitable Trust Portfolio. Want to be alerted before Cramer buys or sells NVDA? Learn more now.
An Intel-powered helicopter capable of a small amount of autonomous flight was also shown, courtesy of German startup Volocopter. In a demo that led plenty of flashbulbs to pop, a Volocopter VC200 (sometimes described as an electric flying car or even a drone you can sit in) with 18 rotors rose several feet into the air and stayed there for about a minute.
Intel also wanted to provide a look at its investments in futuristic processing technologies -- the kind that are more likely 7 to 10 years away from seeing a mass market rather than 2 years. Krzanich showed off Loihi, a recently-announced "self-learning neuromorphic chip" that aims to function like the human brain and (like the brain) changes how it functions based on environmental cues.
And in the quantum computing realm, Intel unveiled a quantum processor able to deliver 49 qubits of processing power. That's far more powerful than the 17-qubit chip Intel previously announced, but slightly trails a 50-qubit processor IBM has demo'd.
TheStreet's Jim Cramer discusses Intel's chip issues and what it means for AMD (AMD) - Get Report.
More of What's Trending on TheStreet: