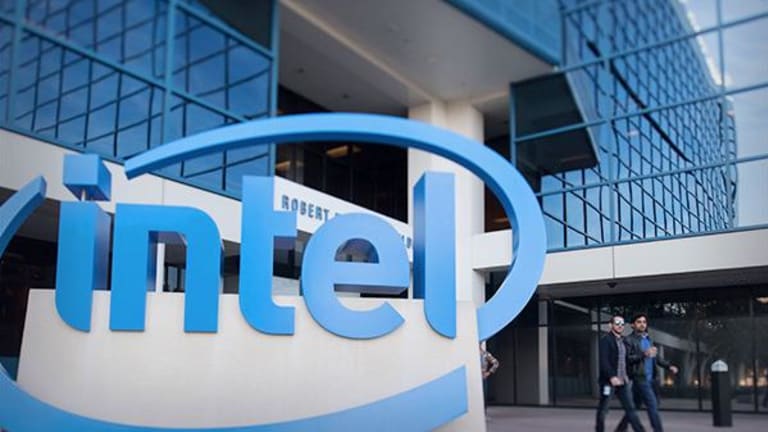 Intel and Micron's New High-Speed Memory Represents a Huge Opportunity
The chipmakers' 3D XPoint next-gen memory offers a middle ground between expensive DRAM and relatively slow NAND flash memory. It's great for games, analytics and possibly more.
The chipmakers' 3D XPoint next-gen memory offers a middle ground between expensive DRAM and relatively slow NAND flash memory. It's great for games, analytics and possibly more.
It's not often that a disruptive hardware or chip technology upends a multi-billion dollar industry by "striking a balance" between two existing, widely-used technologies. Typically, the disruptive solution either provides much better performance and/or novel features relative to an established one at a higher (but acceptable) price, or carries a much lower cost in exchange for inferior (but acceptable) specs.
But the sales pitch for Intel (INTC) - Get Reportand Micron's (MU) - Get Report 3D XPoint (pronounced '3D cross-point') next-gen memory revolves around the technology's ability to to provide a "middle ground" between ubiquitous DRAM and nearly-ubiquitous NAND flash memory. Investors shouldn't expect giant sales in the near-term, but over the long run, 3D XPoint could make a big splash in several memory end-markets -- including some that are very different from the ones that it's initially targeting.
Intel just launched the Optane P4800X, its first 3D XPoint solid-state drive (SSD). The P4800X, meant for servers, plugs into a high-speed PCI Express (PCIe) port, much the same way that many traditional NAND flash SSDs do. But in addition to acting as a substitute for NAND for storage, the drive can also act as a main memory source in tandem with a server's DRAM.
The P4800X can pull off this trick because 3D XPoint is far faster than NAND. Intel and Micron have claimed the former's latency -- the minimum time needed for a bit of data to be transferred -- is one-thousandth that of the latter's, both for reading and writing data. It's also said to provides 1,000 times the endurance.
3D XPoint's latency is still 10 times that of DRAM, but for many applications this is more than offset by the fact that the memory is far denser and cheaper, and (like NAND, but unlike DRAM) retains its data when power is lost. Whereas server DRAM modules currently top out at 128GB, the first P4800X drive has 375GB of capacity.
750GB and 1.5TB Optane drives, including ones supporting the hard drive-like U.2 form factor, are due later this year. Micron, meanwhile, plans to launch its own 3D XPoint-based SSDs under the QuantX brand.
By SSD standards, the P4800X certainly isn't cheap: The 375GB model has a list price of $1,520. By contrast, a 2TB version of Intel's P3520 SSD, which relies on the cheap/dense 3D NAND flash it has developed with Micron, sells for just $1,078 on Newegg. 2TB consumer-grade SSDs are cheaper still. 3D XPoint costs are bound to drop as production ramps, but there should be a sizable delta relative NAND for some time, especially since NAND prices will be declining as well.
However, with a mere 64GB of server DRAM selling for nearly $900 online, and Optane able to increase the amount of main memory a server can support by four to eight times (per Intel's claims), the value proposition isn't hard to see. For applications that have had no choice but to rely on NAND SSDs due to DRAM's cost and density limitations, Optane and QuantX can deliver a big performance boost.
In-memory databases such as SAP's (SAP) - Get ReportHana are a natural fit for the technology. Many enterprises now use such databases for the high-speed processing of analytics queries or transactional workloads, and 3D XPoint can let companies deploy significantly larger ones. Likewise, it could let them support larger projects relying on the Apache Spark big data framework, which is used to analyze unstructured data such as documents and e-mails on a server's main memory.
The caching of frequently-accessed or mission-critical data, whether by enterprises or Internet service providers, is another application. The same might hold for web and cloud applications for which low latency is paramount, at least provided the higher cost of Optane/QuantX SSDs isn't a deal-breaker. Intel says Alibaba (BABA) - Get Report is already using Optane to help handle web searches.
Workstation users whose applications need to process large datasets -- think video professionals or engineers -- are another potential market. So are AI/machine learning workloads, a field seeing swelling interest from both enterprises and cloud giants. But given the size of the datasets many machine learning algorithms are run against, 3D XPoint will only be cost-effective for some of them.
Intel has already signaled it plans to sell Optane SSDs for gaming PCs. Given their current price, only hardcore gamers will be interested in the near-term. But considering how many $500-plus Nvidia (NVDA) - Get Report graphics cards are sold into this market, not to mention how many gaming enthusiasts run multiple high-end cards in parallel, the market could be a substantial one as price points fall below $1,000.
Over the long run, it's likely that Intel and Micron will also try to pitch 3D XPoint as a DRAM replacement for smartphones, tablets and low-end PCs such as Chromebooks. Its ability to retain data in the absence of a charge could allow such devices to boot almost instantly, while its superior density relative to DRAM could allow most apps to reside all the time in main memory, with cheaper NAND storage mainly needed for things like photos and videos. The big question is whether 3D XPoint's performance will be adequate enough relative to DRAM.
It will take time for enterprises and cloud providers to evaluate 3D XPoint, as well as for developers to optimize their apps for systems featuring a ton of main memory. Nonetheless, Intel guided in January for 3D XPoint to account for 10% of its flash memory division's revenue this year, and a much larger percentage next year. The division had 2016 sales of $2.6 billion (down 1%), and fourth quarter sales of $816 million (up 25%, thanks to a rebounding NAND market).
Outside of each other, Optane and QuantX face little direct competition for the time being. Memory giant Samsung's (SSNLF) Z-SSDs are speedy by NAND standards, but can't match up to 3D XPoint. HP Enterprise (HPE) - Get Report and Western Digital's (WDC) - Get ReportSanDisk unit are working on an alternative called Storage Class Memory (SCM), but there's no ETA yet for the first products.
That spells a giant opportunity for Intel and Micron in the coming years, just as long as their unconventional sales pitch succeeds.
Jim Cramer and the AAP team hold a position in HP Enteprrise for their Action Alerts PLUS Charitable Trust Portfolio. Want to be alerted before Cramer buys or sells HPE? Learn more now.